Family. Generosity. Hiking. Extremen sunburn. Temples. Police scare. Becoming lost. I feel I have family to visit on a return trip.
This trip was possible only through the generosity, kindness, and love of Priyanka, Shreta, Likee, Mom, and Dad. I arrived as a stranger and left as a son. Thank you for this. There is no way to fully express my appreciation and gratitude for what you have done. Also, a big thanks to Mavin and everyone else who befriended me. On any trip the people I meet make the difference from an okay stop to a favorite destination. Hong Kong became a favorite.
If you want the abridged version, here are some highlights from this trip. Being detained by the police. A beautiful hike and painful sunburn.
My trip started in January 2008. I wanted to do something after graduation so started saving money for a trip.
Walgreen's hired me as an intern manager. This has been a boon for it has given me an opportunity for learning, saving, and ongoing financial support. They transferred me to St. Cloud after the three months to work part time. It was a time that I had enough money to do basically what I wanted.
The family of my roommates Priyanka and Shreta live in Hong Kong. Hong Kong is easy to enter and was on the way to my next destination. Priyanka and Shreta talked to their parents and allowed me to stay there. After they finalized the arrangements I purchased my one-way plane tickets for 1,200 USD. On 17 June 2009 I will go to Hong Kong and on 6 August 2009 will continue to Nepal.
I applied for a year leave of absence from Walgreen's and received a reply within two weeks. Basically it said that I was approved and will be fired if I do not come back by 15 June 2010! Nice! One year off without having to quit! I plan to work for them when I return!
Many of my friends talked about what to do in Nepal and invited me to stay at their parents house. They even talked to their parents and then told me that I must visit them. Now there are a few places and families to visit! I brought my last couple things to my parents home and said goodbye to my family. Pratish wanted to eat at Mexican Village, Chipotle, and Asian House before we left. I obviously was up to it! On Sunday we ate at Chipotle, Monday or Tuesday at Asian House, and on Wednesday at Mexican Village.
My flight left at 4:50 pm. The night before leaving my mom tearfully told me how she feels like a momma bird. She wants the chicks to stay in the nest, but has to let them spread their wings and fly. Pratish and Kripa dropped me off. I tried to say goodbye to my St. Cloud family including Sandesh, Bishan, and Lexa, then headed off. Priyanka and Shreta left for work when I was sleeping so we could not say farewell. Right as we were leaving Kripa cancelled work and we picked her up. On the way we stopped by Yeshi and Sumedh's. We arrived at the airport at 3:45 pm where Pratish, Kripa, and I gave our farewells.
With time zone changes and everything, this day was only 10 hours.
I arrived in Hong Kong at 5:35 am still not believing my trip started! Customs took only a minute to breeze through. My new Dad was picking me up, but I never saw his picture so didn't know what he looked like. After waiting for 20 minutes I asked a few people who they were waiting for, but only received blank disgusted stares. Luckily, Priyanka gave his number before leaving. Priyanka or Shreta told me their dad did not speak English well. When he answered the call it was difficult to understand each other. He said he was coming in 15 minutes. Hopefully he understood where to meet. Twenty minutes later a man introduced himself. Dad brought me to his home.
I met Priyanka and Shreta's mother. She requested that I call her and her husband Mommy and Daddy. From then on they were Mom and Dad. They mentioned that Shreta always talked about me and said I was a good boy. Their daughter Likee said Priyanka sent many messages to ensure I arrived safely and that Dad would pick me up. She really looked after me. Dad took me to Kowloon Park, Star Ferry, Avenue of Stars, and Central. The family is very nice!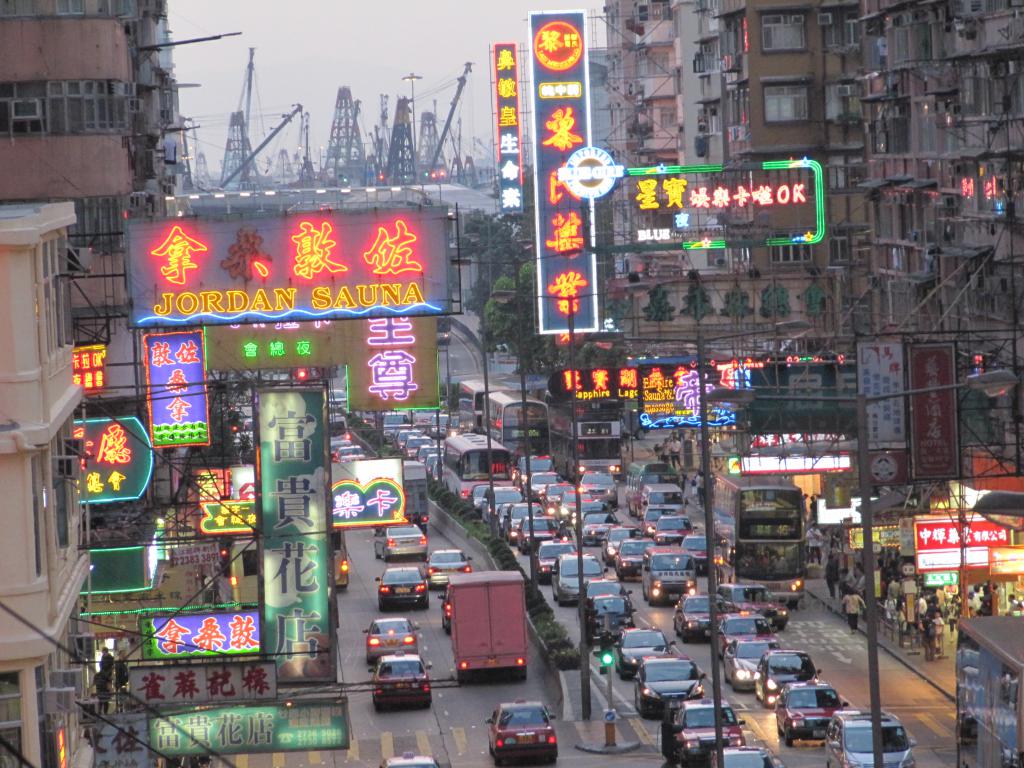 This is the view looking out of my bedroom window.
The first week flew by! It was very exciting with something to do every day. Dad showed me around most of the time. We went to parks, two museums, Central, temples, and markets. It is crowded with stores much smaller than I am used to. There are many restaurants, stores, and outside vendors jammed everywhere. Most food can be bought at local markets. This has been the first time in my life where everyone around me speaks another language. Most people cannot speak English. It is neat to experience not being able to communicate. When I go to a store for anything I must point to get it. Most of the clothing and shoes are much smaller. It took a long time to find a cheap pair of sandals that fit my size 45 feet (US 10.5). Most stores carry up to 44. It has been a busy week and the trip is feeling real now. It will be exciting to find what happens next!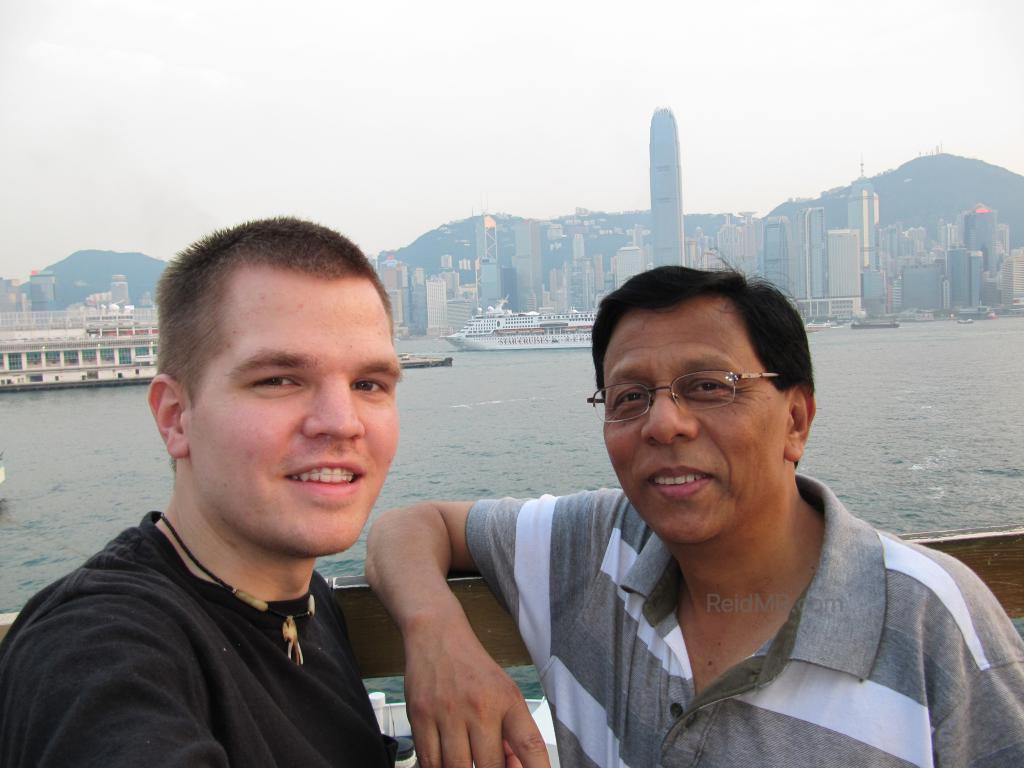 This is with my new Hong Kong Dad by the water.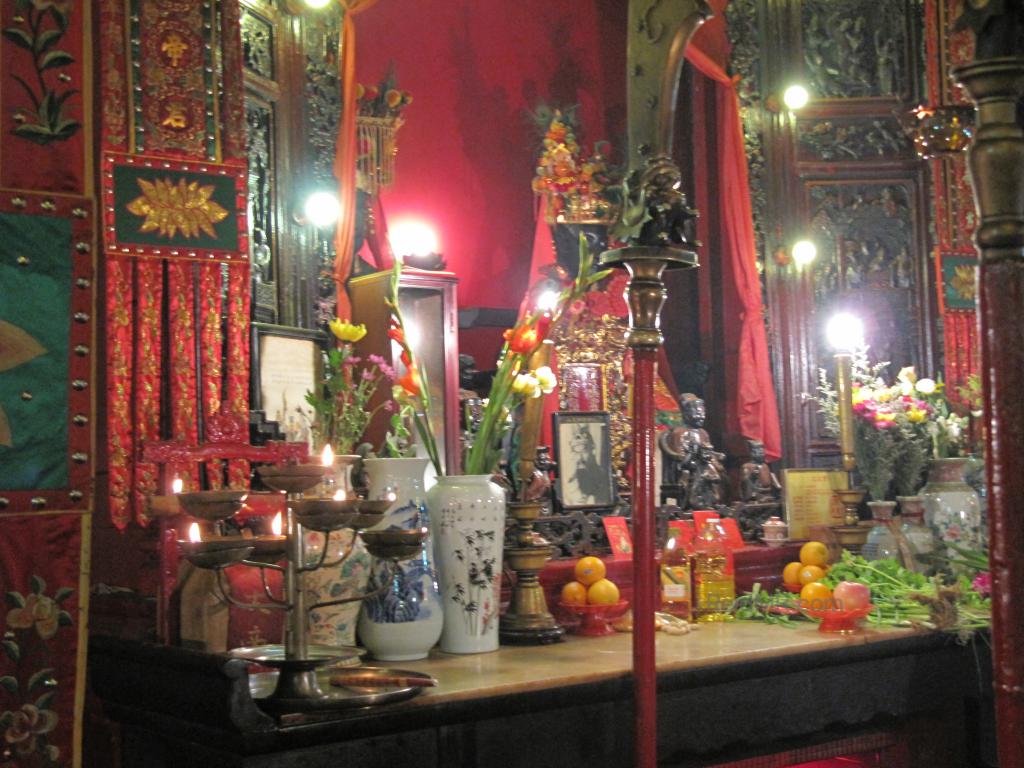 Dad and I went to Man Mo Temple. Monster coils of incense burned inside. I never knew they made them so huge! The smoke was overpowering so I had to move to an area with less haze. Outside was a fireplace used to transport things to the afterlife. Relatives of the dead would burn paper models of money, cars, houses, and other objects. The belief was that burning the models would send them to the afterlife for the dead to enjoy.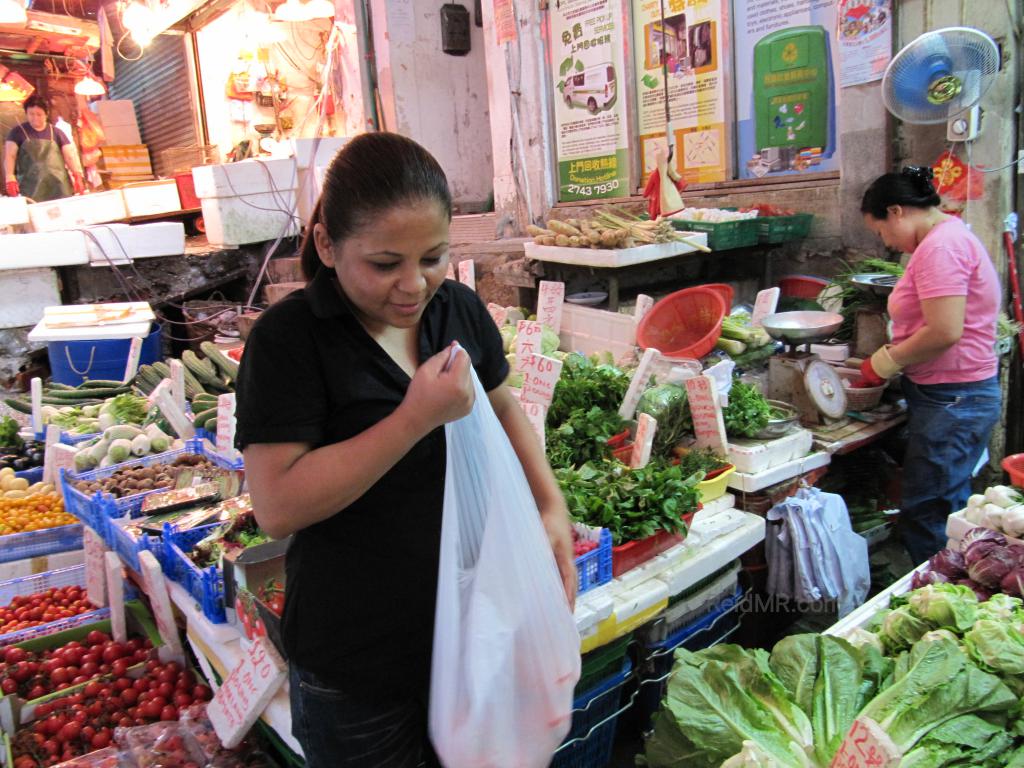 This is Likee at the market near her work in Central. At these markets were numerous food items I had never seen. Meat sections had smells so pungent I had to hold my breath and move past as quickly as possible. Animal parts were all over with blood running down the gutters.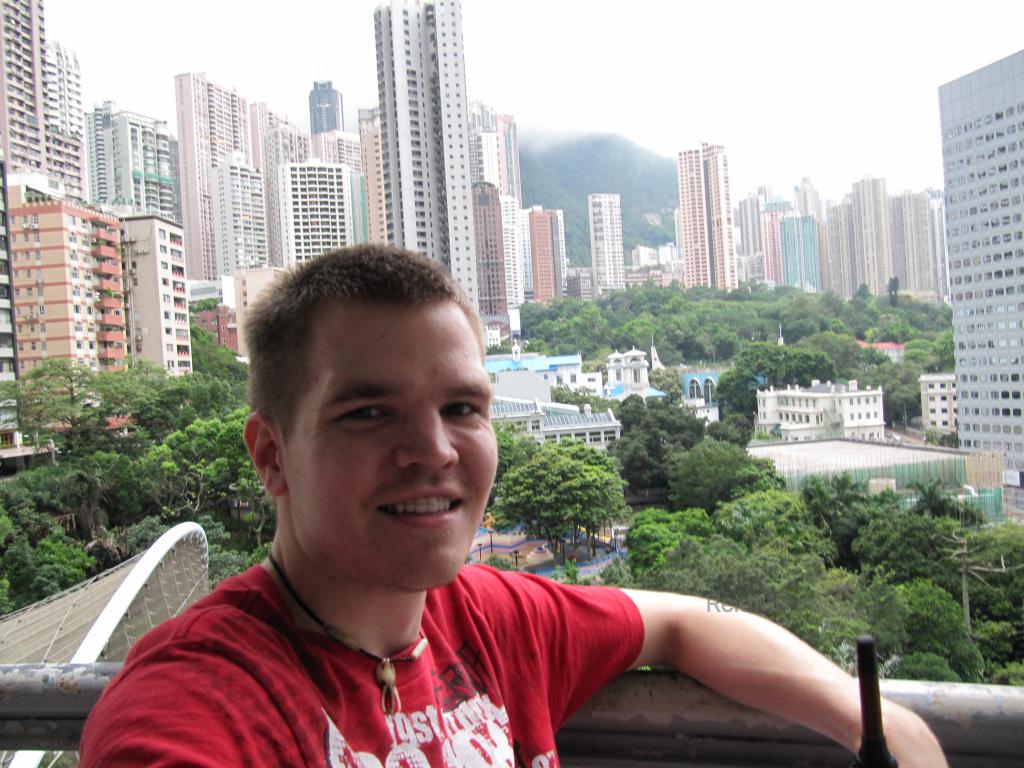 A friend Bhuwan told me that Hong Kong Park was nice to visit. This was in a lookout tower there. Some parks are between these buildings. It is great that they save this space for the public to enjoy.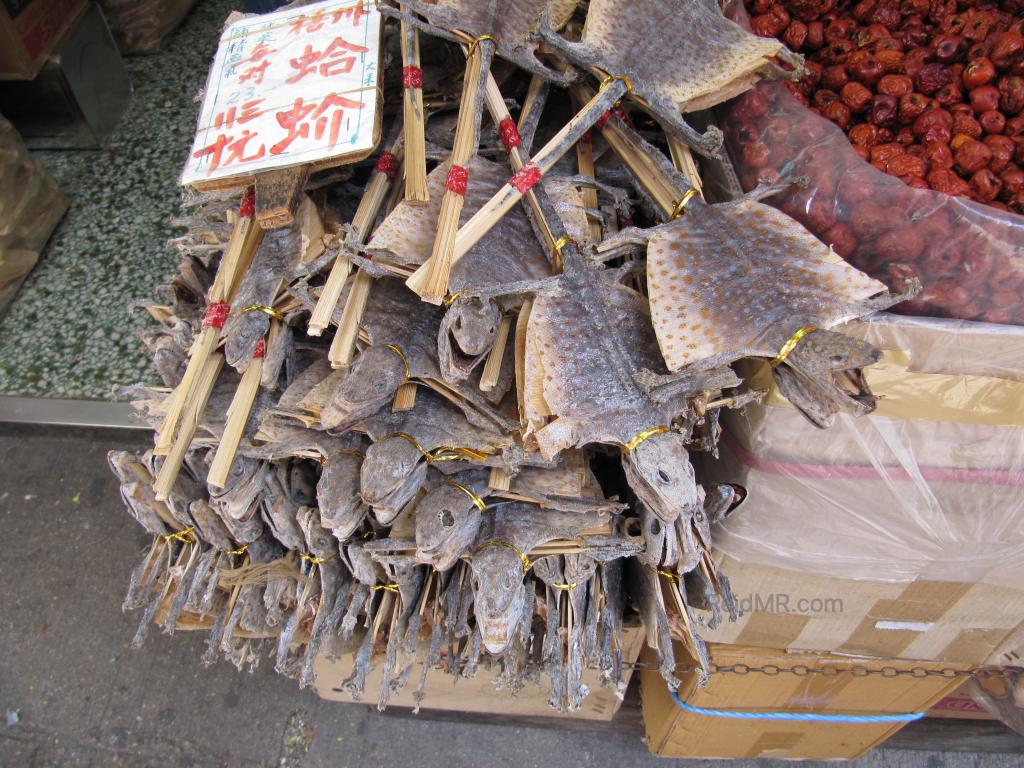 While walking around with Dad we came across these. They look like dried lizards on a stick. Only they know what they do with them. My assumption is that they are a tasty treat for someone. There was also a bucket of dried octopus.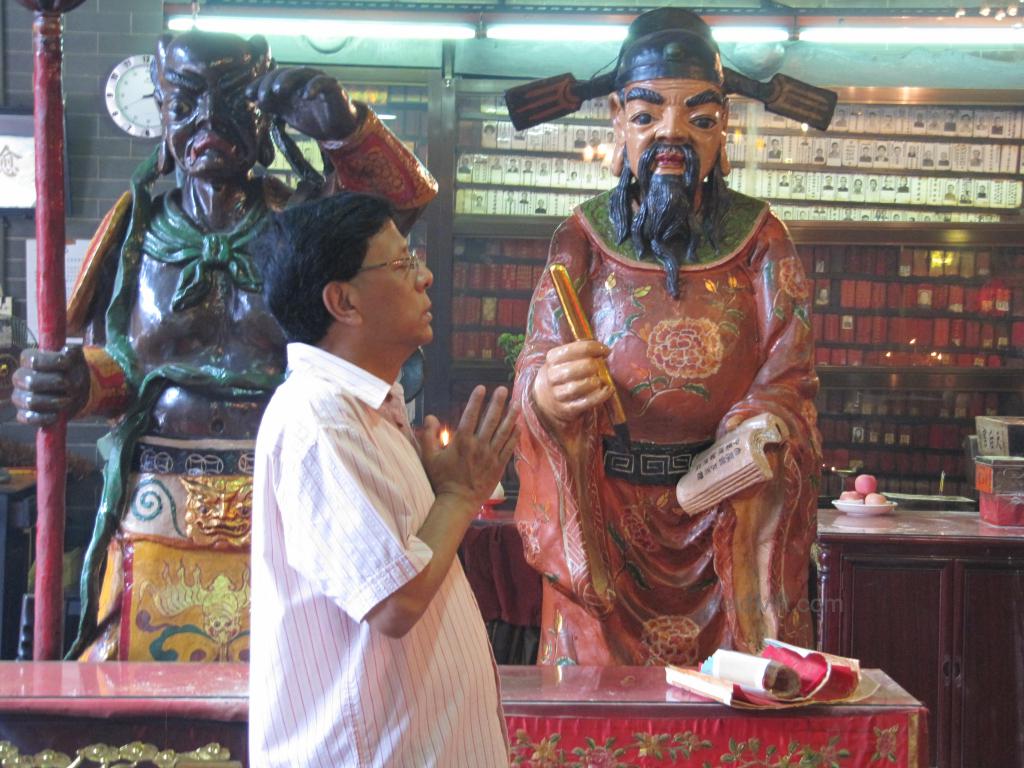 This is Dad at the Tin Hau temple.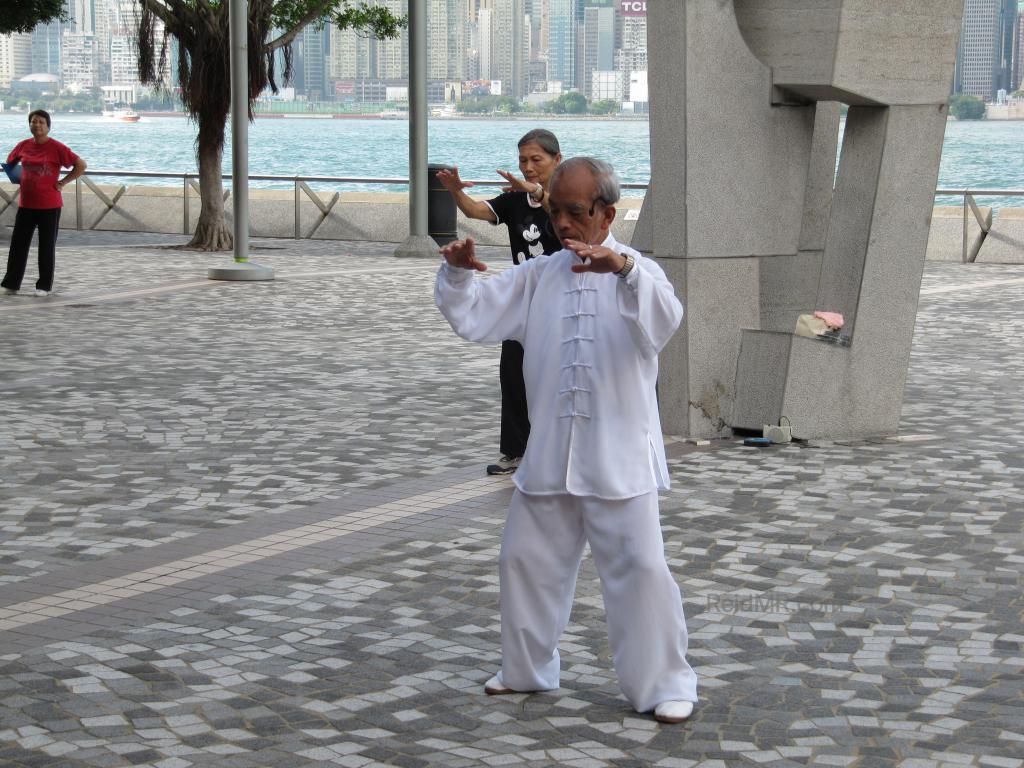 There are free Tai Chi classes by the harbor. I made it once because the first time I went to the wrong place, and the third time on I slept.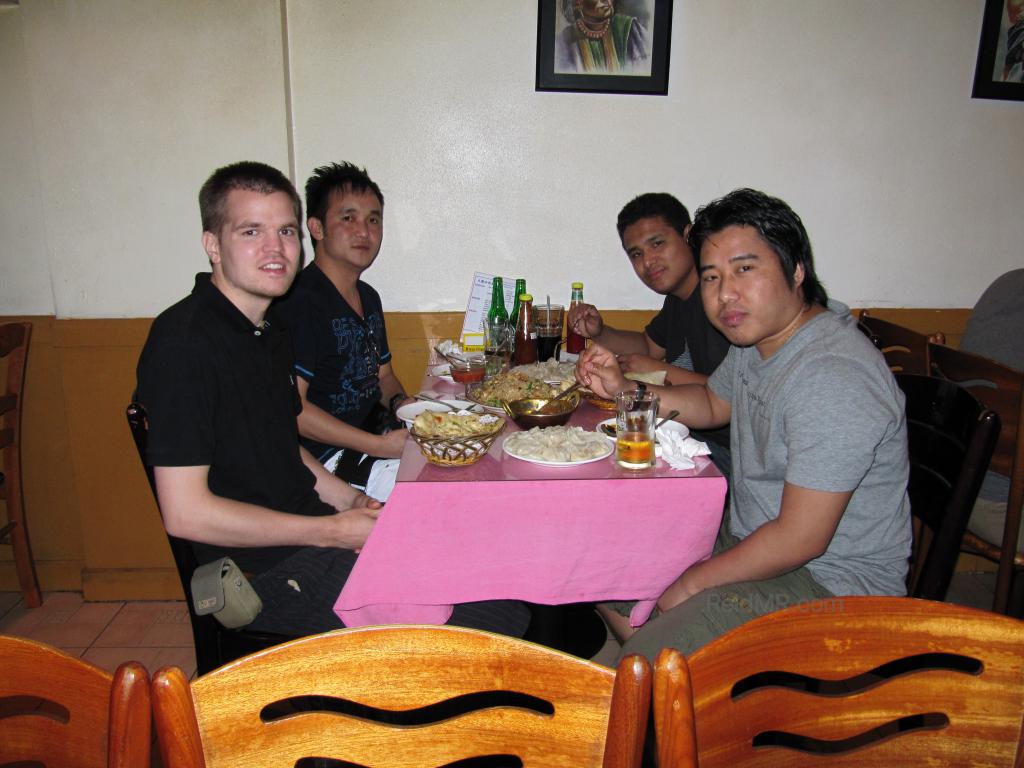 Bhuwan asked me to hang out. I said yes! Actually, when he called I couldn't understand anything except "Exit C" and "15 minutes". I went without knowing who was there or what we were doing. I found out we were going swimming. He took me to Deep Water Bay and then to this tasty restaurant.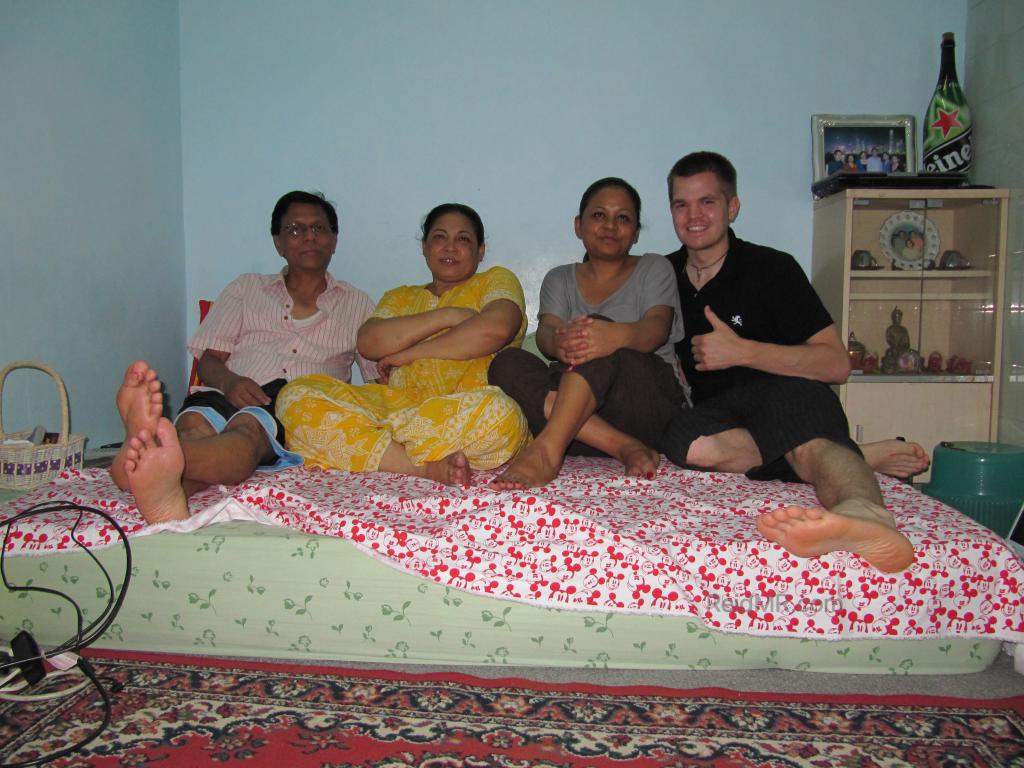 This is my Hong Kong family, Dad, Mom, and Likee.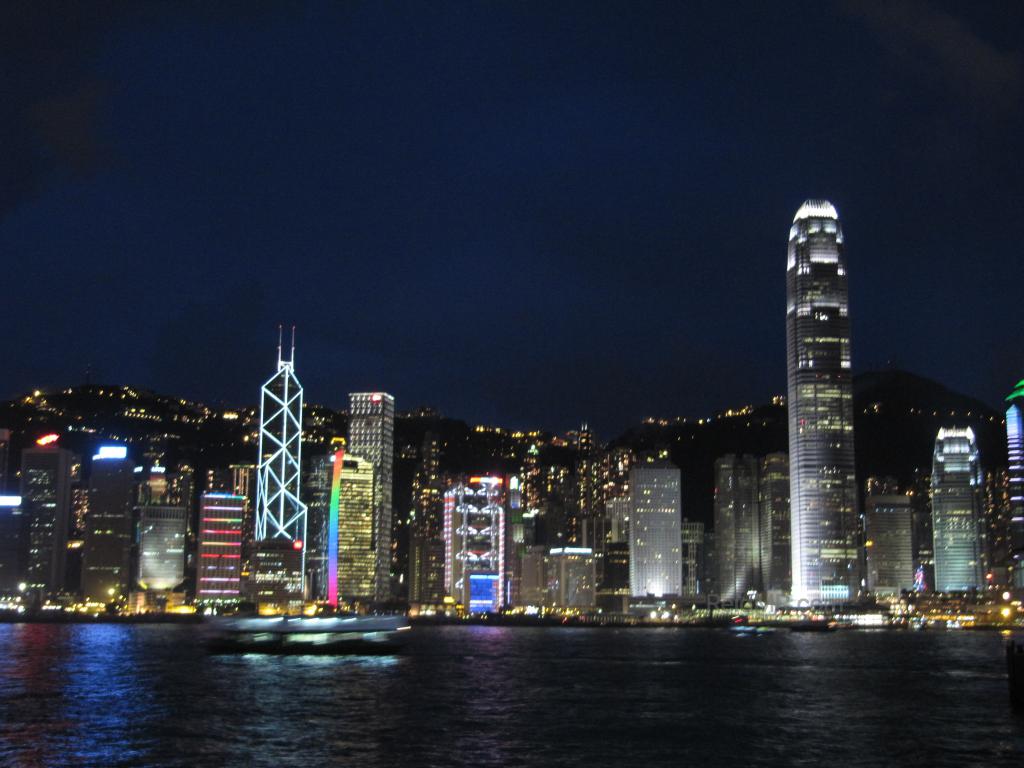 There is a light show in Hong Kong every night where the building lights are coordinated with music. It was fun to watch.
Dad brought me to Lantau Island to see the Big Buddha. It was interesting and fun to see. We were there for two hours. It took three hours to get there on the ferry and bus.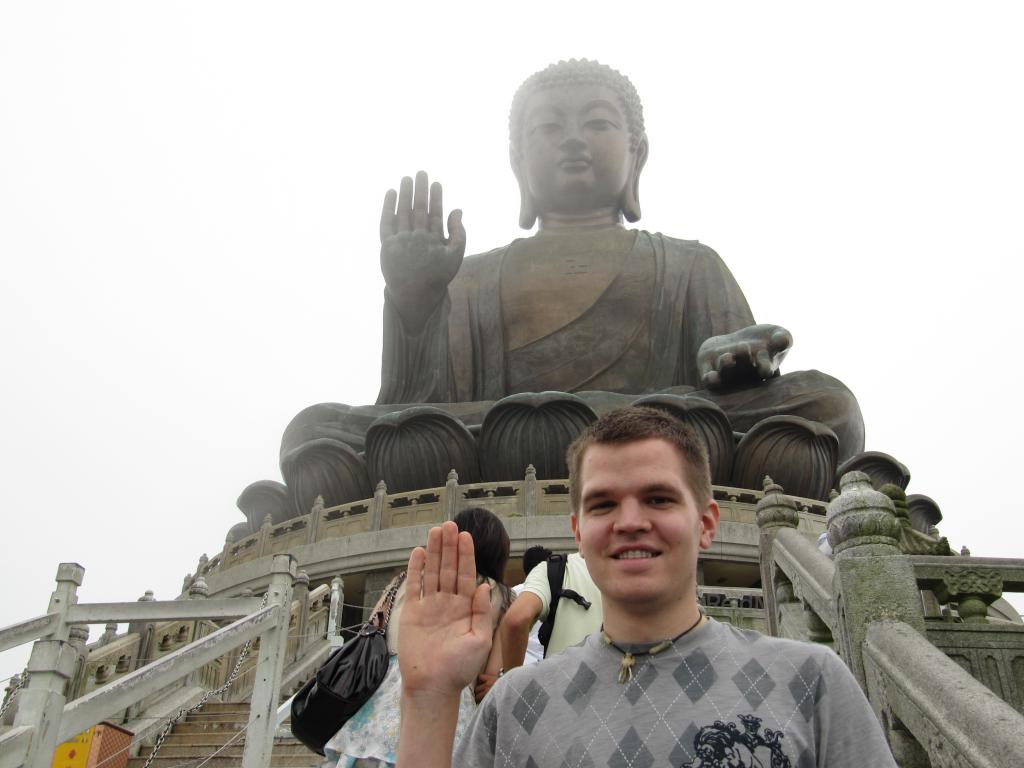 Dad wanted to pose for a picture...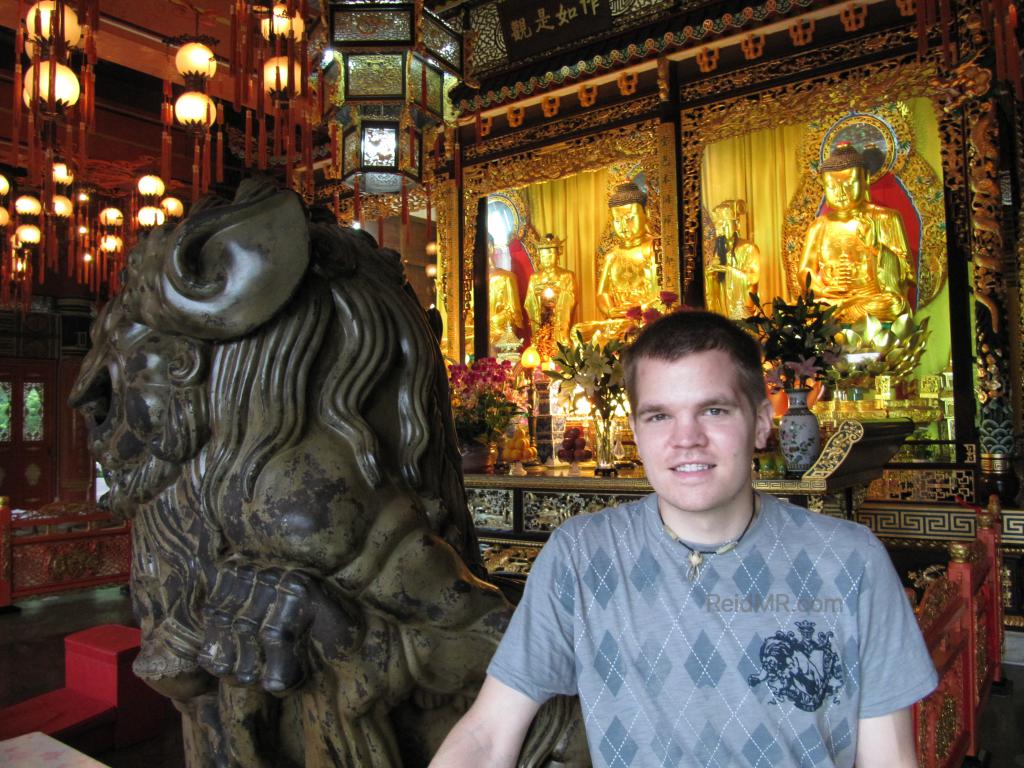 This was at the temple near the Big Buddha.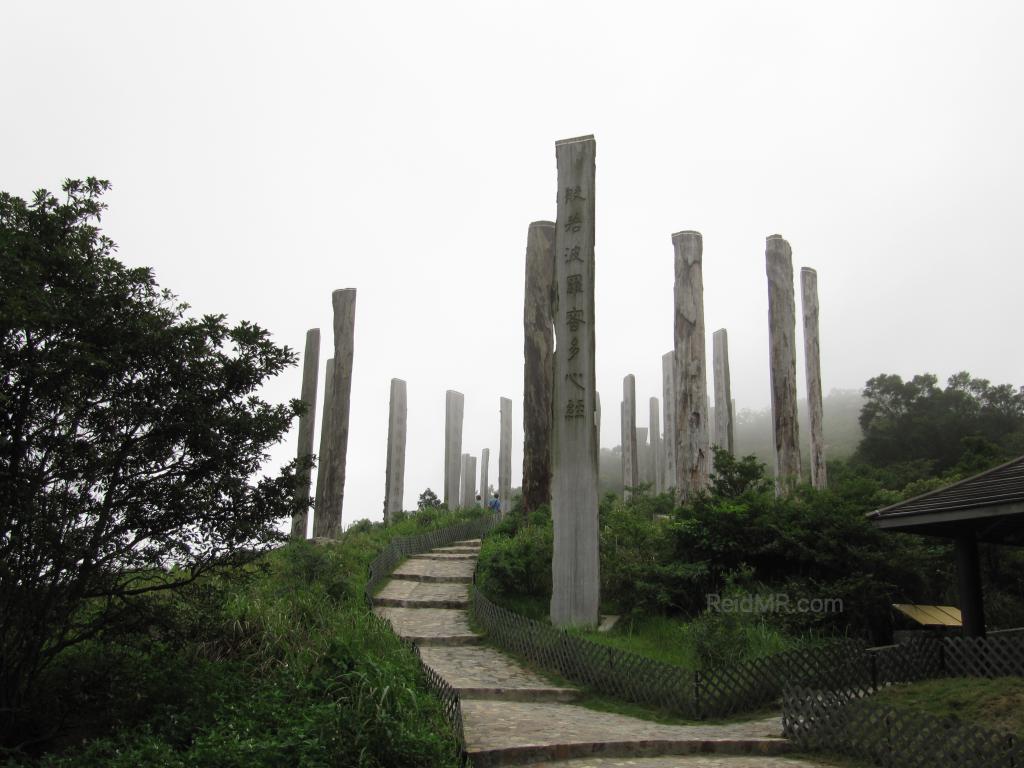 We went to Wisdom Path near the Big Buddha. It was a bunch of logs carved with Buddhist Philosophy. We could not read Chinese so asked a passerby to translate. He spent ten minutes talking about them.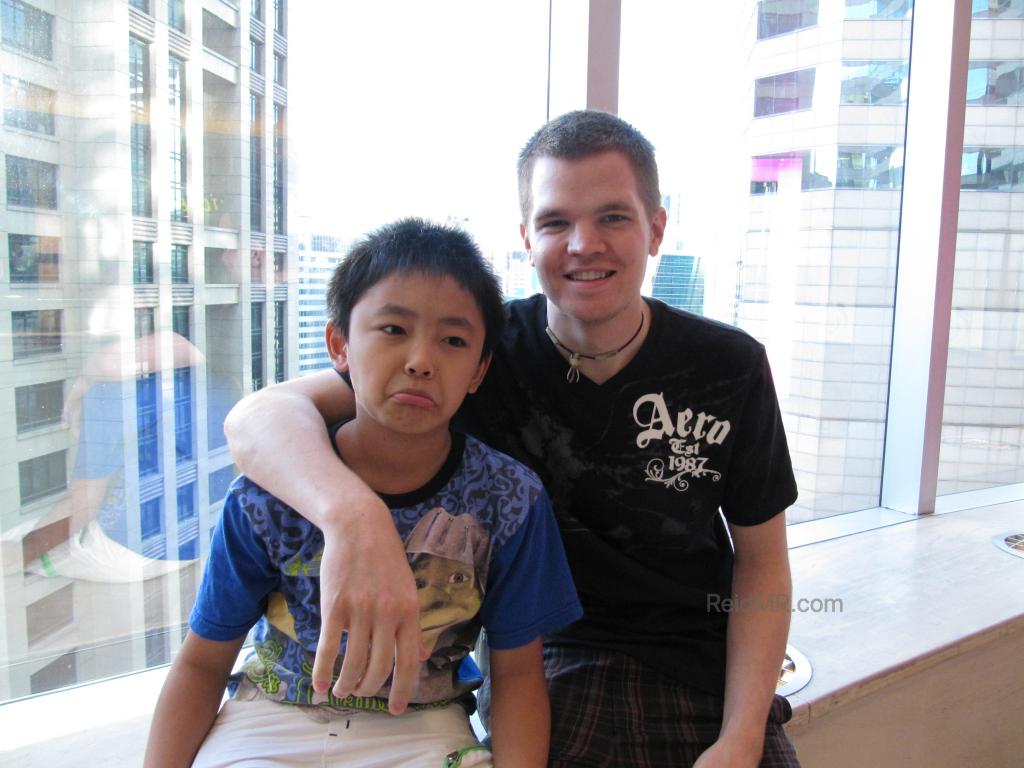 This is Marv. A good age 10 kid who can speak five languages and read and write English and Cantonese. What an inspiration for me to learn another language!
On some days Marv wanted to swim at the Kowloon Park swimming pool. It was always crowded and we had to look everywhere before swimming. We frequently bumped into other people. I had never been to a pool that busy.
Highlight: Being detained by the police.
One night Likee and I went to buy Ms. Fields cookies. The shop had the cookies on sale after a certain time. I had been told to carry my passport or a photo copy at all times. Police could stop and detain me until someone brought it to the station. Their advice went ignored. A certain beggar stayed on the path to the cookie shop. He would lie prone with his head to the ground and a bowl for money. Four or five police walked our way and I wondered if they would do anything about the beggar. When the police and beggar were behind I turned around to continue watching. One officer noticed and stopped his companions to come back to me. He asked to see my travel documents which I did not have. When they asked where I lived I pointed it out. Instead of hauling me to the police station they escorted me home. At the apartment we had to walk up four flights of stairs. The police were unimpressed. Mom and Dad were quiet and alarmed when I knocked with the group of officers behind. Now that they knew me a little bit they were not that surprised. They quietly stepped aside as I retrieved my passport. The police checked my passport, told me to carry it or a photocopy, and left. The officers were all polite and professional.
Likee asked if I still wanted to get the cookies. It was almost closed by this time. That was a minor hurdle so with my passport we went back to get our cookies.
Mom and Dad reprimanded me and reminded me that they told me to carry it. They helped make a copy which I carried for the rest of the trip. When the locals give advice I will try to be more receptive to it.
If you are reading the abridged version, you may skip to the next highlight.
Dad, Mom, and I went to Ten Thousand Buddha's. Mom packed a lunch so we could eat at the top. It felt like we had to walk up 10,000 steps! We were all happy once we reached the peak. The view was great.

This was at Ten Thousand Buddha's. Dad was praying.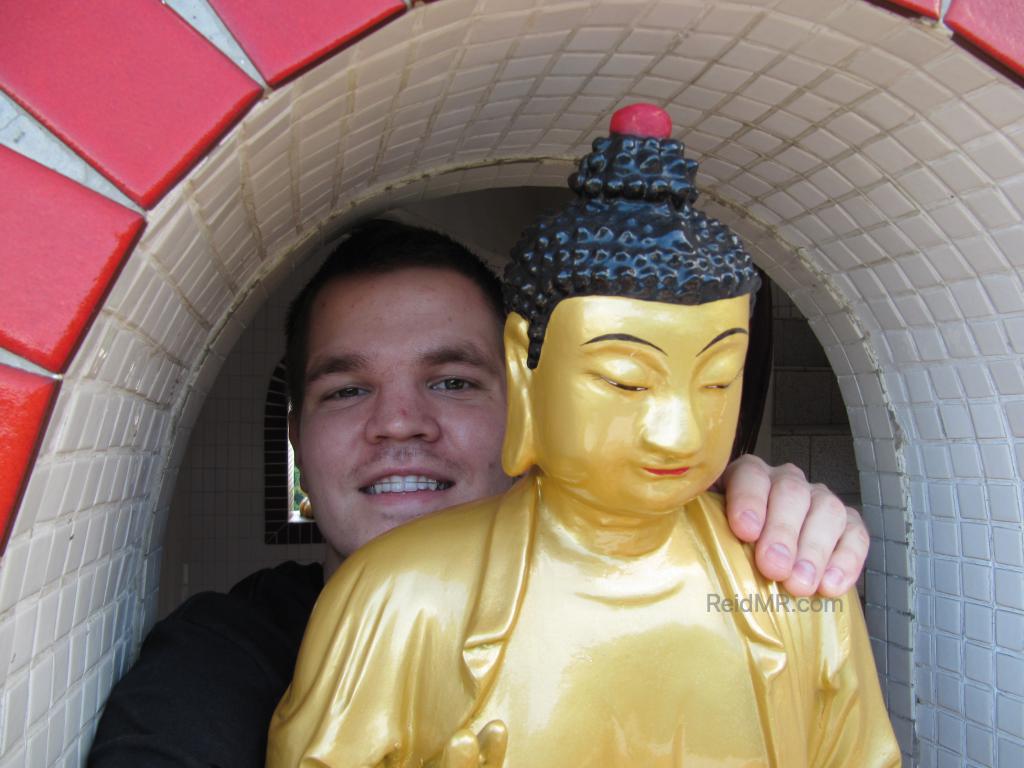 I posed for a picture in a tower. For some reason I was not able to get the Buddha to smile...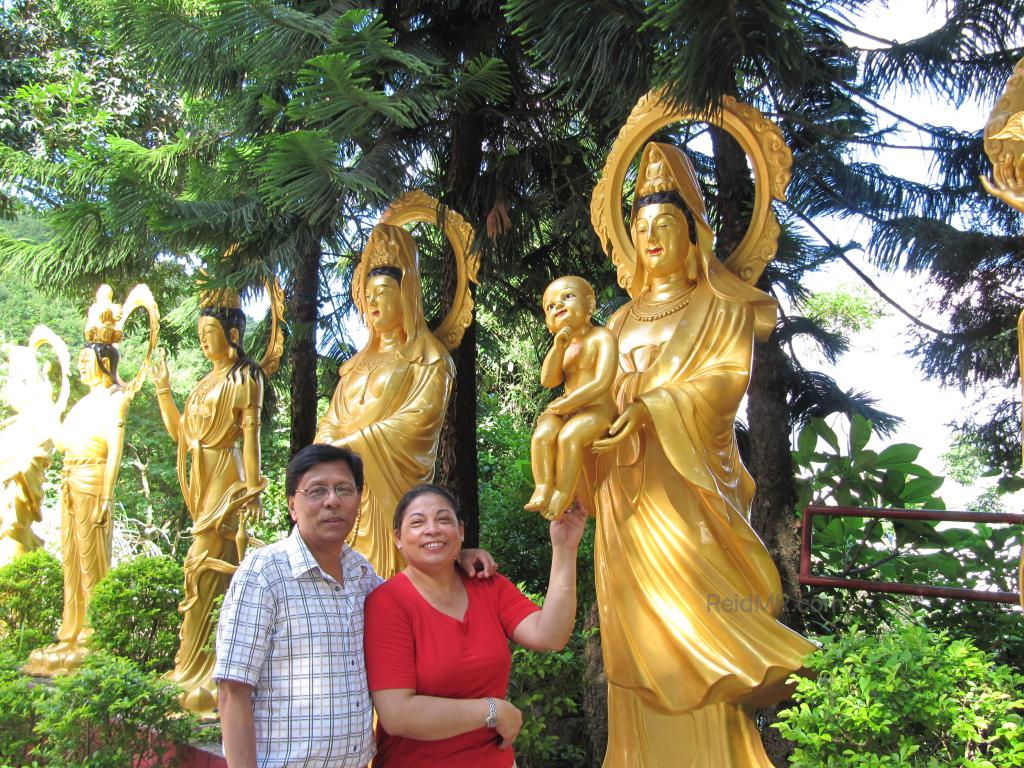 Dad and Mom posed for a photo.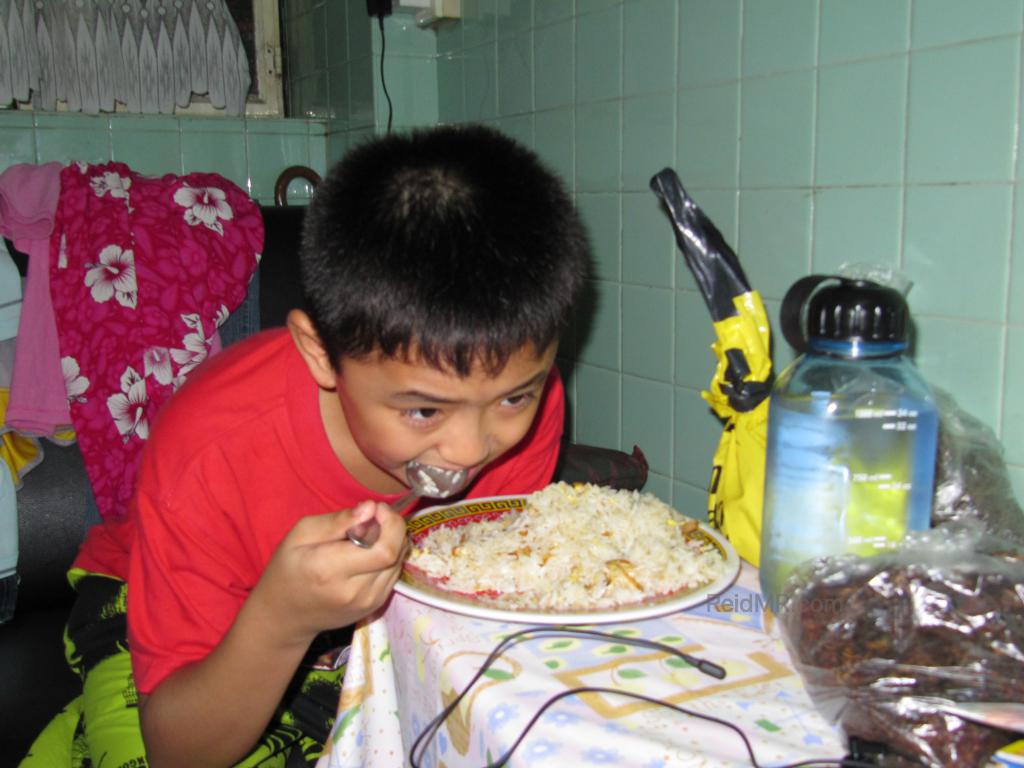 I showed Marv how to make fried rice. He was excited. It was too salty, but he didn't mind since he made it.
One of the days Marv was excited to show me what he eats. One snack was small whole octopus about one and a half inches (~4 cm) in size. It was a bit gross seeing the creature and feeling it in my mouth and throat. The sauce it was marinated in was a bit different and unpleasant. I was excited initially to have real Chinese food because I really liked it in the States. Little did I know that the Chinese food in the States is a bastardized heavily modified version for the Western market. It was nothing like the food in Hong Kong. Strangely enough I often ate at the McDonalds right outside of our house. I frequented it much more than I would in the States.

Marv, Dad, Prakash, and I climbed up a small mountain when we went to Discovery Bay for the day. It was a nice area and climb. It felt different from the rest of Hong Kong with a ritzy atmosphere. It was a place I could live.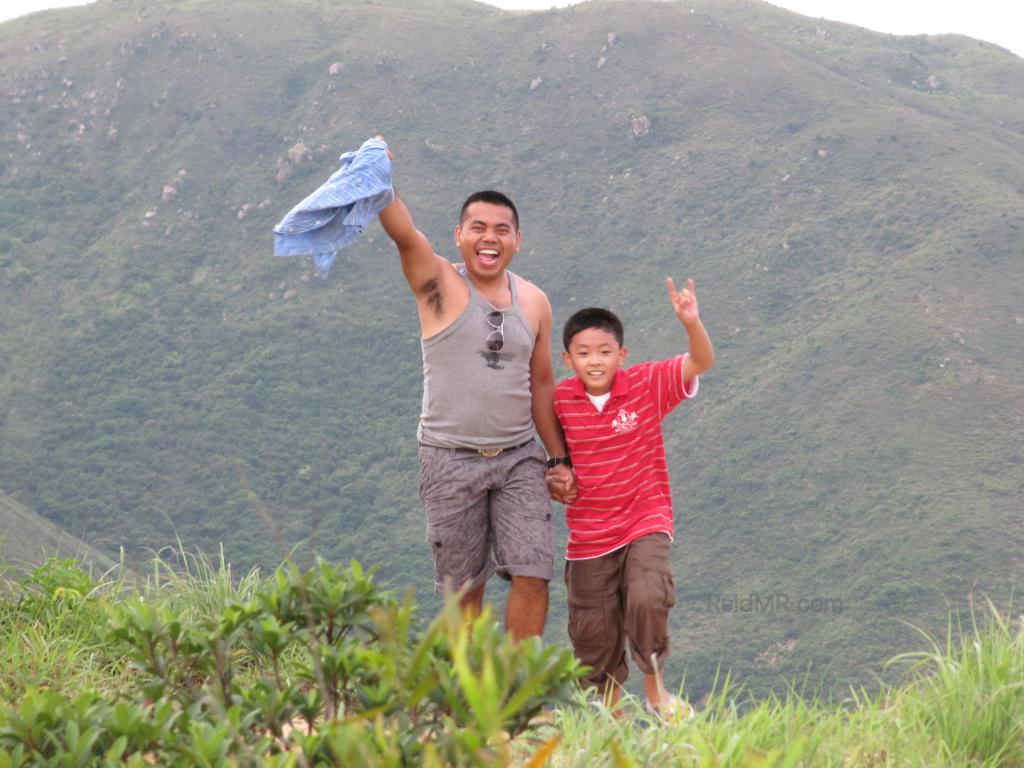 Prakash and Marv when they reached the top.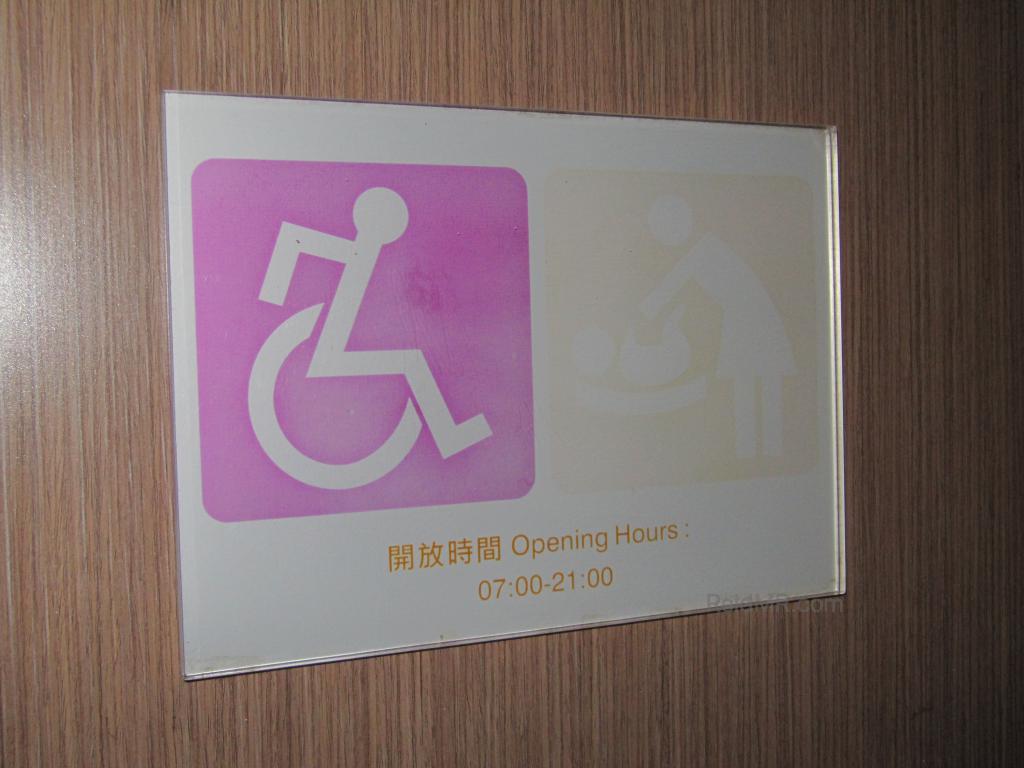 Apparently this restroom is reserved for Olympic athletes only.
Highlight: A beautiful hike and painful sunburn.

Chiraq invited me to hike to a remote part of Hong Kong with a bunch of his friends. This was the last mode of transportation before we started hiking. It was a neat ride.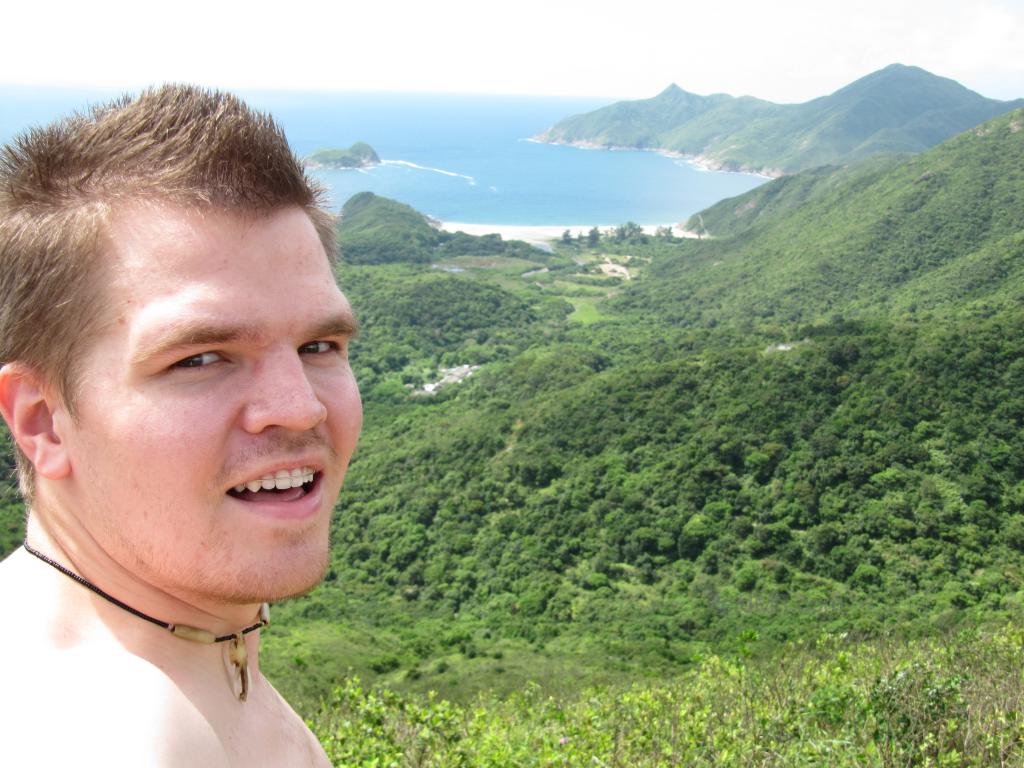 This was overlooking the beach on the hike and was the last time my skin was white. I thought, oh, I will just hike for an hour to get a slight tan, then put on sunscreen. But that was too long as I fried by the time we returned. My skin was red for a week. If only I applied sunscreen sooner.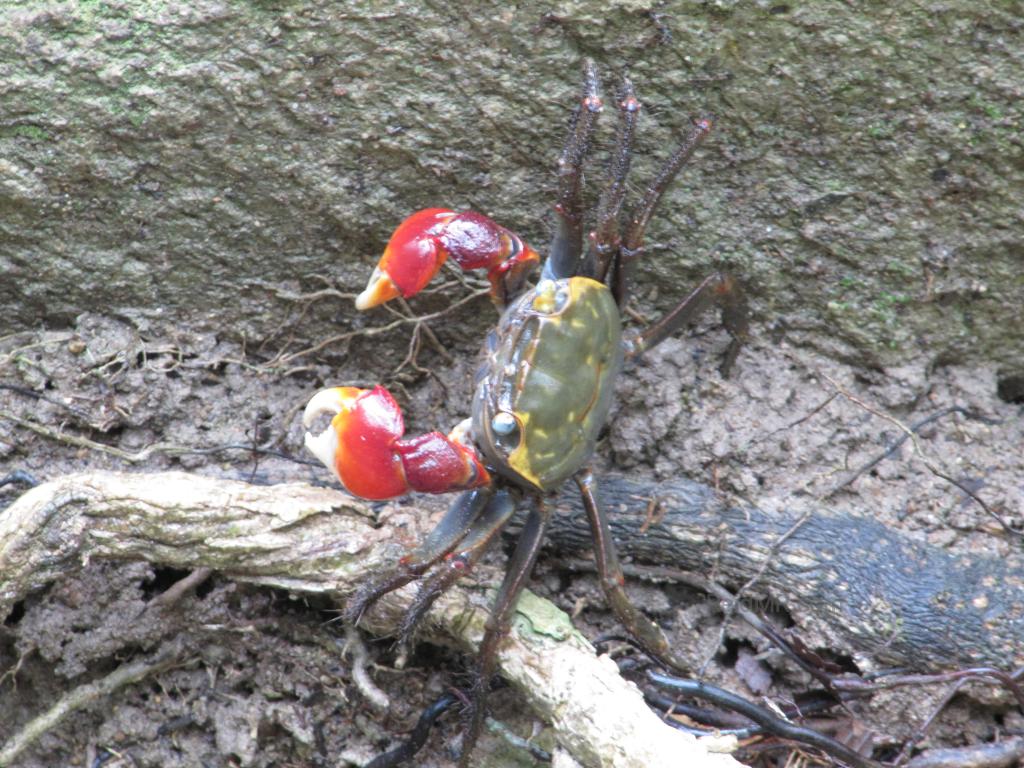 This was the first time I had seen a crab like this. They were teeming on land near the ocean.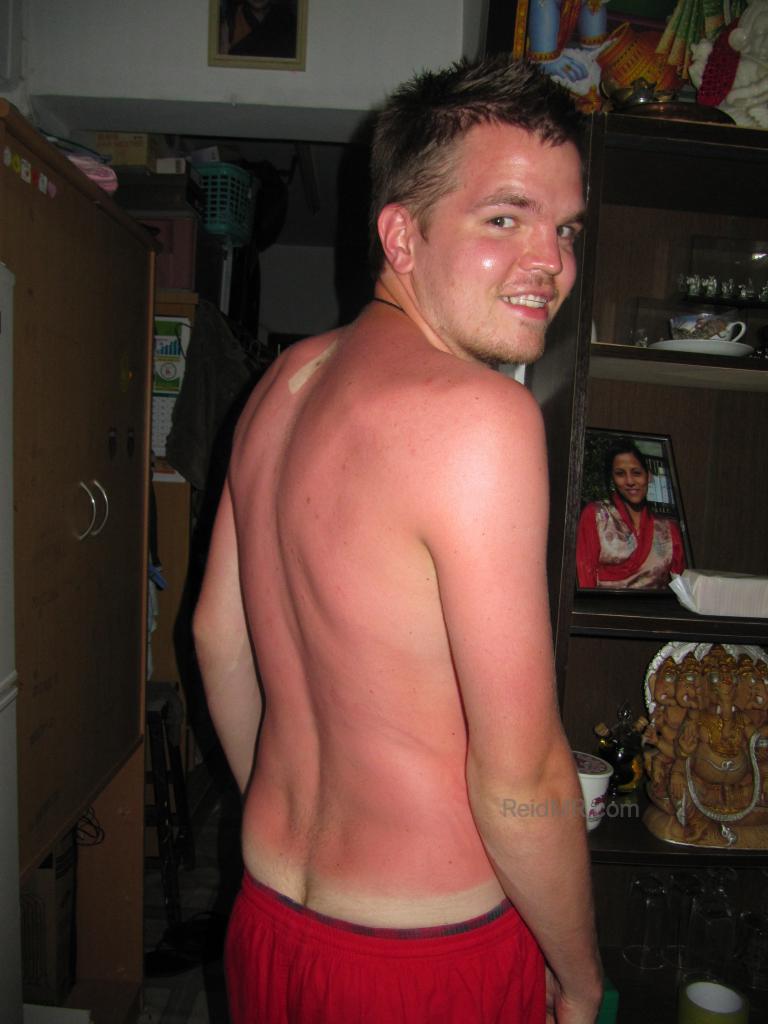 The sunburn, and yes it burned! I could hardly sleep. First it hurt then it itched intensely so I still could not sleep. It was at least three restless nights and many hours with first cold, then hot water in the shower to soothe the burn then relieve itch. My last sunburn was ten years ago and this has definitely been the worse! Any future hikes will be with sunscreen and a shirt the entire time.
If you are reading the abridged version, you may skip to the end.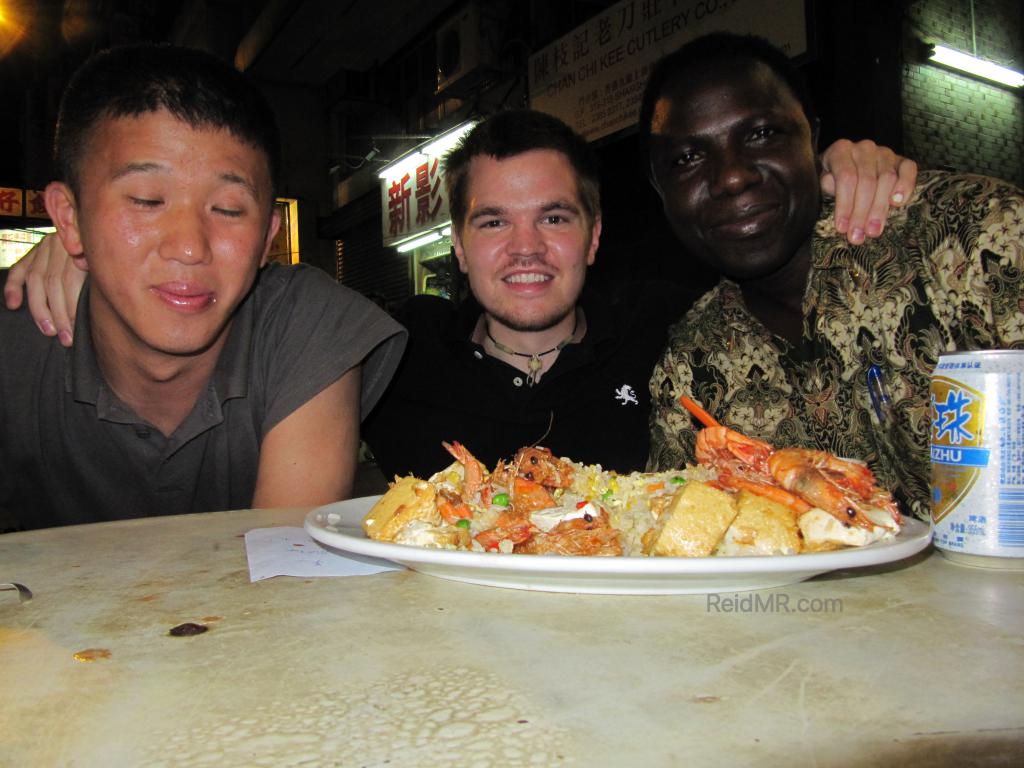 My friend Matsu came to visit. He enjoys conversations with random people. When we were wandering Hong Kong looking for something to eat he started chatting with this man.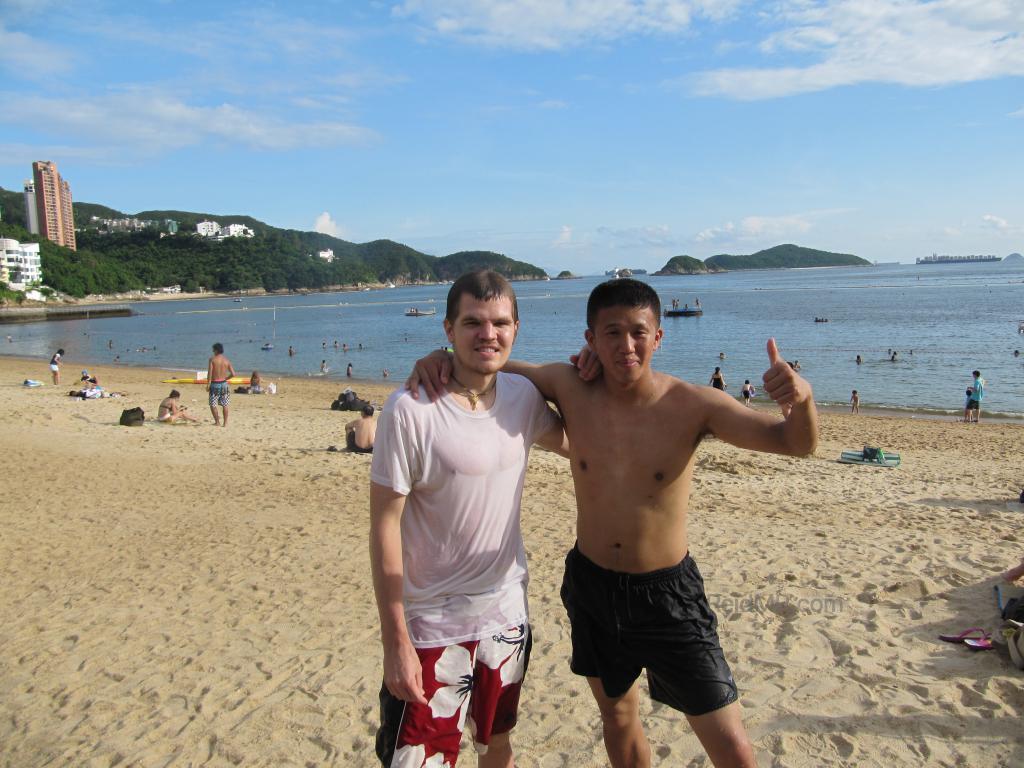 After the burn I wore this shirt while swimming.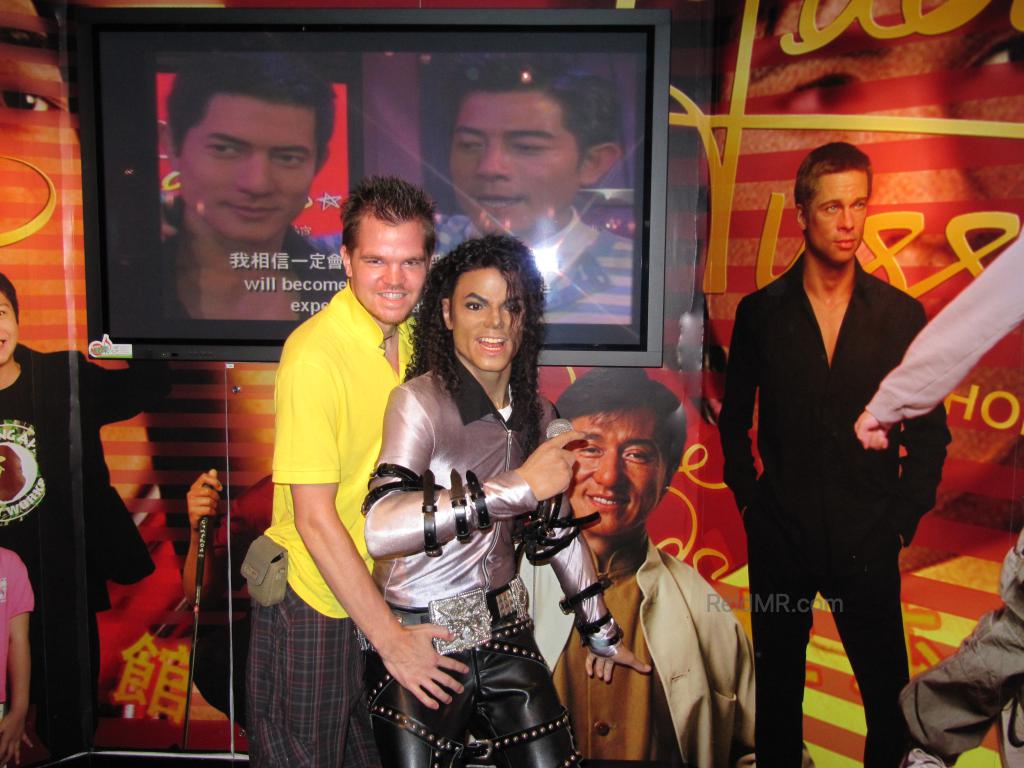 Victoria Peak is an obligatory stop in Hong Kong. The Madame Tussauds wax museum had Michael in the public area being he recently passed. His music played everywhere after he died. The bystanders appreciated this pose.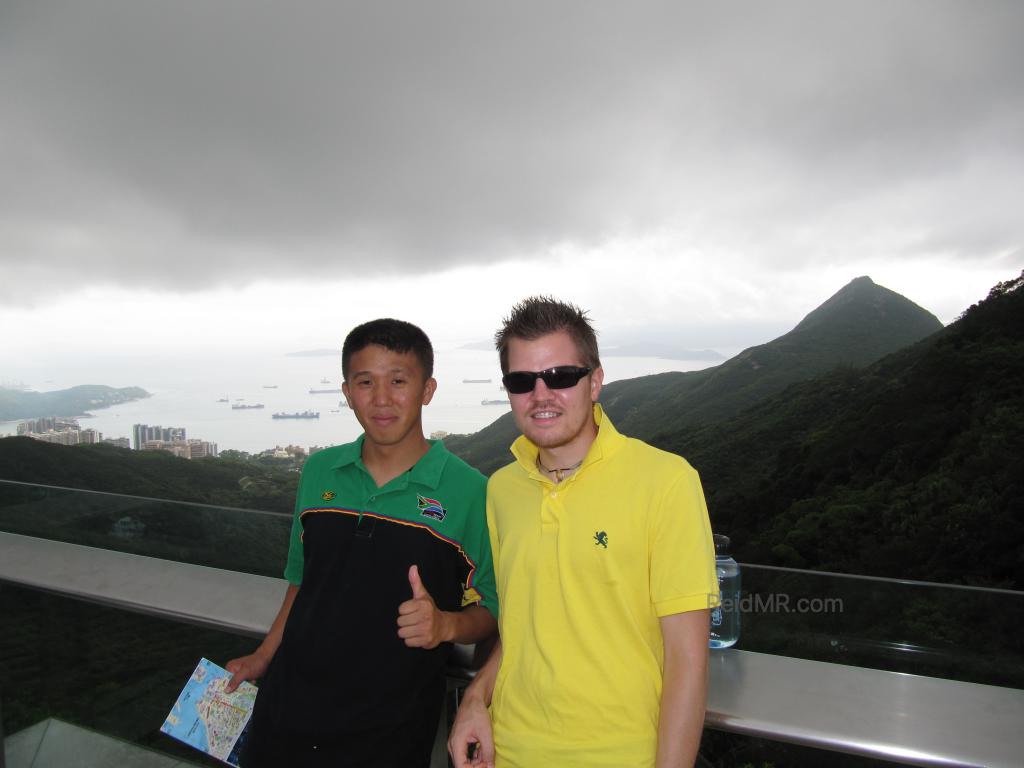 It started raining so a bunch of people crowded under a shelter and sat on the railings with their feet on the bench. The bench had water on it so was not practical to sit on. One dude became upset at Matsu and I for this. There were dozens of other people doing the same thing. Matsu got off and apologized. I stayed and told the guy off. He left in a huff and didn't bother us again.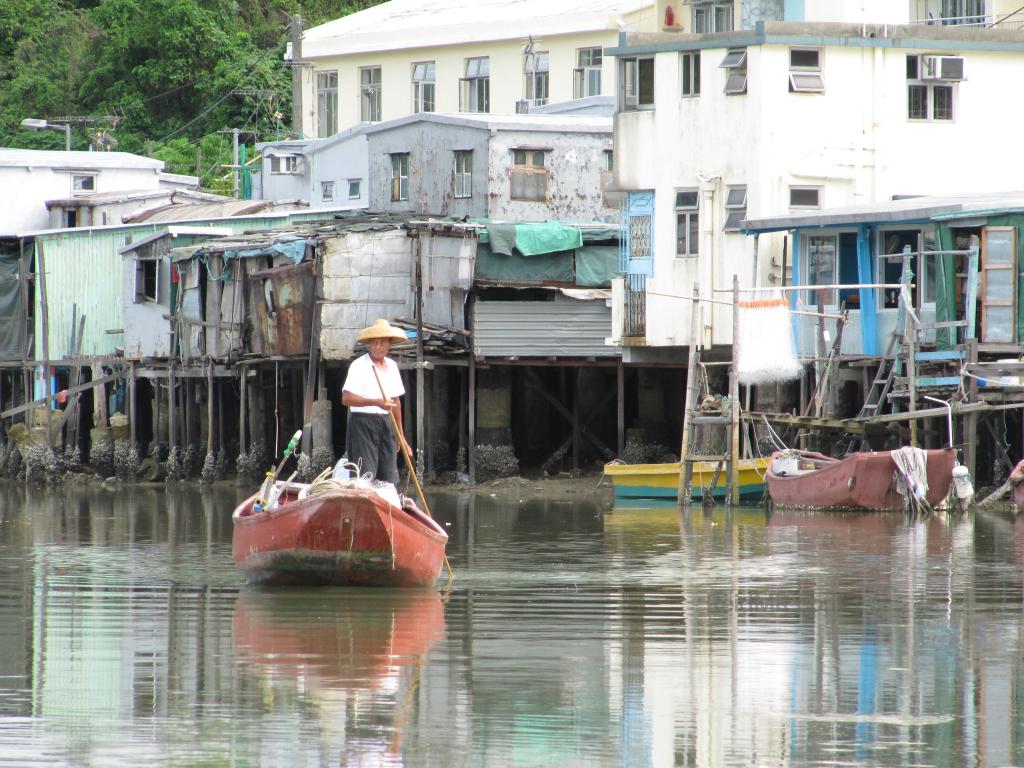 The family went to the Tai O fishing village. It is in stark contrast to the bustling urban city. Poverty hung in the air. This photo is representative of the town.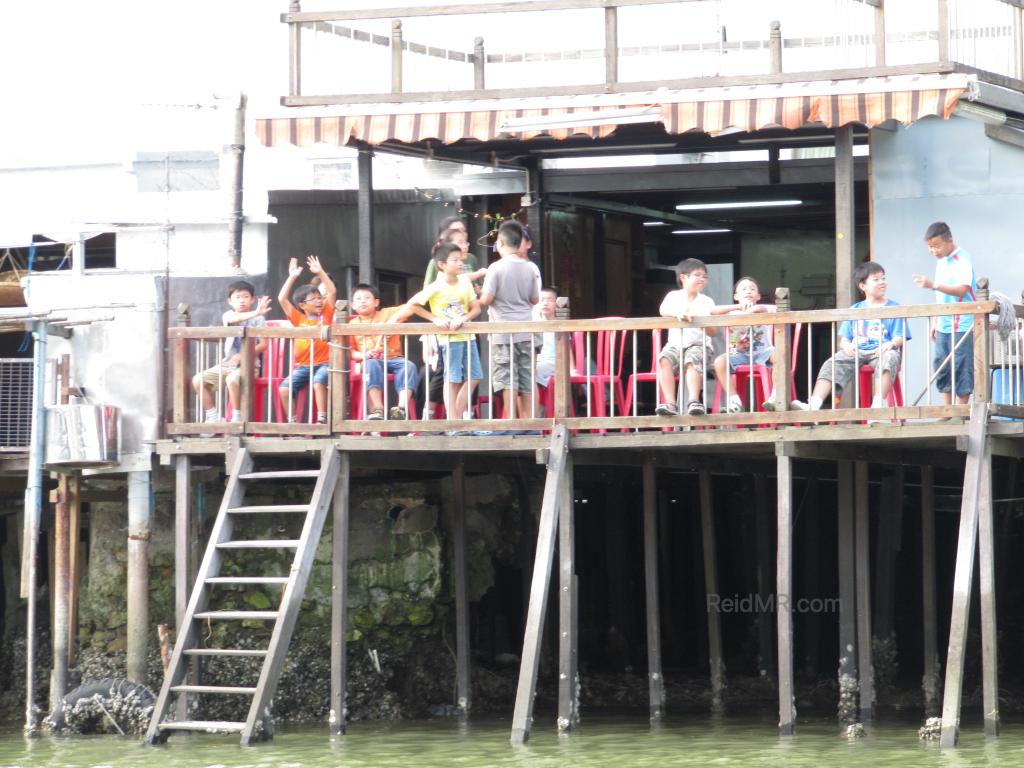 Like always, the children radiate energy. They were on their lunch break at school.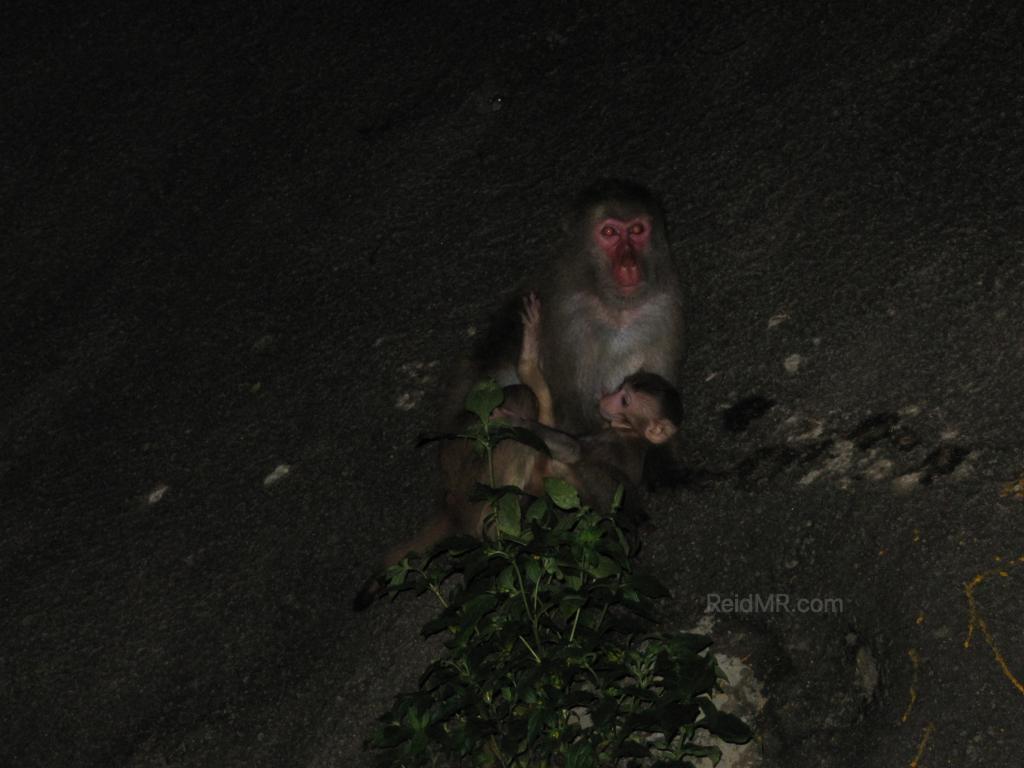 Dad brought me to Monkey Hill. Being the type of person I am, I wanted to explore it to the fullest. We reached the dams and great views. The problem was that I was not keeping track of time. It started to get dark. Dad and I discussed how to return. He thought it was one way, I thought it was another. We started to walk one way. It was now dark. Dad was becoming worried about us having to stay in the wilderness with wild monkeys. I thought it was funny. Eventually we were came to an agreement, turned around, and found the way back to the main path. Our cell phones were in full use to dimly light the path in front of us. On the way back we saw the monkeys. Now it was night time and they looked sinister and ready to attack at the slightest provocation. We walked past slowly on the far side of the path. We arrived home late but safely.
One of the last days before leaving, Dad, Marv, and I went to a beach. There was a typhoon that was winding down. At the beach the swells were high and strong. We found out that the previous day a boat sank taking the captain with. It happened within sight of where we swam. Marv gets severe motion sickness on busses which was the only way to get there. He was losing his lunch the whole way. I felt pained to see him suffer.
Today, Likee and I went to Macau for the day.
After a wonderful trip it was time to leave. The night before we all went out to eat.
Mom left for work early because she does not like goodbyes. She called and started to choke up. Dad helped go to the stop and suddenly the bus was there. We did not notice the bus until it was going past. We ran to the next stop to catch it and could not give a proper farewell.
Likee and Marv decided to come to the airport with me. They both had the sniffles. It was really sweet of them. We all made a strong connection and I could feel the love from everyone.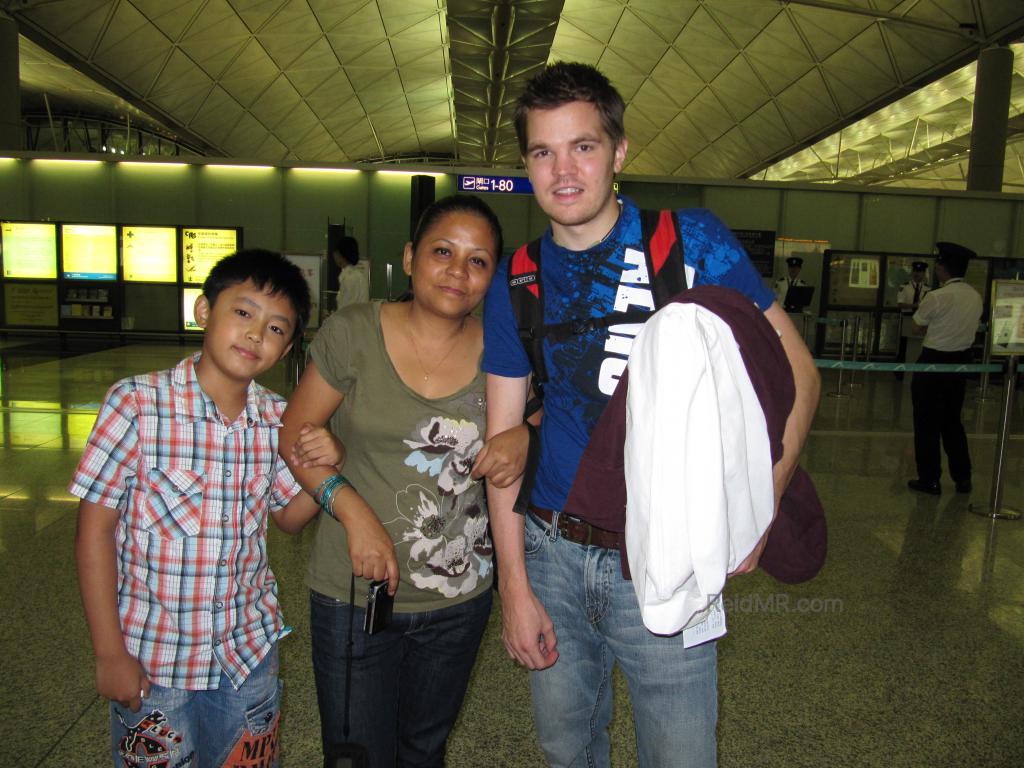 When we had to part we posed for a quick picture. We said proper farewells, gave good hugs, and left. We were all sad to part. On the airplane I started to cry remembering the great memories, generosity, and love they imparted.


Previously I was on a Western United States road trip.
I briefly visited Macau from Hong Kong.
My next trip was to Nepal.