Family. Festivals. Temples. Protests. Weddings. Mt Everest. A view to die for (almost). I left Nepal with a clear sense I will return.
This trip was possible only with the support and generosity of one of my best friends Pratish, his parents who became Mom (Mamu) and Dad (Baa), and Urika. They welcomed me into their family and treated me as a son. There is truly no way to properly thank them for the wonderful opportunity they afforded me. Thank you.
Thanks to everyone I had the honor of befriending and who showed me around. Everyone was amazing and the experience is very memorable and positive.
If you want the abridged version, here are some highlights from this trip. Hiking near Everest, in particular fearing for my life during the hike. Recognizing different types of freedom.
I decided to go to Nepal. The maximum tourist stay in Nepal is five months per calendar year. If I planned my trip right I could arrive in April 2009 and stay until May 2010. It will be five months from two different years.
I talked to one of my best friends Pratish and he arranged everything. I would stay at his parents house in Nepal for the entire duration of my trip. He had to do a lot of work and convincing.
The rules for my stay were very simple. The first was that I was not to touch their daughter Urika or I would be immediately kicked out. The second was that I had to wash my own underwear. For the former I ensured I did not do anything that could be perceived in that way. On the latter Mamu washed them anyway. They thoughtfully bought a washing machine right before I came.
My pre-trip excitement was shattered in New Delhi India when I had to wait at the airport without instruction for hours. I was dropped off in a room with fellow travelers and had my passport taken. Just before the flight an assistant returned our boarding passes and passports. It was very uncomfortable waiting for something to happen. In the New Delhi airport an employee used a mop that smelled like it was used everywhere, including the bathroom. He kept coming around to "clean" every hour oblivious to everyone plugging their noses!
The flight from New Delhi to Kathmandu was postponed due to low visibility. Being a private pilot, I was nervous that they were unable to fly without clear skies. They should be able to fly with nearly zero visibility by using the instruments in the airplane. I concluded that either they were inept at using the instruments or they were unavailable.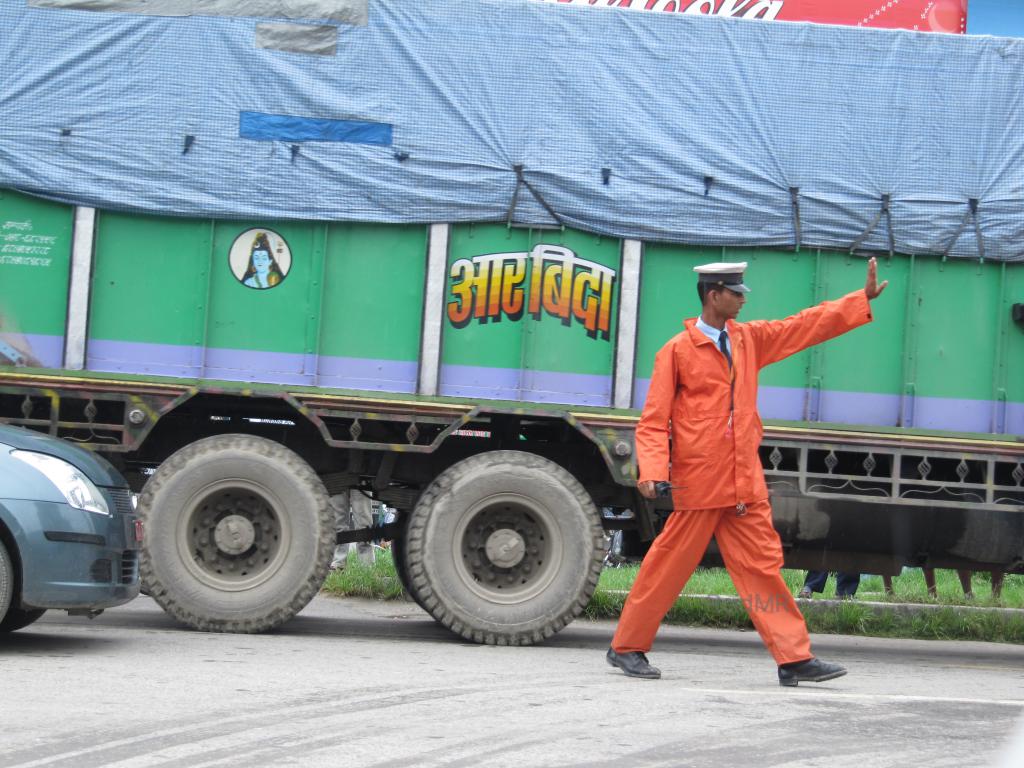 This was one of my first views in Nepal, one of my scariest rides in the taxi yet! They often use traffic police to direct traffic instead of lights.
I took a nap after going to a relatives house. I woke up calling Likee's name thinking I was still in Hong Kong. Urika and her cousins wondered what I was talking about.
There was a festival outside of the relatives house. They lived right outside of the Boudhanath Temple where there was always something going on. In my jet-lagged state someone gave me a pittance to give to dancers outside. I tossed it out the window but they just looked at it in disgust and continued dancing.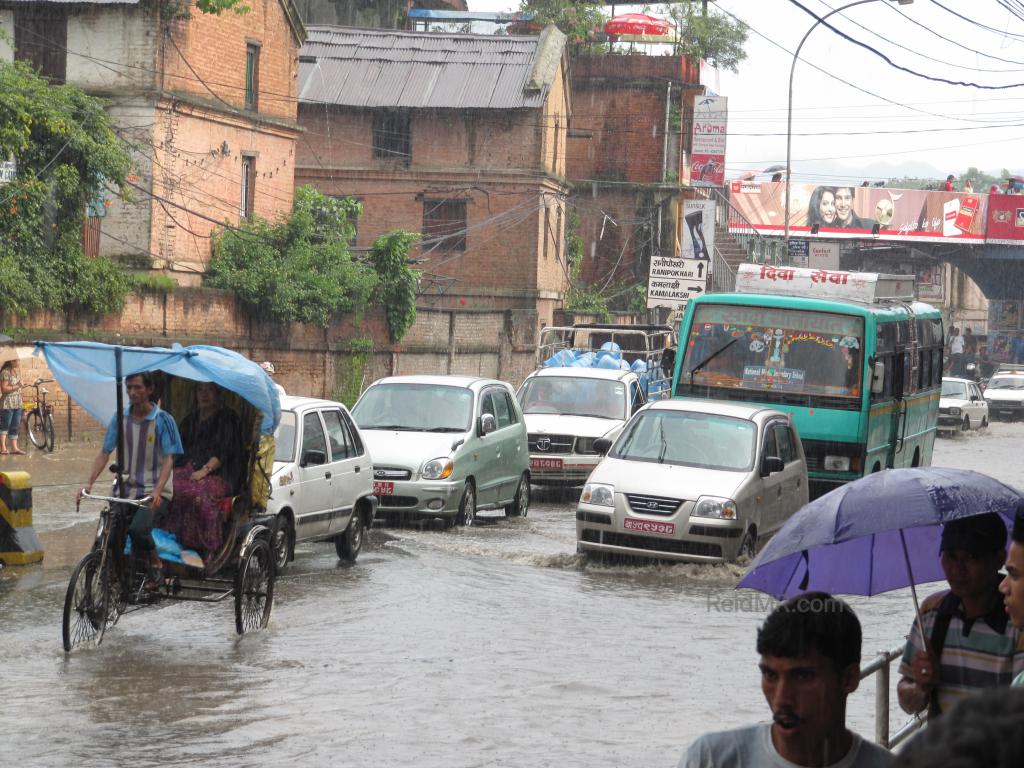 In the monsoon season it rains heavily. One mans motorcycle had water going in the tailpipe! Urika and I wondered if it would start.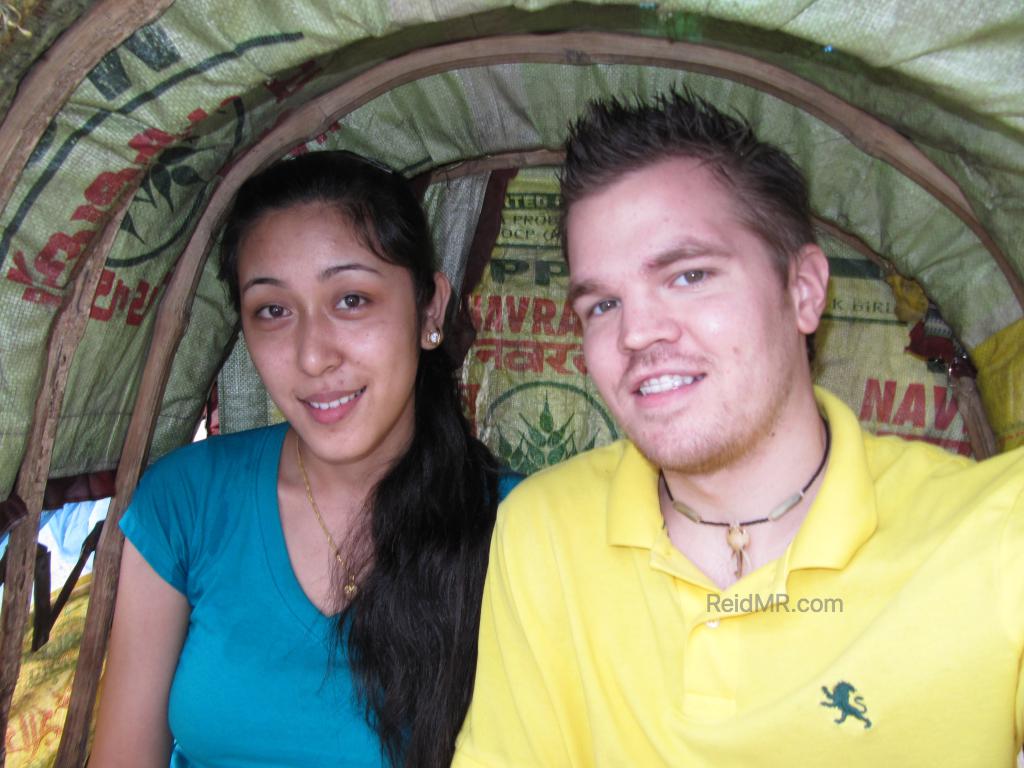 Urika and I used a rickshaw for 20 rupees (25 US cents) to cross a huge puddle. We both didn't want to get our shoes wet. We ate a snack which was less than 4 USD for both of us! I was laughing hard for the rest of the day as it was so inexpensive!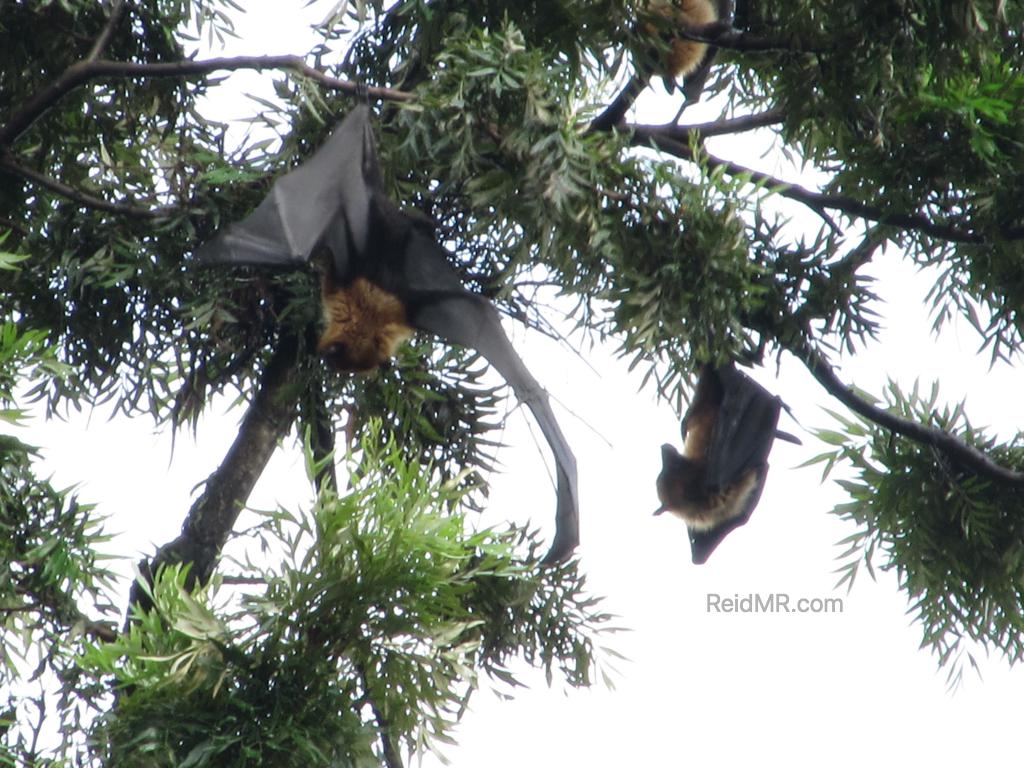 On our walk home bats the size of squirrels hung in the trees!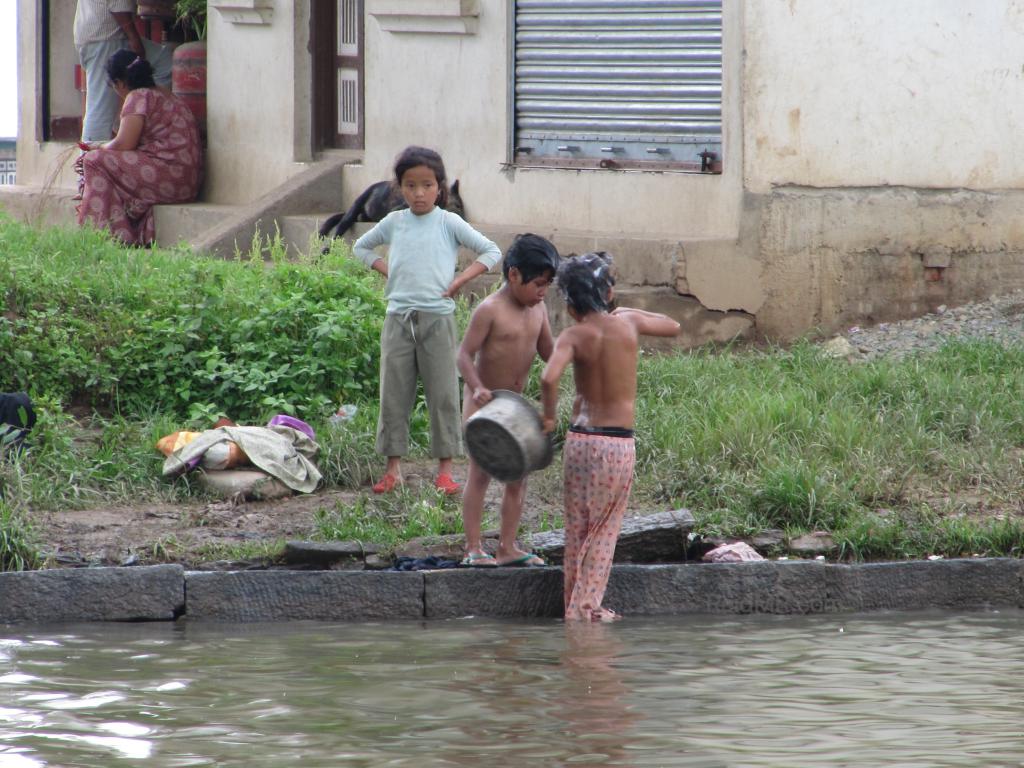 In Kathmandu our family went to a relatives house that was a long trip away. While we were there I went for a walk around the area. A pond was receiving the attention of the kids. Kids were bathing on the side while other kids were swimming. They all seemed to be enjoying themselves.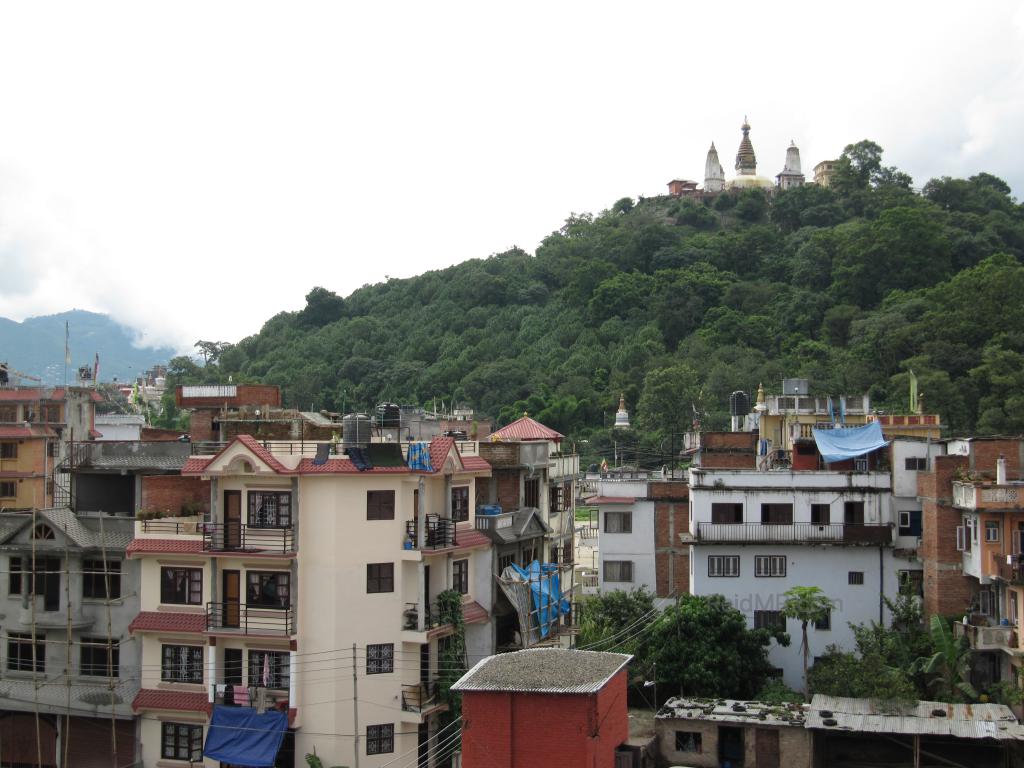 On the hill in the background is a religious temple in Kathmandu. Baa took me out for a few hours.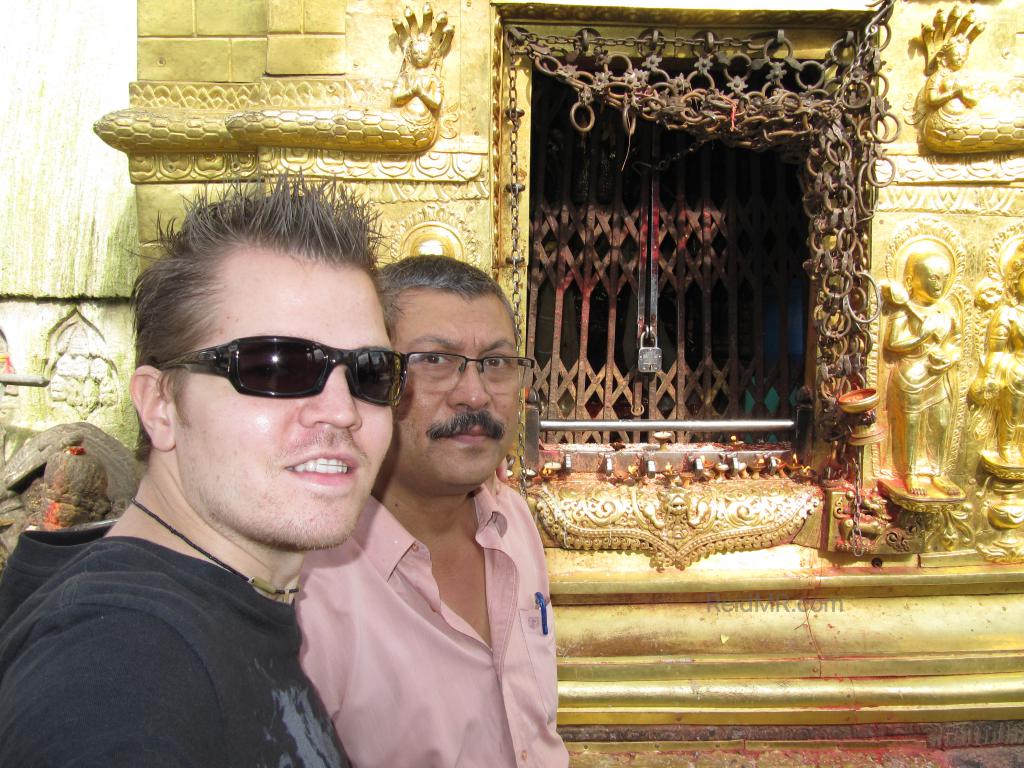 This is the Monkey Temple that Baa and I went to. The view was nice. There was a lot of trash, however. True to the name, there were monkeys everywhere. There were nearly as many beggars.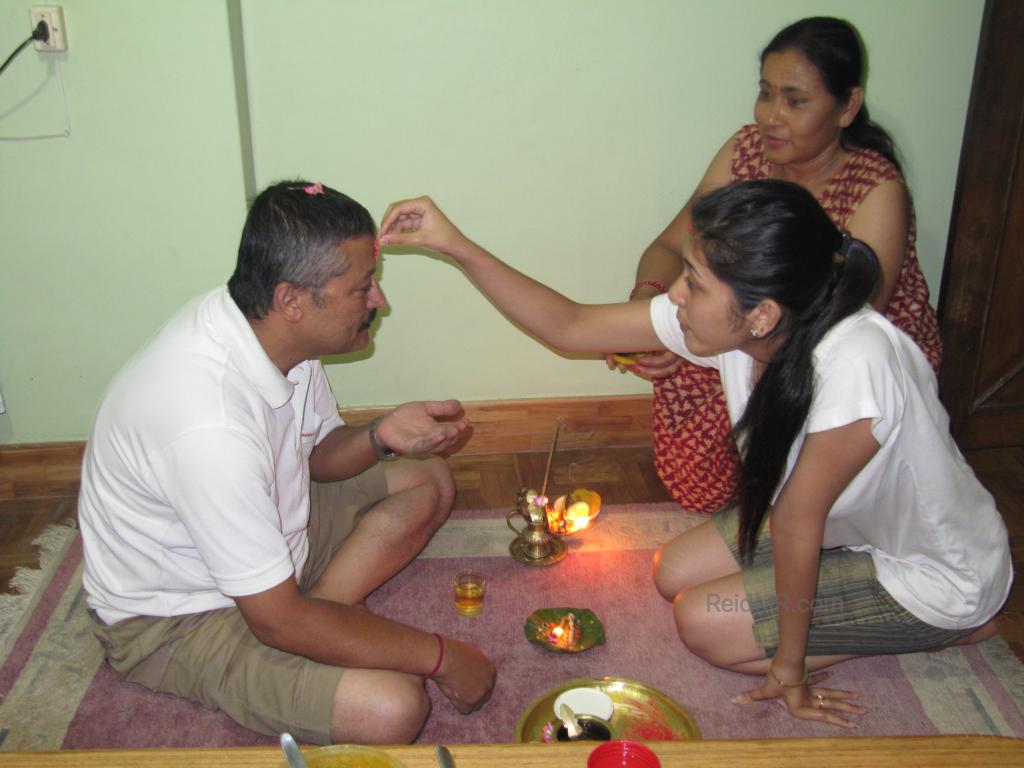 This was Father's Day and as part of it we exchange tika's and he gives us money. By this time I had learned about "jutho", a concept about contaminating things. Basically anything that comes in contact with our mouth directly or indirectly is contaminated. I drank straight from the water bottles after watching the family. Mamu would wash it out and get ANOTHER water bottle after that. I wondered why until I figured out that I grabbed it with my right hand (which I eat with) and touched it to my lips. The rest of the family would not drink from it. I then realized that they were holding the water bottles with their other hand and hovering the water bottle over their mouths and poured water in. They treat me like a son here and say I remind them of Pratish (their real son). I feel fortunate to come and be part of the family.
Eating is an interesting experience. They often eat with their hands here, especially the older generations. The meal sounds I was used to is clanking dishes and cutlery dinging against plates. Here it is much quieter. Primary sounds are of hands quietly grabbing and squeezing food and food being chewed. They are also much messier. Mealtimes usually had my spot being spotless besides the plate. Here any pieces they did not want went on the table instead of the side of the plate. So there would be bones, cartilage, and other small scraps of rice and food on the table. At the end it was acceptable to burp. Some people would not like that but would not say anything about it. Mamu did not mind cleaning up the mess as even she would have her place in a similar condition.

We went to a relatives function. Sometimes they use plates made out of leaf like this. They are hand made out of local leaves. The leaves are stitched together with little wooden splints.
In the Hindu religion it is well know that there are million, actually billions of gods. Partly that is attributed to the fact that there is not a distinction between souls, angels and gods. Instead all of these are a god.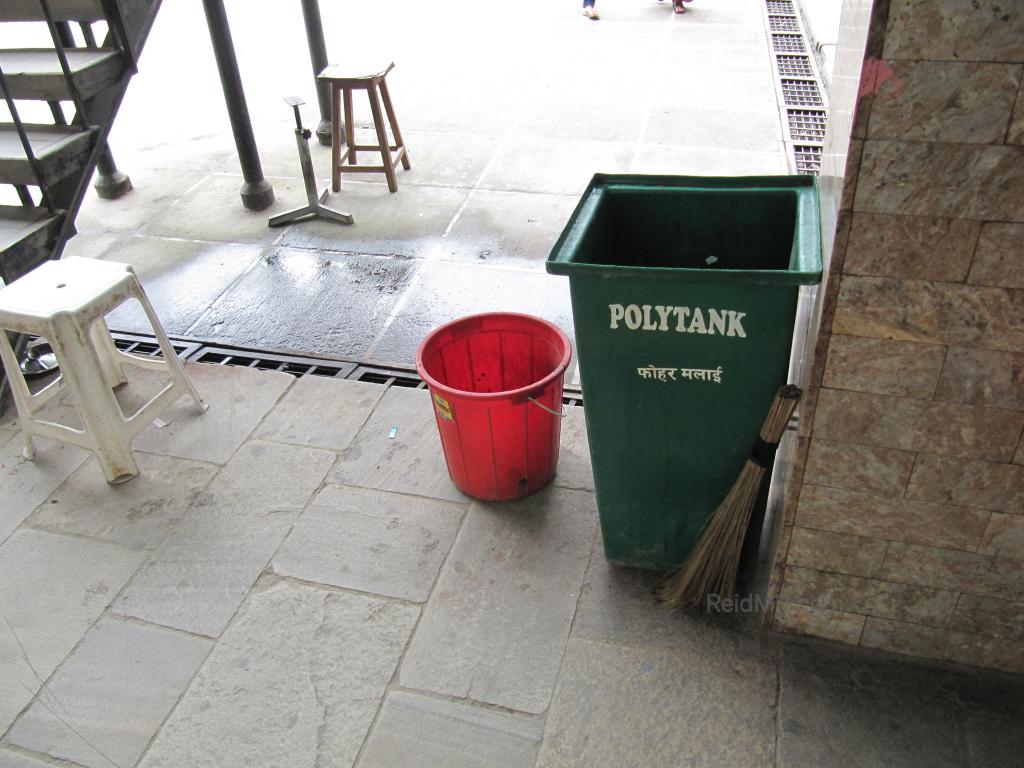 This was the first trash bin I saw since I arrived! It was such a rarity that I HAD to take a picture. Most people drop their trash wherever they are when they finished anything. Trash is eventually swept into a pile and removed at some point. I was shocked to learn that in the early morning some areas would have cleaners remove trash. By mid-day it was as messy as ever. I would have never known they clean if I did not see it one early morning when I was going somewhere.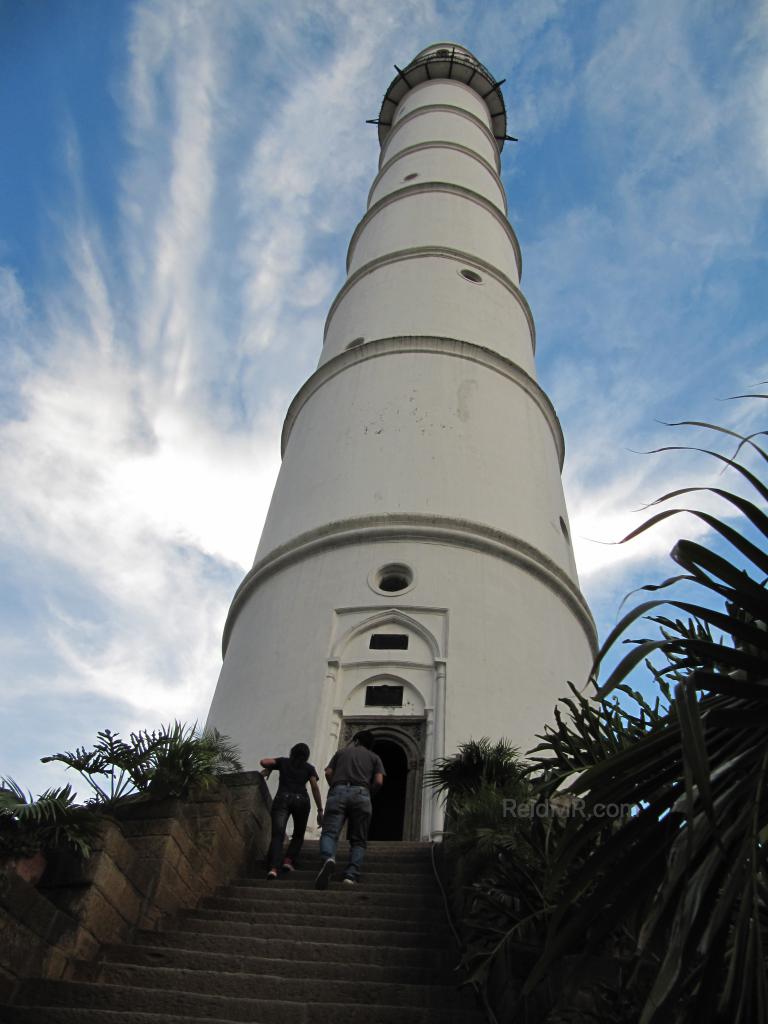 I ran up 213 spiral steps at Dharahara right after eating and started feeling ill. When I descended I rested and met Santosh, a local. We chatted for a while and he invited me back.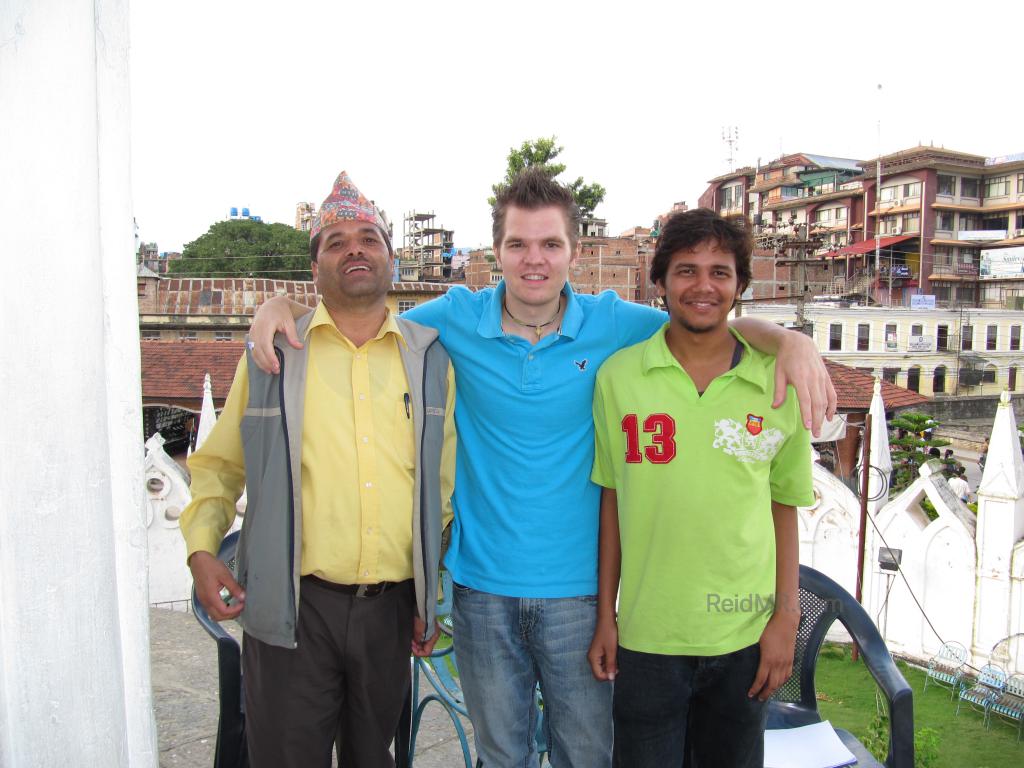 Santosh and his uncle posed where I meet Santosh at his work. His uncle came to meet me.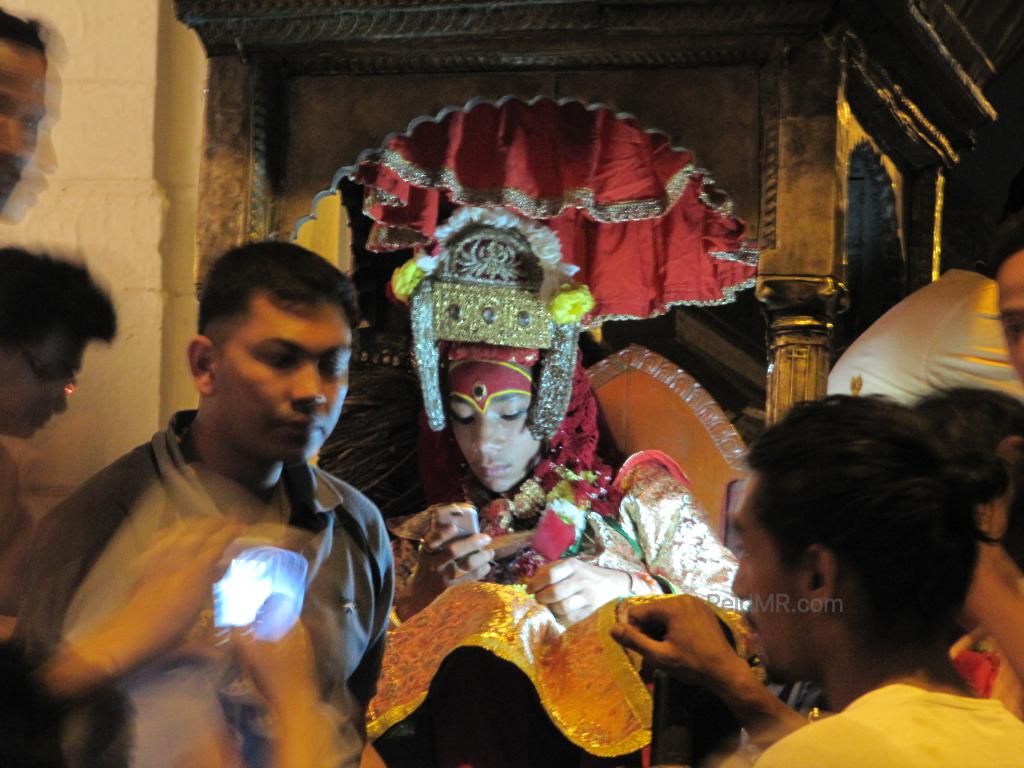 There was a festival for the living goddess, the Kumari. As shown here, she wan't too interested in it. People came up to her the whole time to get her blessing. A friend later told me this is a boy. So HE is a living god. I could not tell from the distance I was at.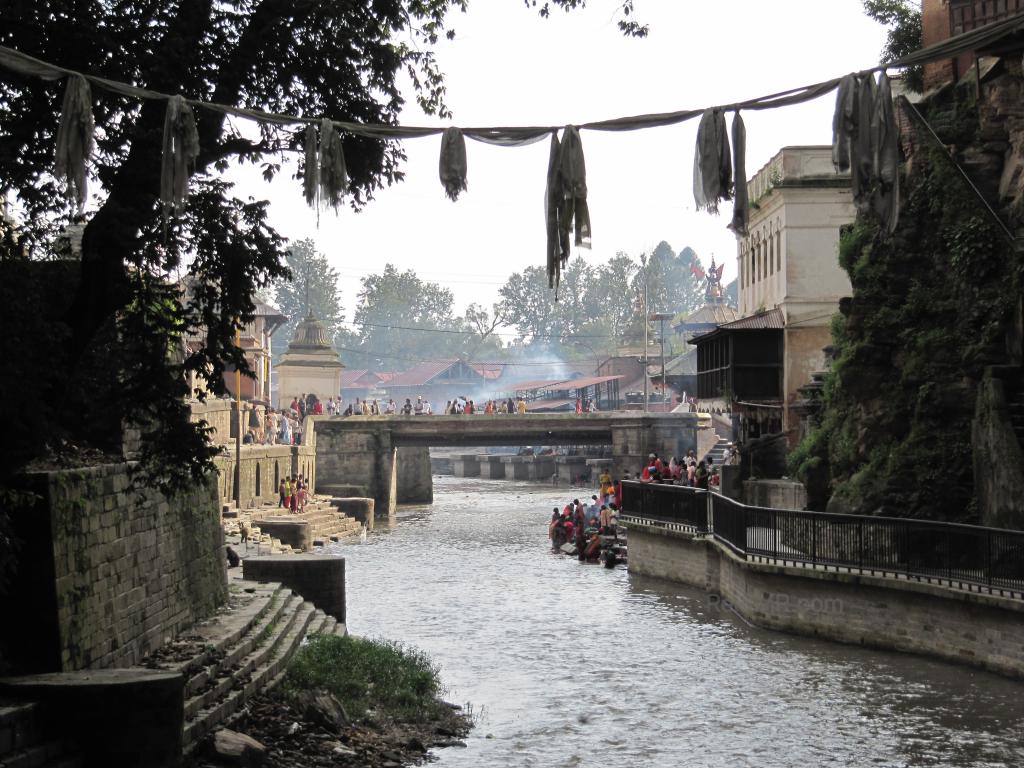 Rojesh, a family cousin my age, brought me to the Pashupatinath Temple. It is sacred and non-Hindus are banned from entering. There was a strike that day — a common occurrence here — so we went in anyway as the security guards were part of the strike. They cremate the dead on the banks and wash the ashes into the Bagmati River. They believe they will go straight to heaven if they are put into that river.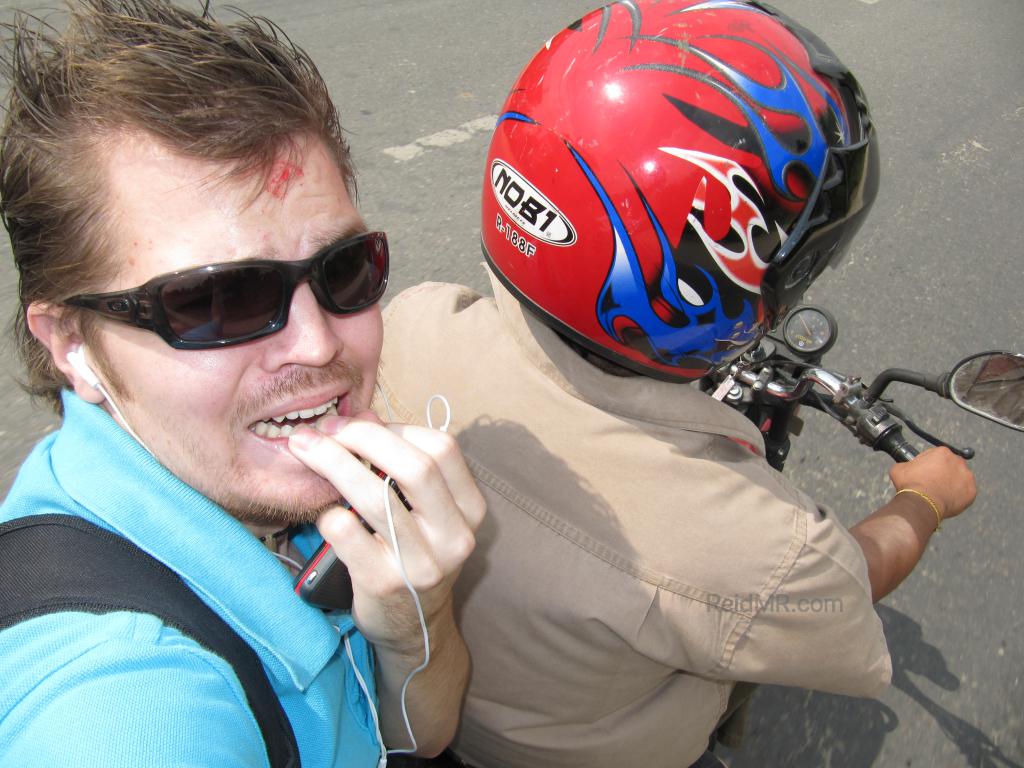 Riding a motorcycle in Nepal is the scariest thing I have EVER done! I constantly fear I will be run over by a truck. It is cheaper for the driver to back up to drive over the person again to make sure they are dead than it is to pay their medical bills! Thus far, amazingly, nothing has happened! I hope it stays that way!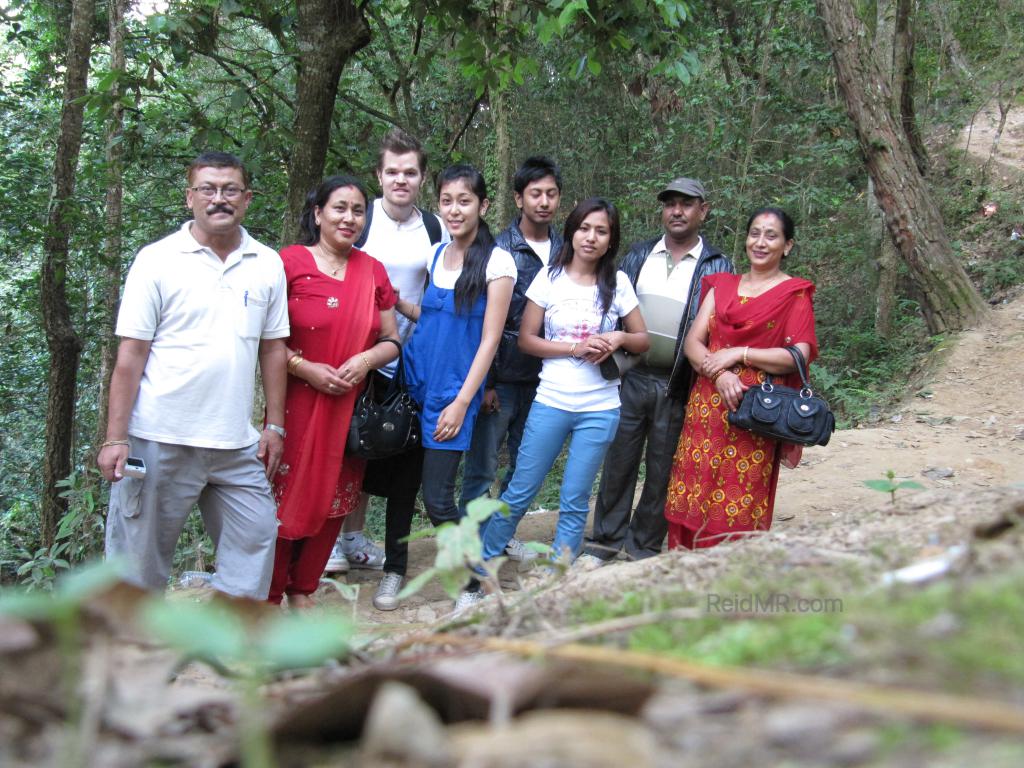 We went as a family to Dakshinkali with their close relatives. It was during the biggest festivals here, Dashain / Tihar. It is comparable to Thanksgiving and Christmas in the States. We went for a nice hike later. This was on the way down. I even drove Rojesh's cycle on the way back! It was fun.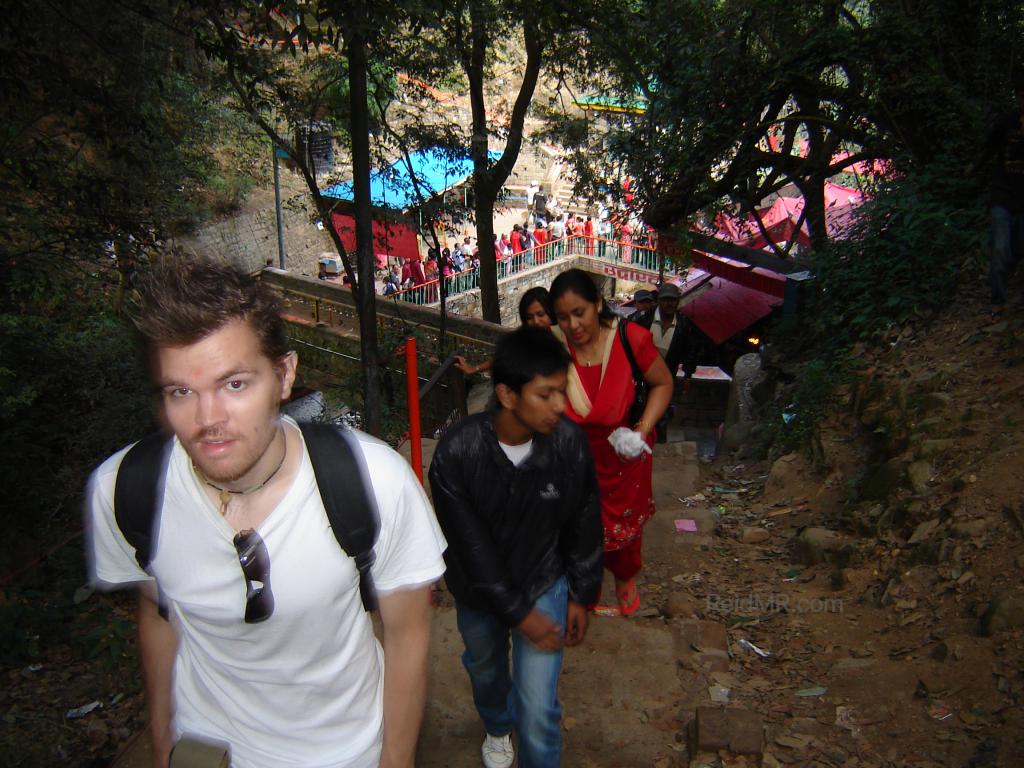 Here we are hiking in Dakshinkali.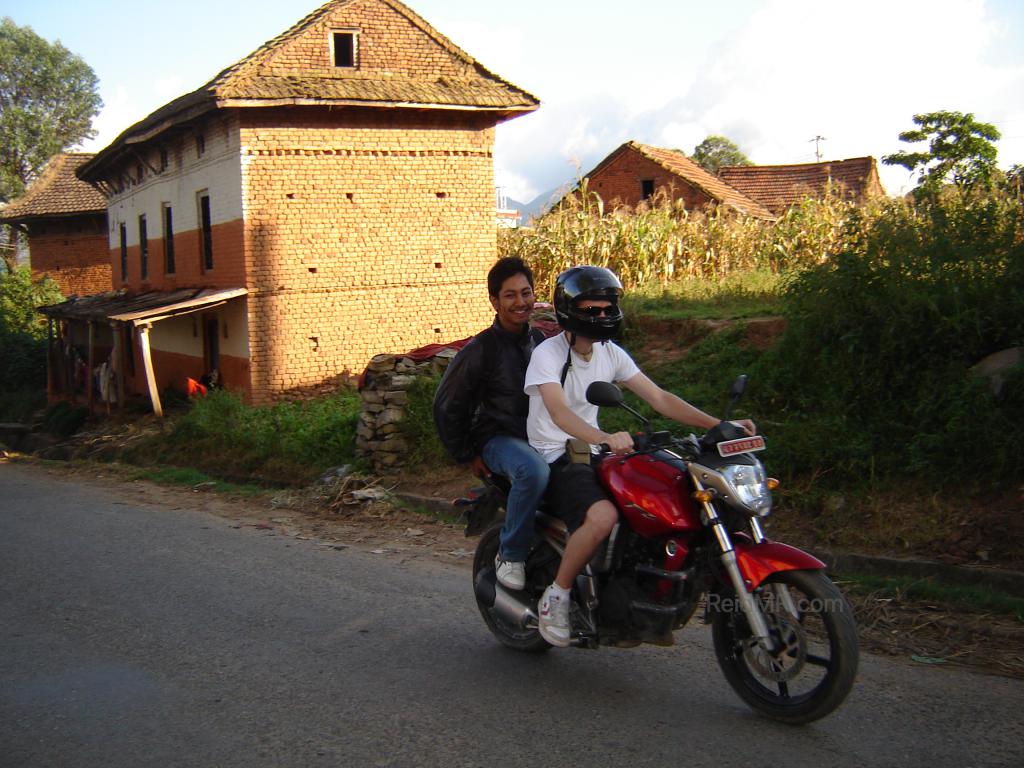 I drove Rojesh's cycle back from Dakshinkali.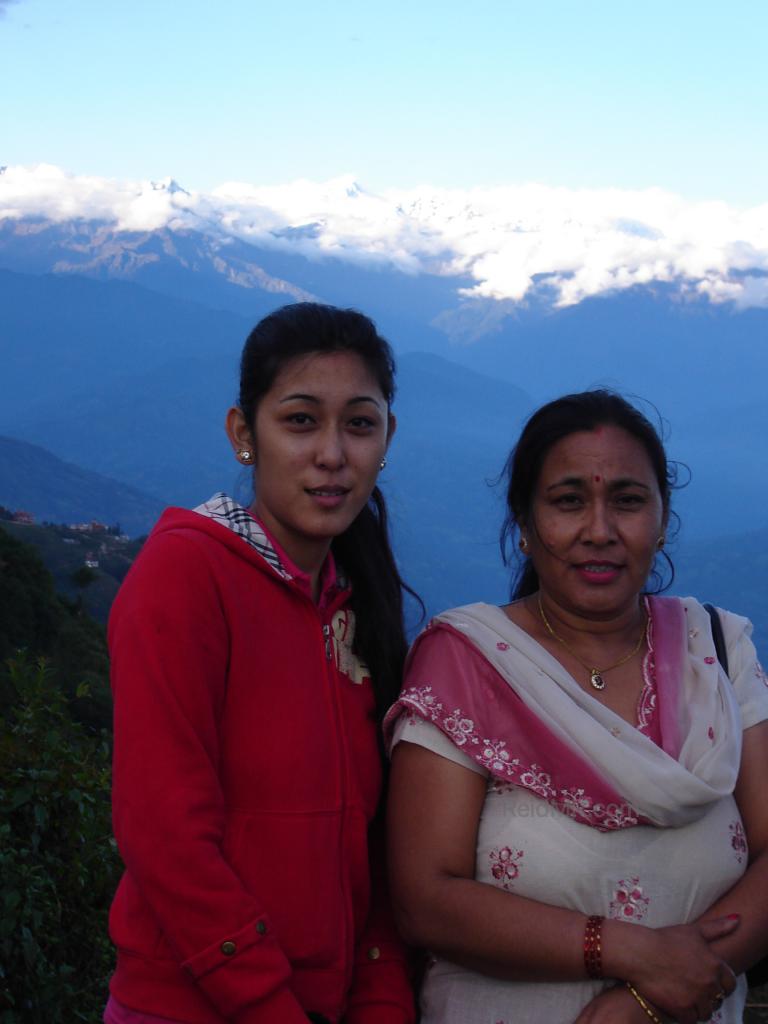 Our family went to Nagarkot for the day. On the way back I drove Urika's scooter! The scenery was absolutely amazing. It was probably the nicest scenery I had seen here. It was the "Natural Beauty" of Nepal my friends told me about.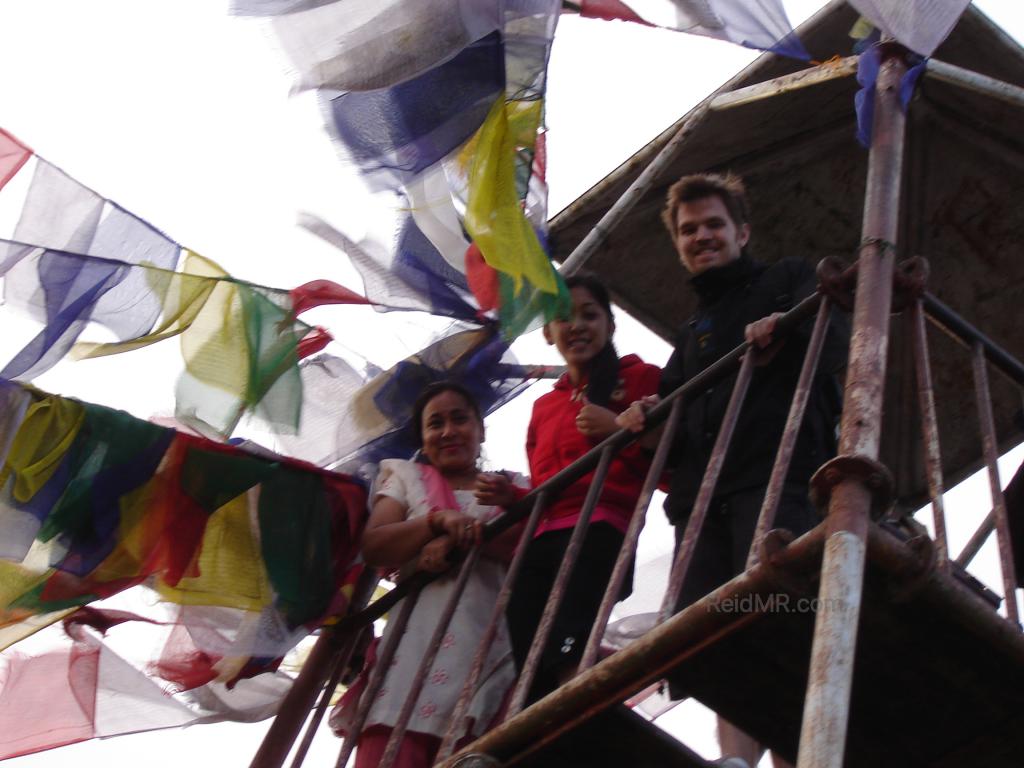 In Nagarkot we went up to this tower on rickety steps. It was a bit scary. Some boards were broken so we had to watch where we stepped. The view was amazing! We could see part of the Himalayan Mountain Range.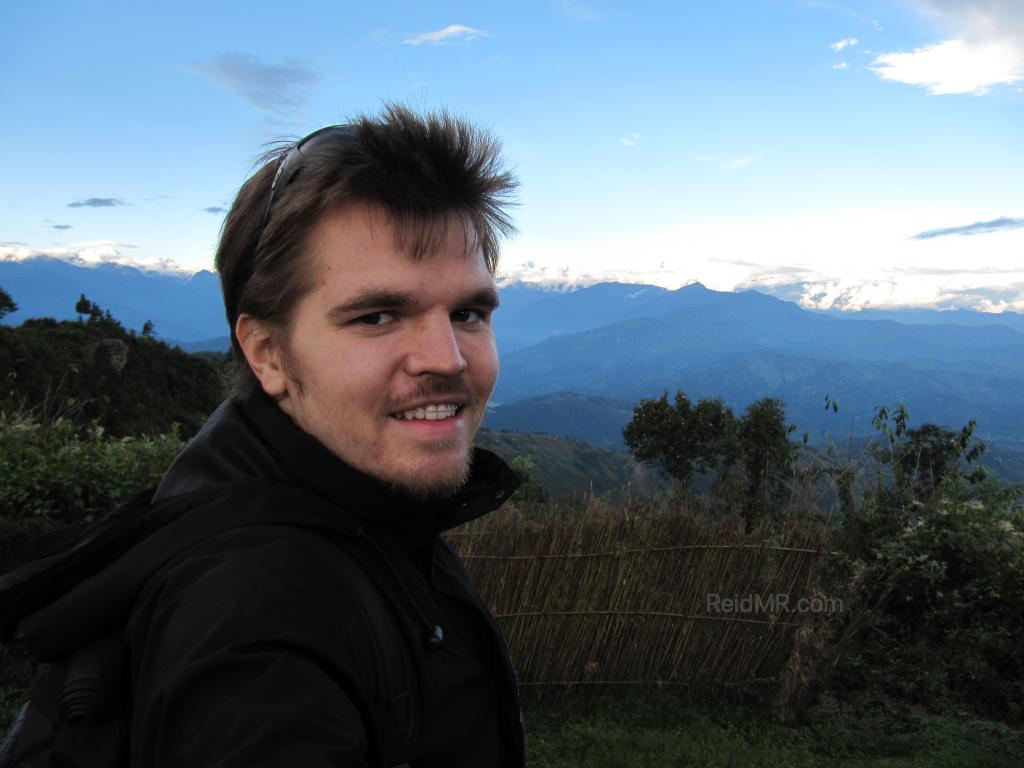 Still in Nagarkot.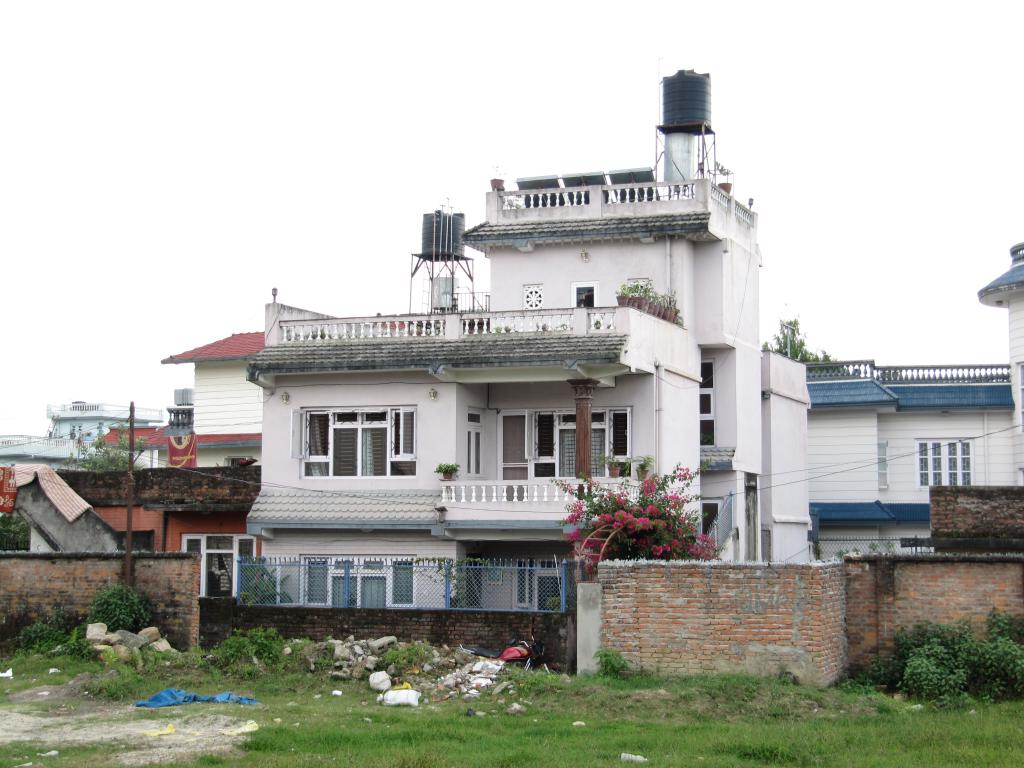 This is a view of "my" home here. It really does feel like home. My room is in the upper left corner. It is easily the biggest room I have ever had! I have three beds inside to choose from.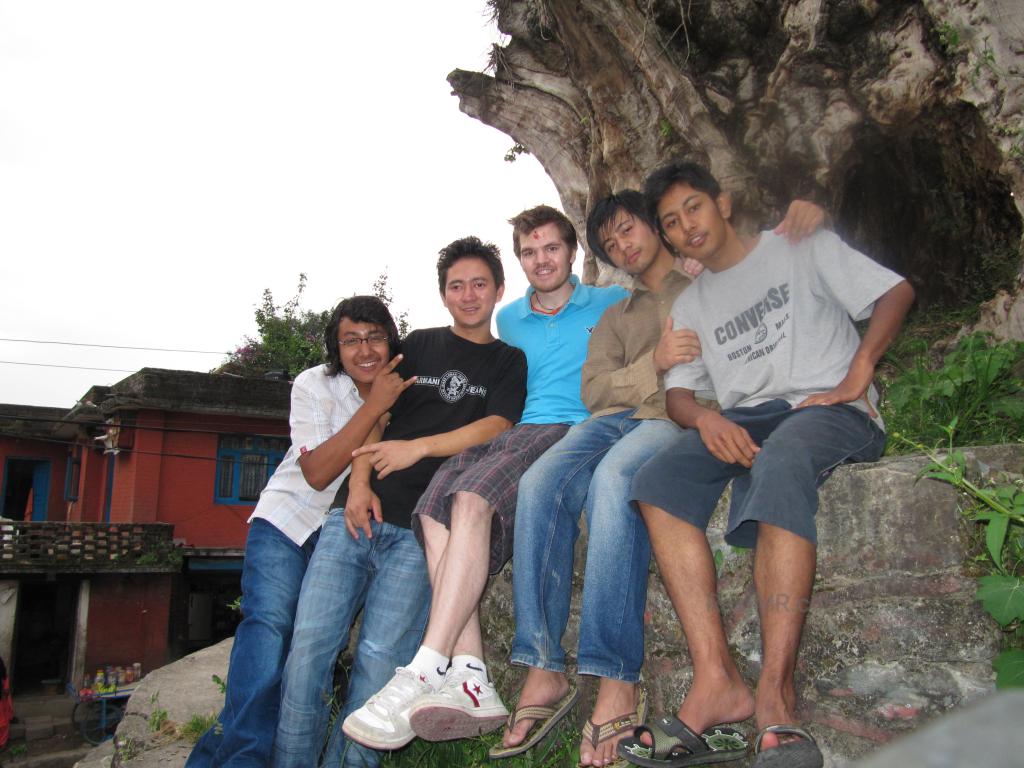 Rojesh and his friends brought me on a nice walk to a temple and on the way we stopped here for a picture. The temple was closed so we had to return.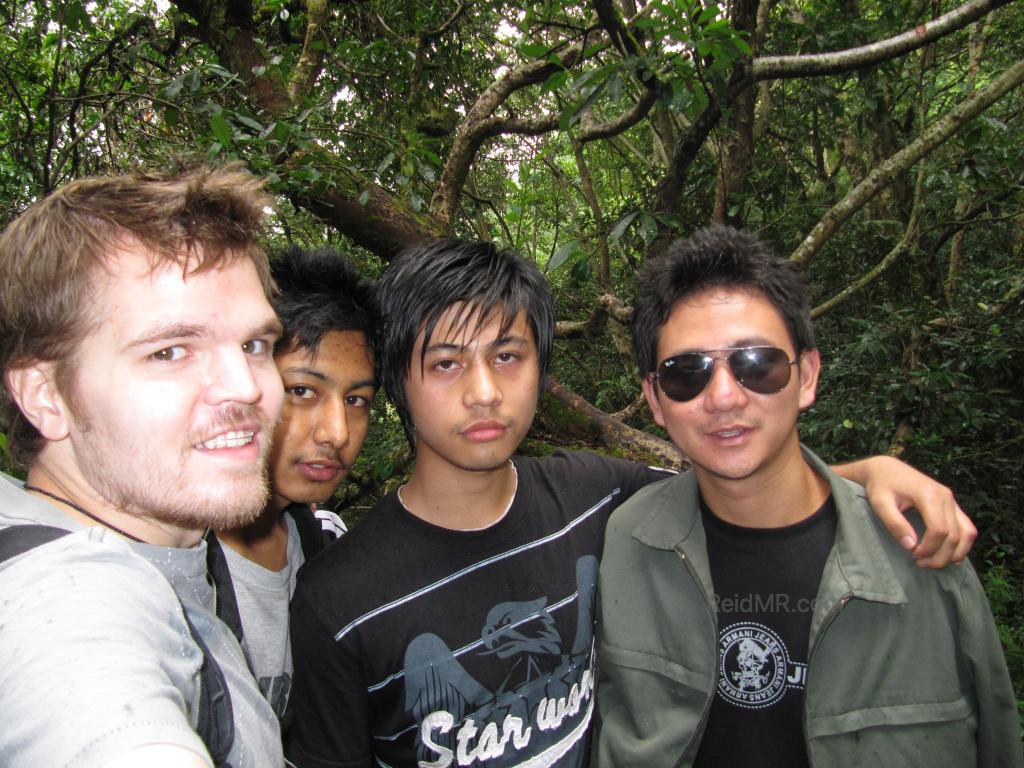 Rojesh brought two friends and I to go to hiking at this nice place. The water was the cleanest I have seen here and it supplies drinking water for Kathmandu. It was a nice time with cool guys. We didn't go inside of the park at the top because the entrance fee for myself was at least 20 times more than for them. In hindsight, I should have gone anyway. Now when I travel I try to remind myself that I am already here, that I have bought a plane ticket and everything, so the additional expense is marginal compared to what I have paid so far. Pay for things when you go to a new country. That is what you are there for, to enjoy it and experience new things. Some of those things cost money. Whenever I find myself wondering if I should do something because of the cost, I think about that. Usually I go and enjoy it.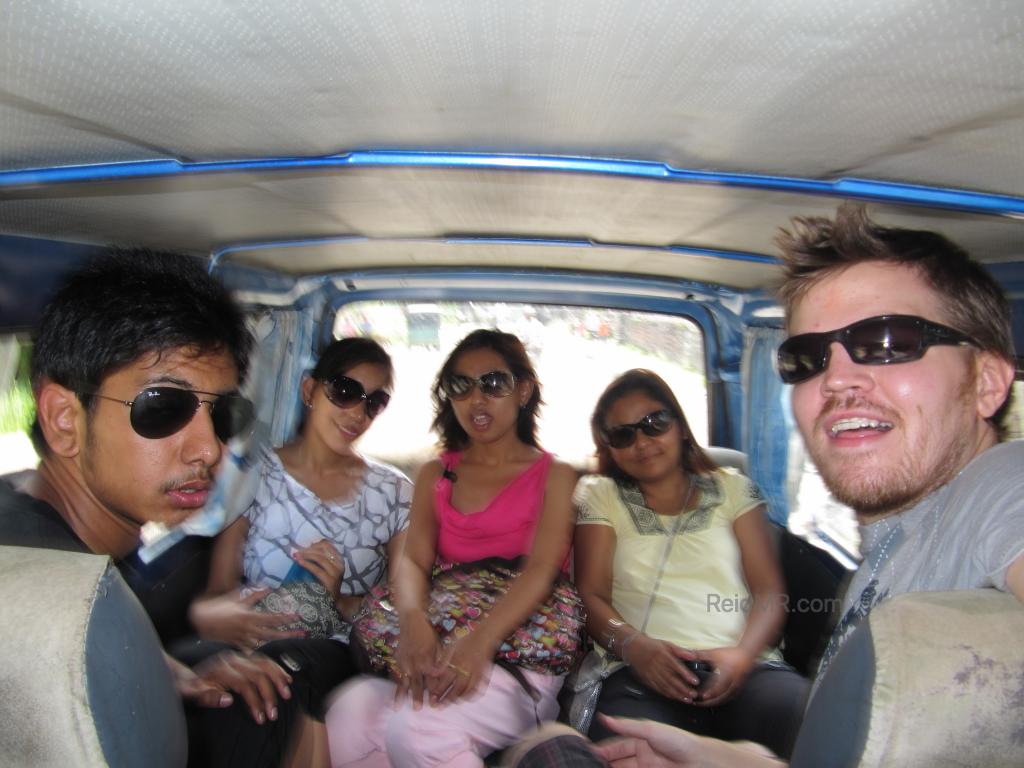 Likee (from Hong Kong) brought us all to Dharan Nepal and then to Siliguri and Darjeeling India. It took at least a week to figure out if Urika could come or not. It was interesting to experience that difference. Mamu and Baa called to consult with all of the relatives and family members before making a decision. That is how it works here. People don't really make decisions for themselves, others do it for them. It was frustrating for me. I talked to Pratish and he told me that is what I came for, to experience their culture, and that was what I was getting. The family was surprised that I never asked my biological parents or family about anything I do. I just do it.
It was really nice that Likee came and brought us with her. I was responsible to ensure everyone was safe but Likee, which was a little concerning.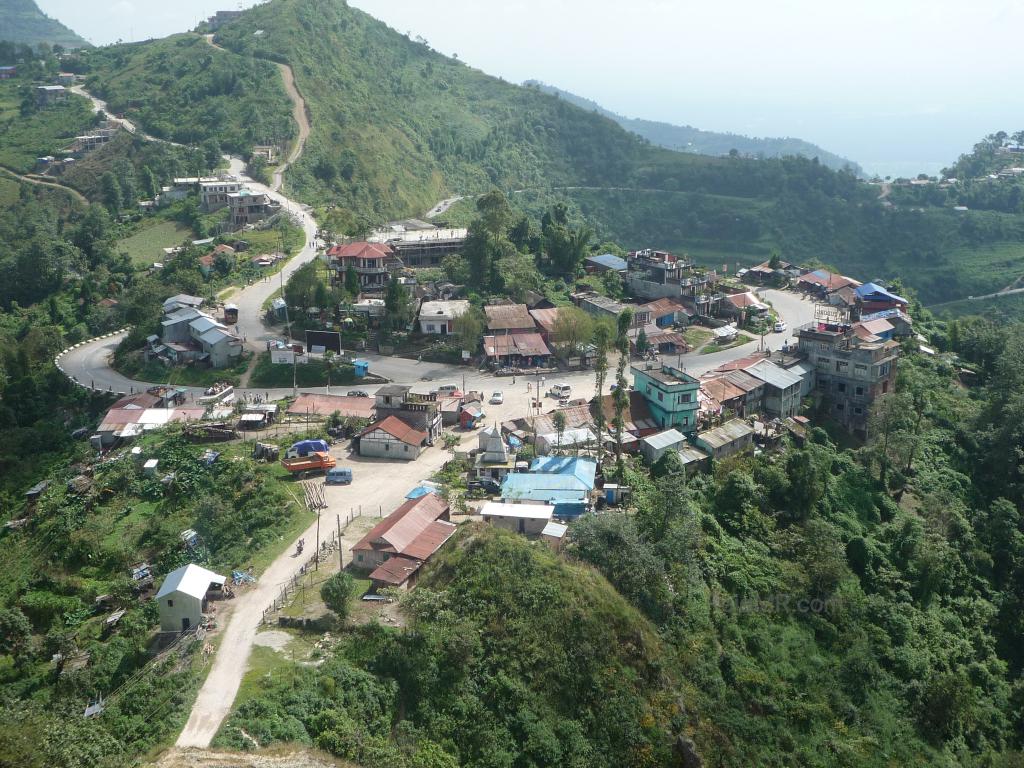 In Dharan we went up a mountain for a lovely view of the area.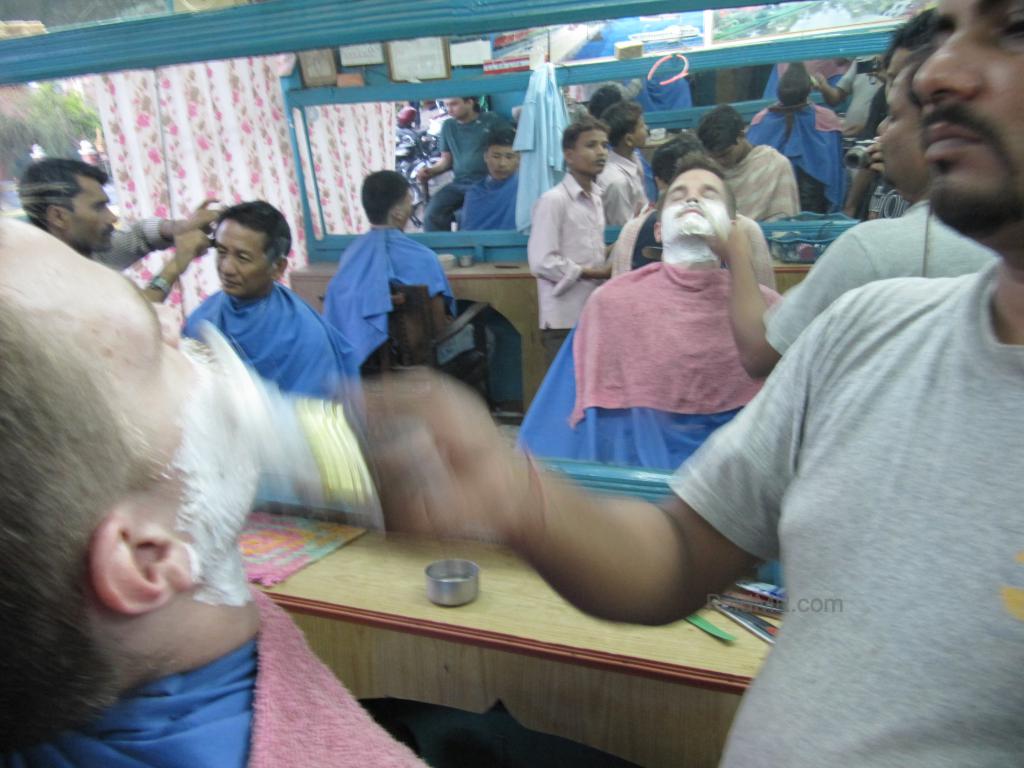 In Dharan I was becoming shaggy so received my first shave from someone other than myself. The total cost including a haircut was 100 NRS (~1.30 USD), that was including a 60% tip!
In Dharan we visited Likee's relatives to stay with her grandmother. The grandmother was at least 90 and still walking around. There were plenty of empty rooms to stay in. Her relatives were very friendly and graciously extended their hospitality.
We went to North East India.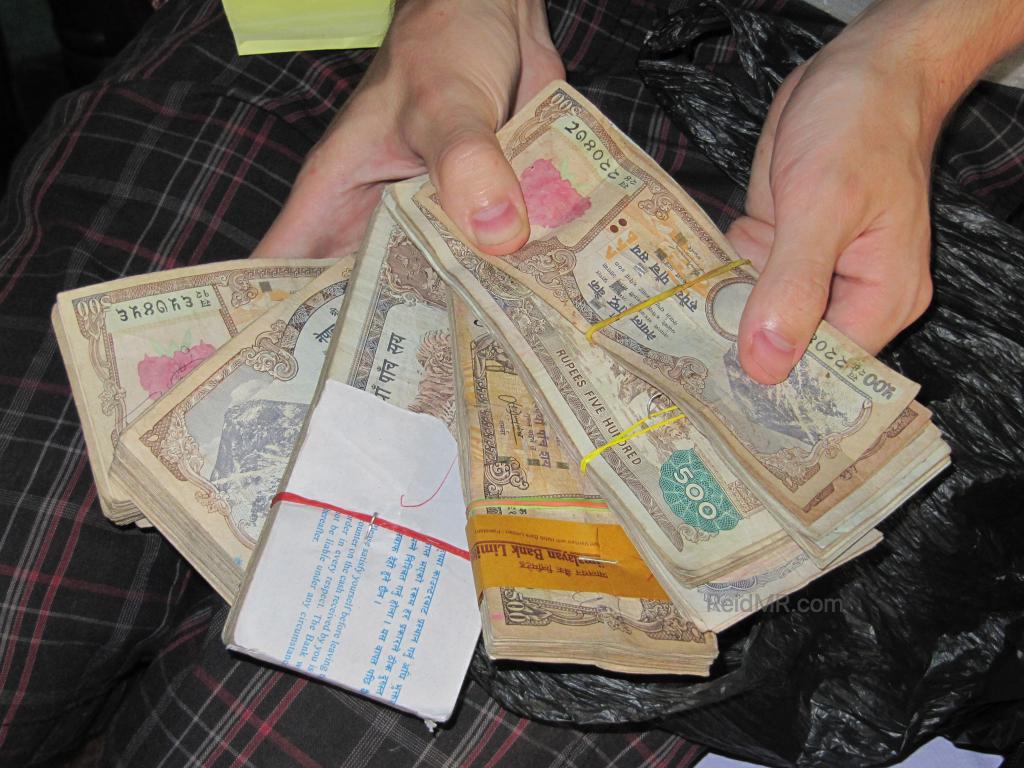 Likee and I were back in Nepal. Rojesh, Rojina, and Urika were already home for the holidays. To the best of my memory, they all had never traveled without their parents. Rojesh and Rojina were getting really homesick and Urika went home with them. I converted some money during a bandh. A bandh is when Maoists force everything closed with the threat of violence for not obeying. I was unable to easily go to the bank to deposit it. Luckily, a friend of the family agreed to bring me to the bank after I found out that I could use the back door there. I was really nervous because that represented a large portion of my travel budget. Being stopped by Maoists and having it stolen would have shortened my trip drastically.

Likee and I took the bus back to Kathmandu. On the way people would hop out of the bus for a bathroom break. This was what the restroom looked like on many stops.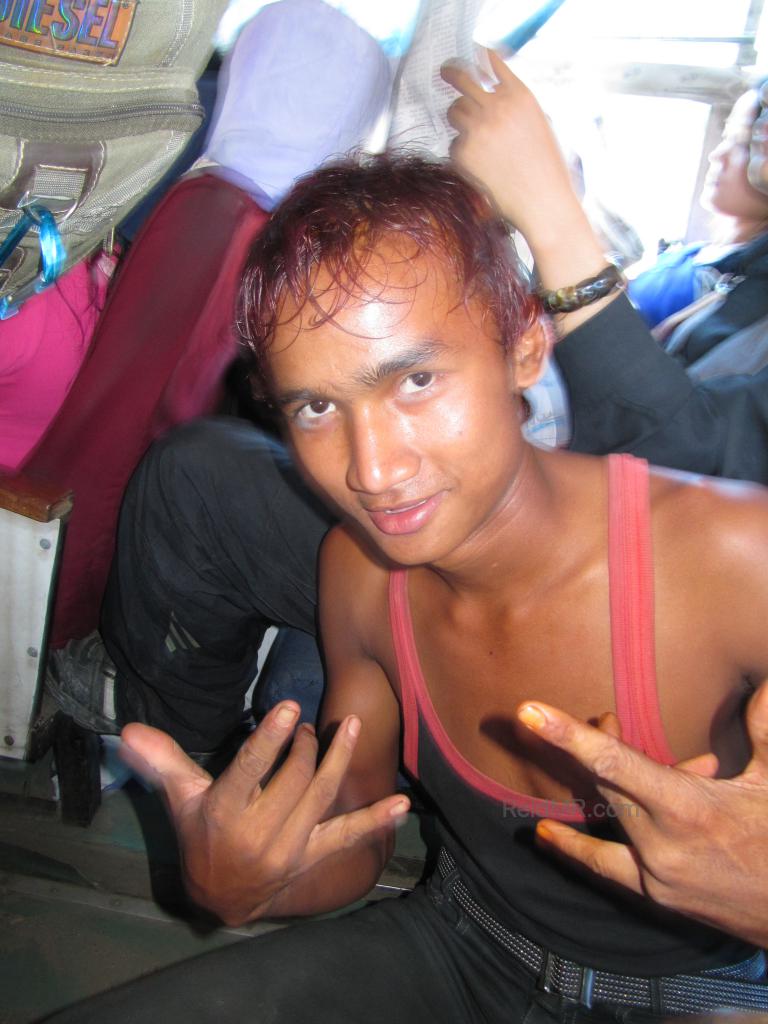 On the bus was this random passenger. He was like me, a hobo. He traveled and worked in India and was now getting any work he could in Nepal. He was earning just enough to survive. Some people assume that because of Hollywood productions, all Americans are open about sex and talking about anything. He started asking very personal questions, like often happens. Through my broken Nepali and his broken English, we were able to chat for a while. Likee was too embarrassed to translate because of the questions he asked.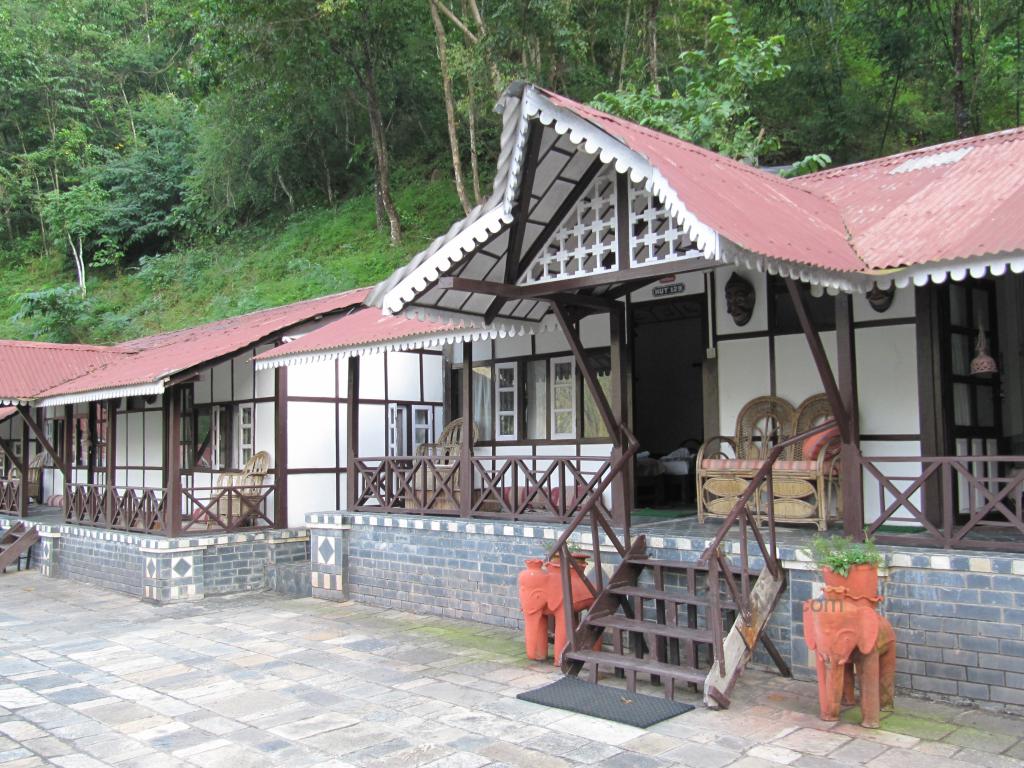 On the way back Likee and I stopped by Manakamana, another religious site in Nepal. We stayed at this place, Hotel Home, and it was really nice. So nice that we decided to stay two nights instead of one. It was 1500 NRS (~20 USD) per night. There was an amazing view from where we were. A strong Nepali man took all of our bags in one trip to the top of the hill. Likee and I were tired from the walk with nothing to carry.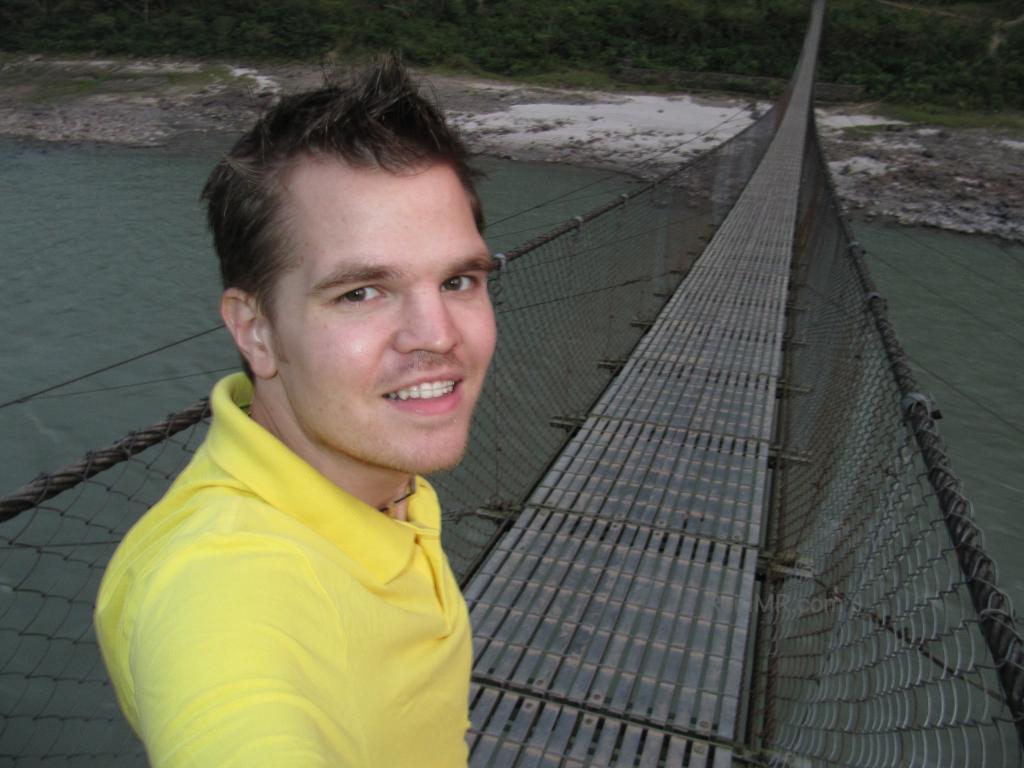 This cable bridge was used by the locals to traverse the river. Likee was terrified as it swayed when we walked on it.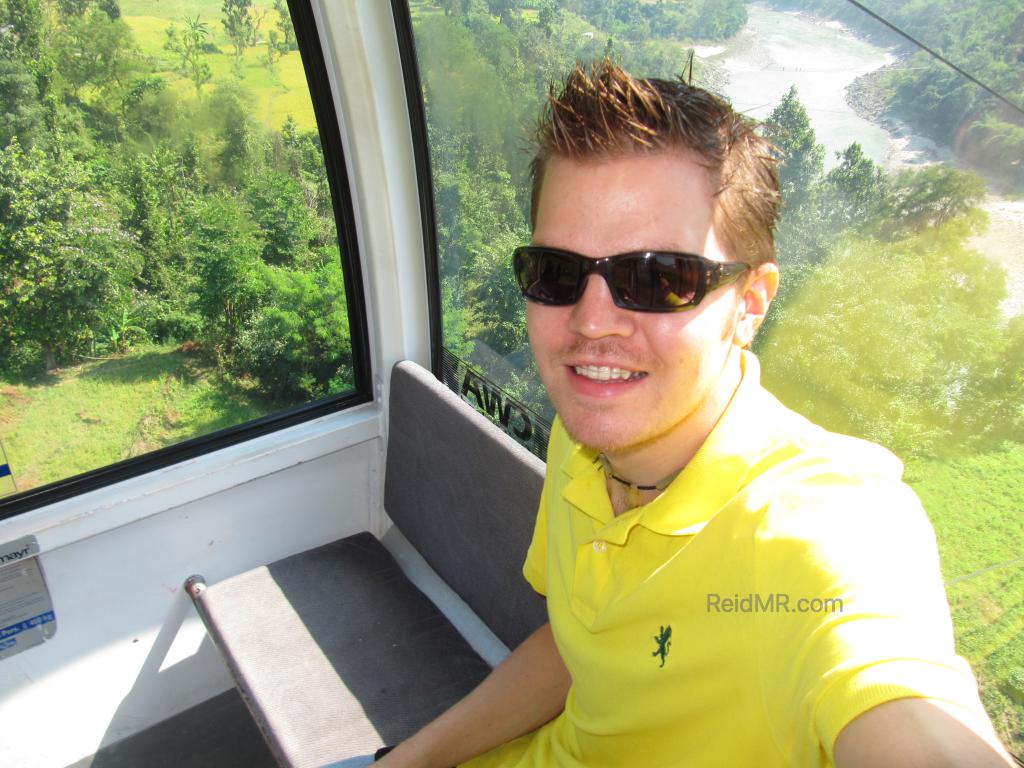 During our stay we took a ten minute scenic cable car ride to Manakamana.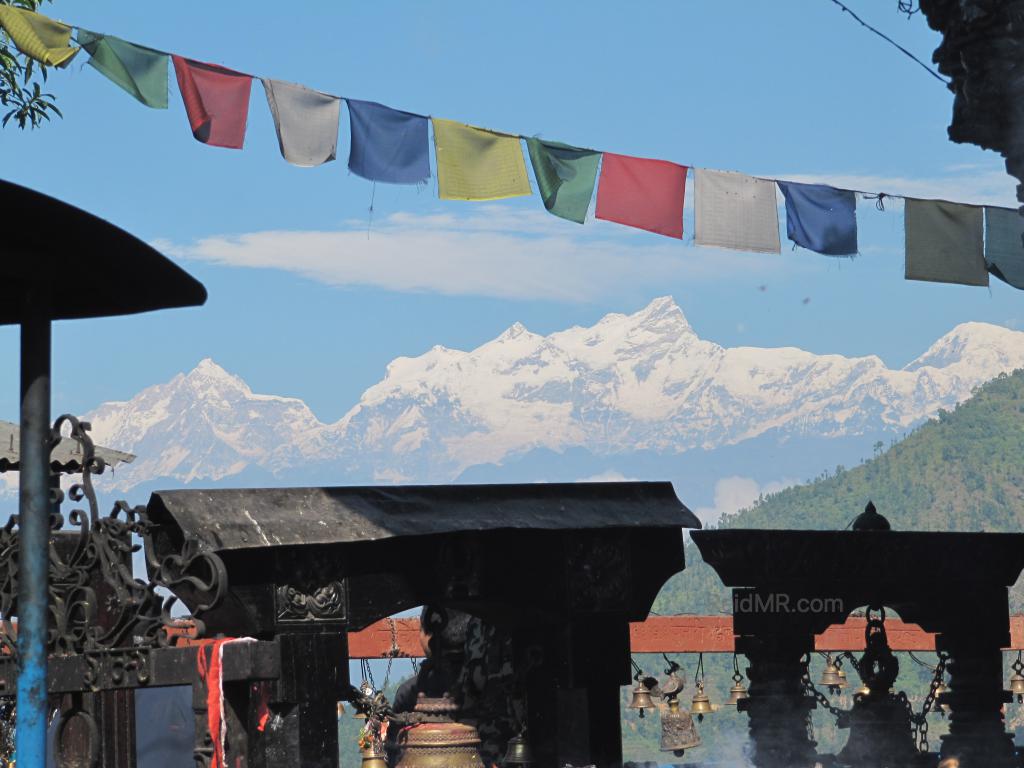 At the top of the mountain was this temple with a nice view of the Himalayan range.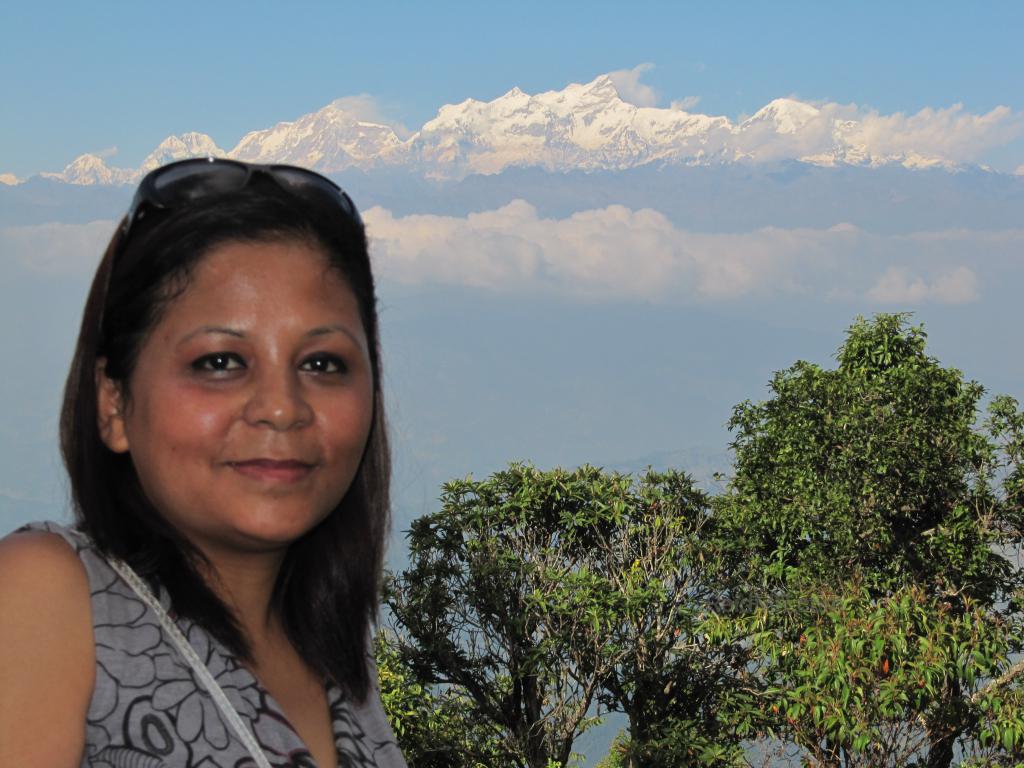 Likee and I hiked up the mountain a further 2.5 hours. There was a fantastic view of the Himalayan range! Some people were praying there. I was nervous as I didn't know if they were thieves. We took a proper tourist bus on the way home so we didn't have to shower and change our clothes again because of the dust. Likee gave an amazing and wonderful trip.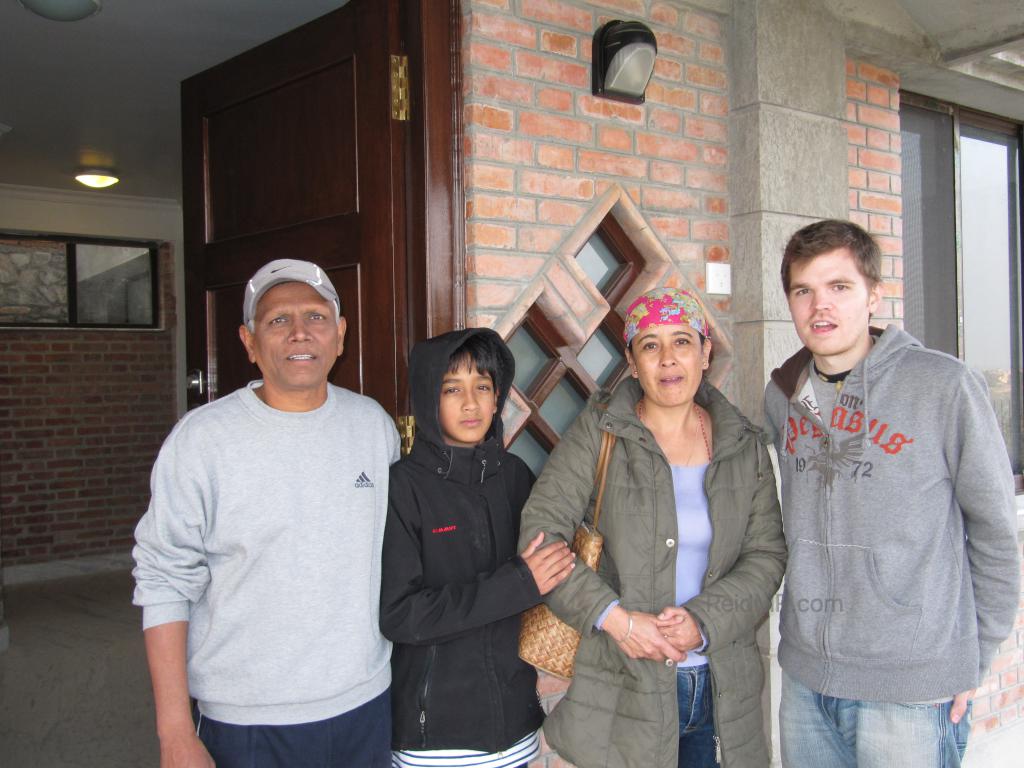 This is Lexa's family including her younger brother Ash. Her mom and brother showed me around part of Kathmandu. It was a fun and nice day.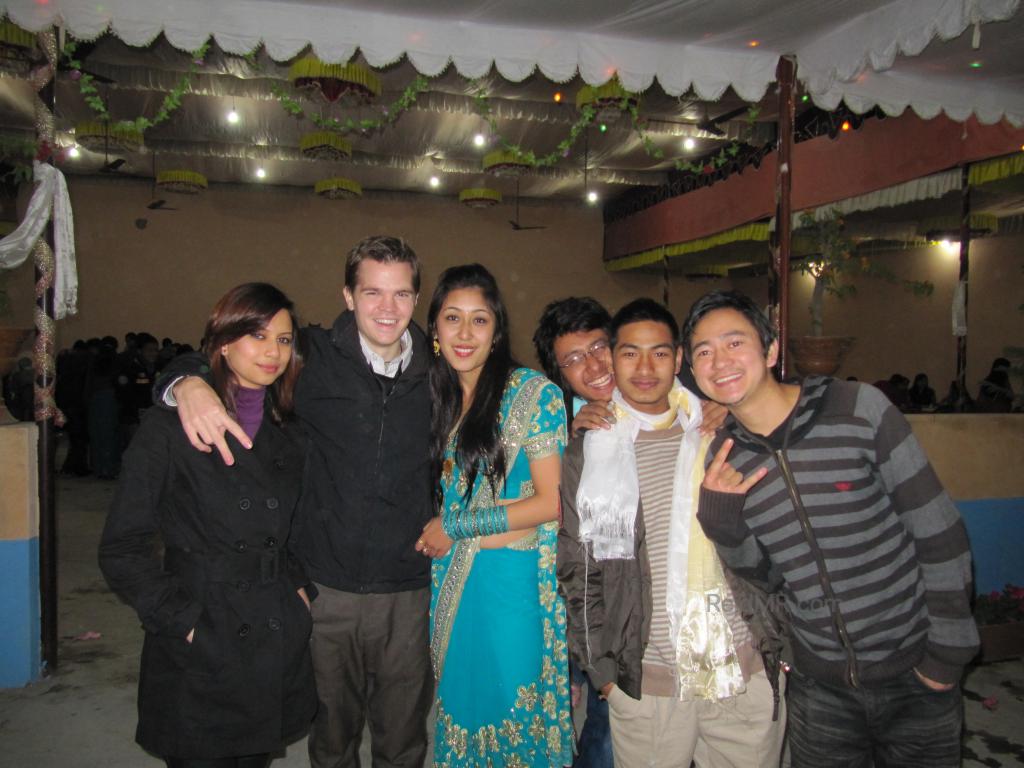 Our cousin Rojina had a wedding. At the reception I met many cool people. The wedding festivities go for days. That took up the better part of a week.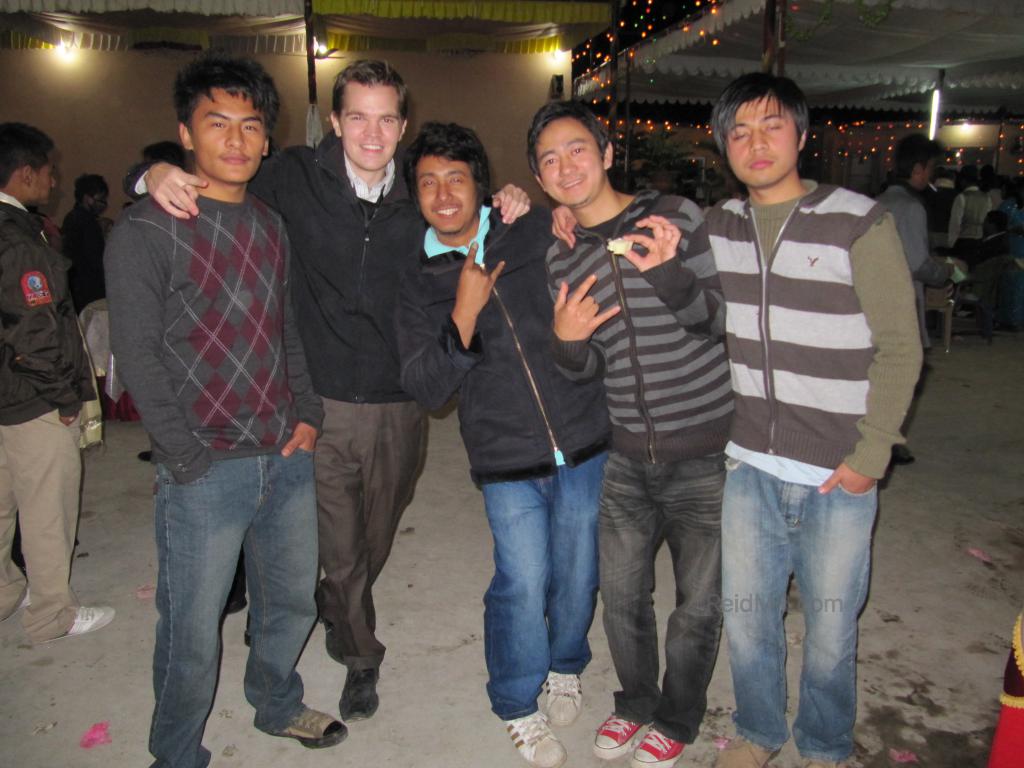 These are some more cool people I met.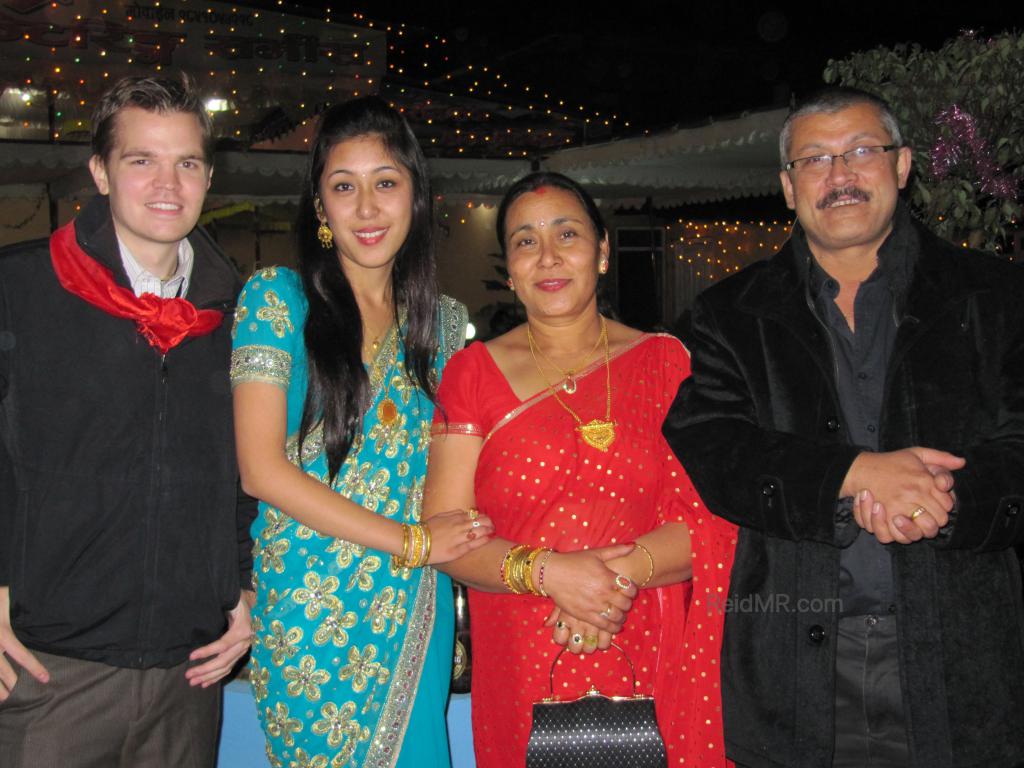 Our family posed at the wedding reception.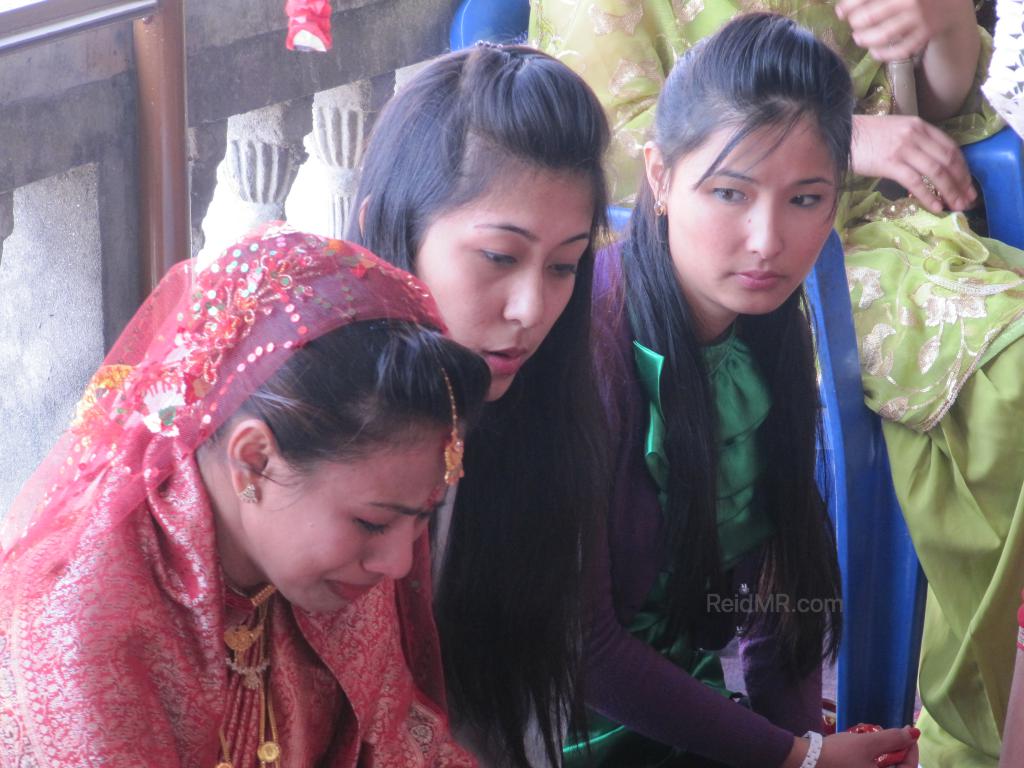 During the wedding it is common for the bride to cry uncontrollably. It was too awkward for me as I was used to laughter and smiling, so I went downstairs. There was a young lady who was apparently bored so we chatted. The wedding events took up the whole week.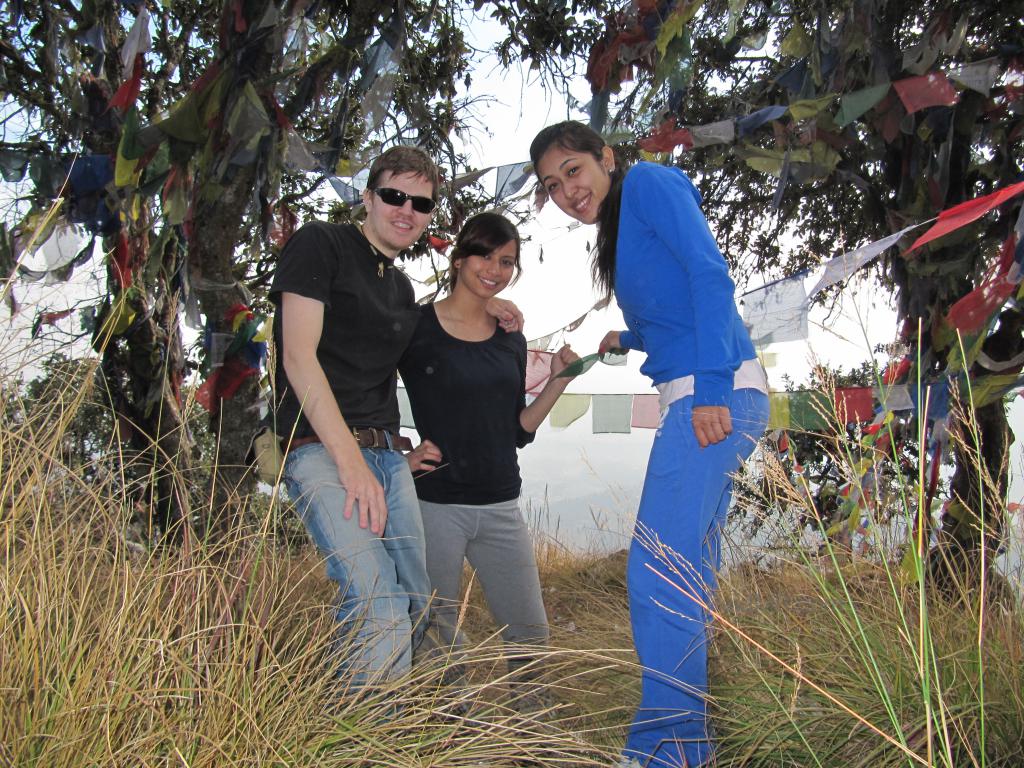 The girl I met at the wedding is a friend of Urika. Urika, Himani and I went to Nagarjun for the day. It was a fun hike! It was interesting as Himani is the daughter of a top government official, so we entered for free and had two security guards as an escort. I felt like royalty!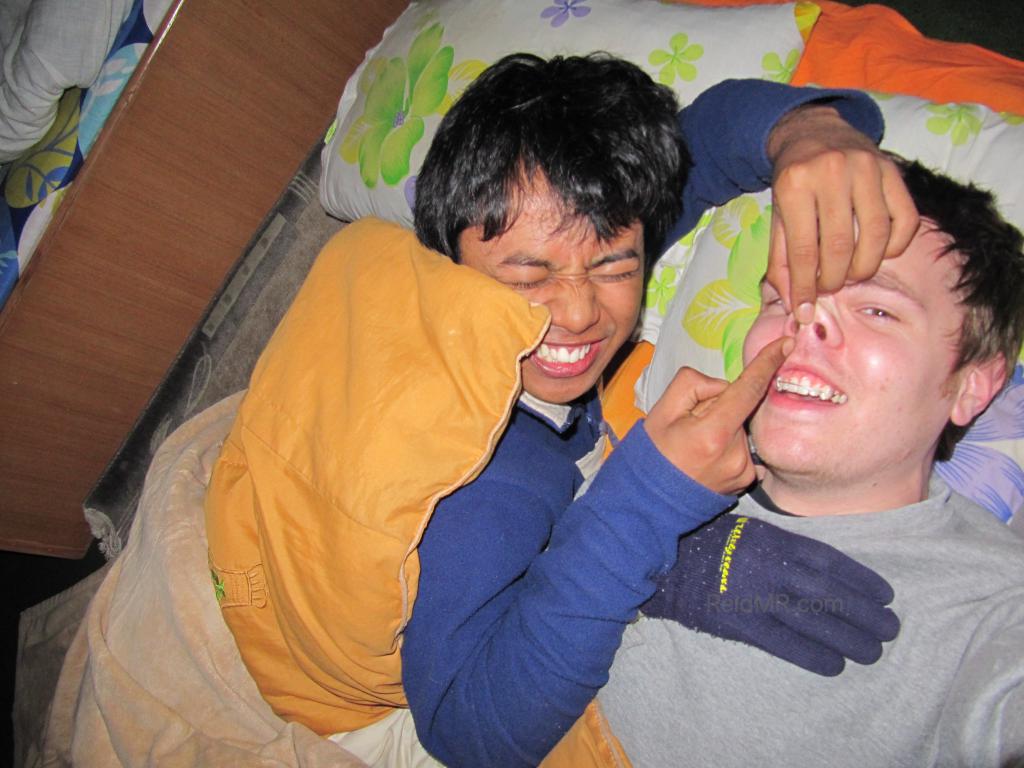 Samridh came home to utilize his holiday break. We stayed at his cousins house. We all "slept" together. Samridh and I chatted into the morning. It was fun to see him again!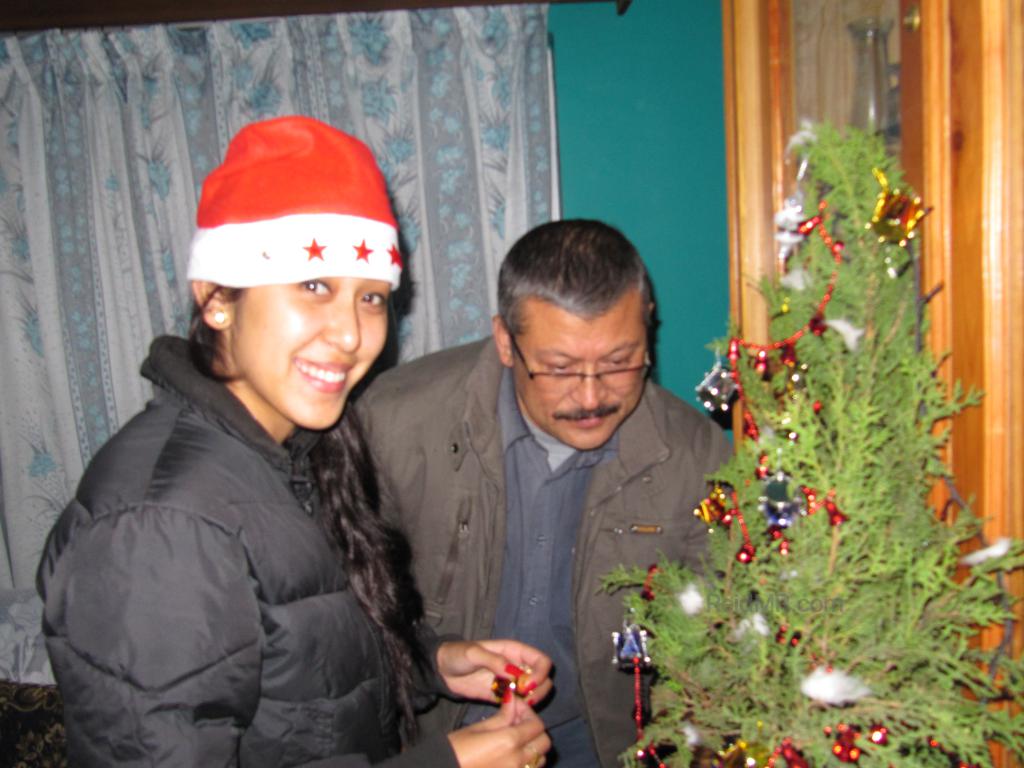 Urika wanted to celebrate her first Christmas. I relented. Her, Mamu, and Baa were all excited about it. Urika and I went outside to find a tree. We found this branch and bought decorations.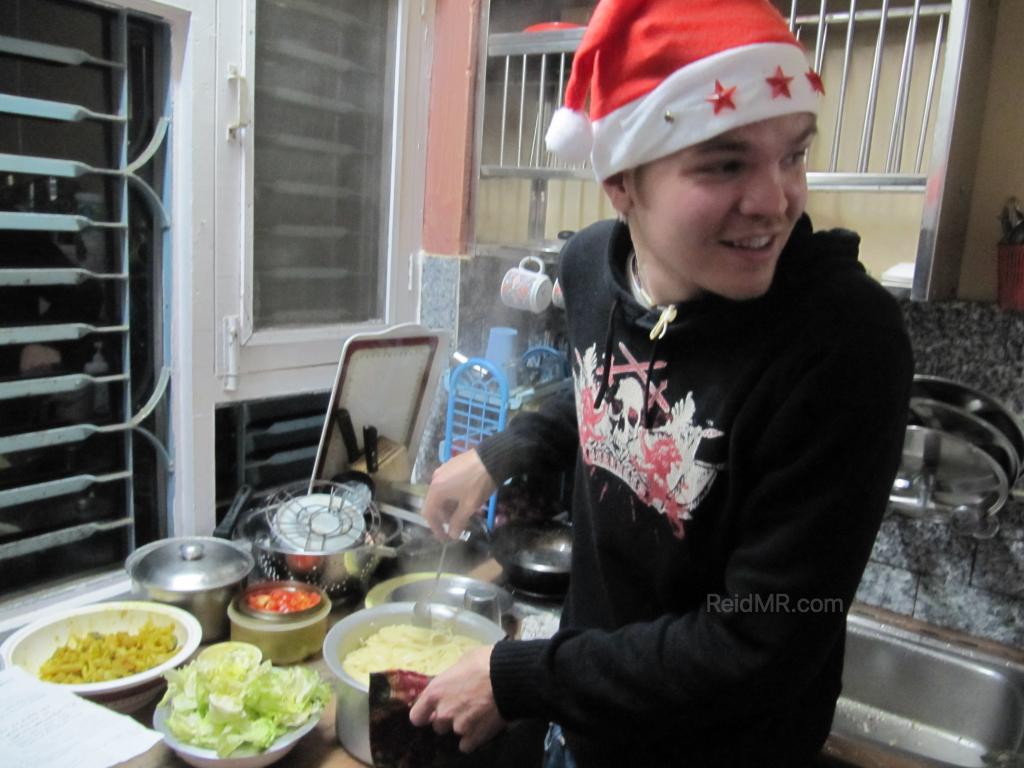 We celebrated Christmas Eve. The whole family hosted their first Christmas and helped with dinner! Many of the cousins kept calling Urika and Mamu requesting that I invite them also! Pretty soon we had a sizable number of people coming!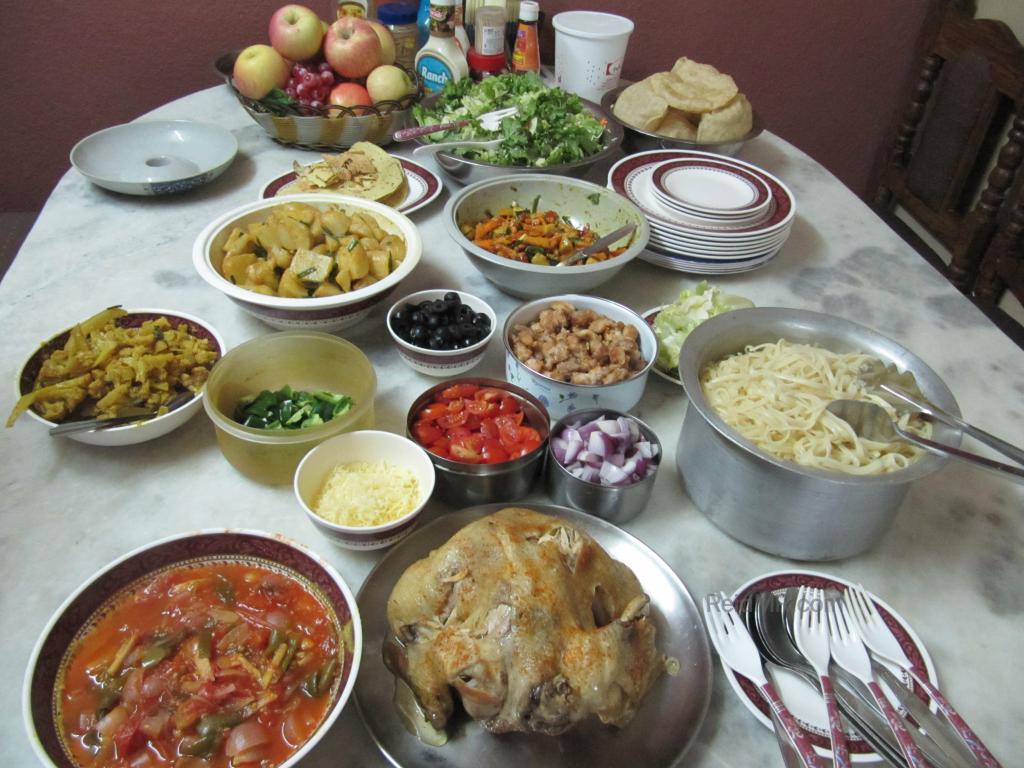 For the Christmas dinner I tried to make spaghetti, a whole chicken, tacos, potatoes, and salad. Mamu also made traditional food for the older guests in case they didn't like it. I was offended. But when the guests came I was thankful for the extra food as I saw that there was not enough food for everyone! The number of people kept on growing. Everything turned out okay. I was nervous to see how everyone liked it, but there were no complaints and a few compliments, so I was happy.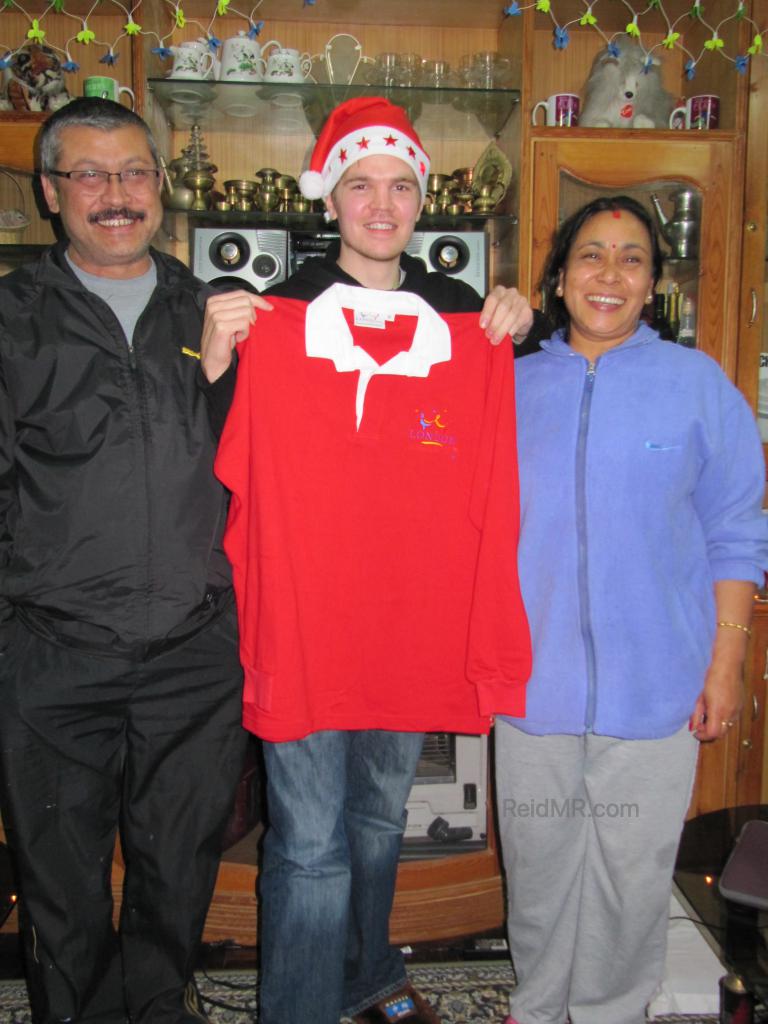 I received a few gifts. I thought it was because it was Christmas. It was because when someone invites others over, the guest is supposed to bring a gift with them.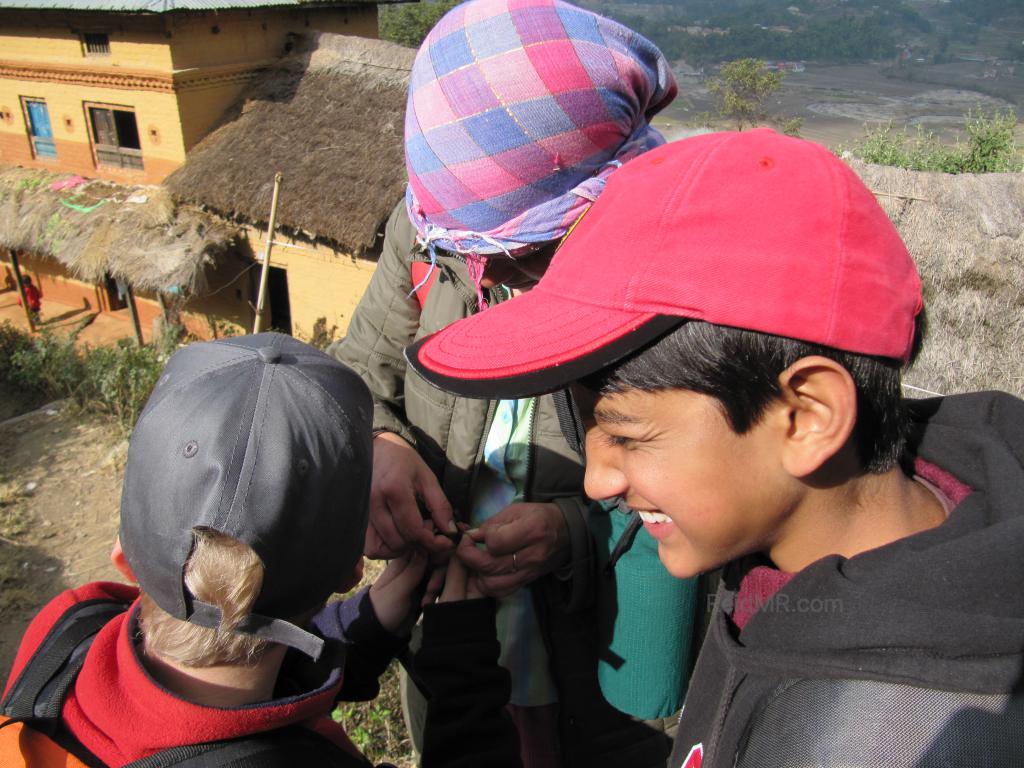 Lexa's mom, brother Ash, his friend Isaac, and myself went to Sankhu. It was another nice day! We walked though the fields with farmers busy in them. It was fun to see that up close as we passed by!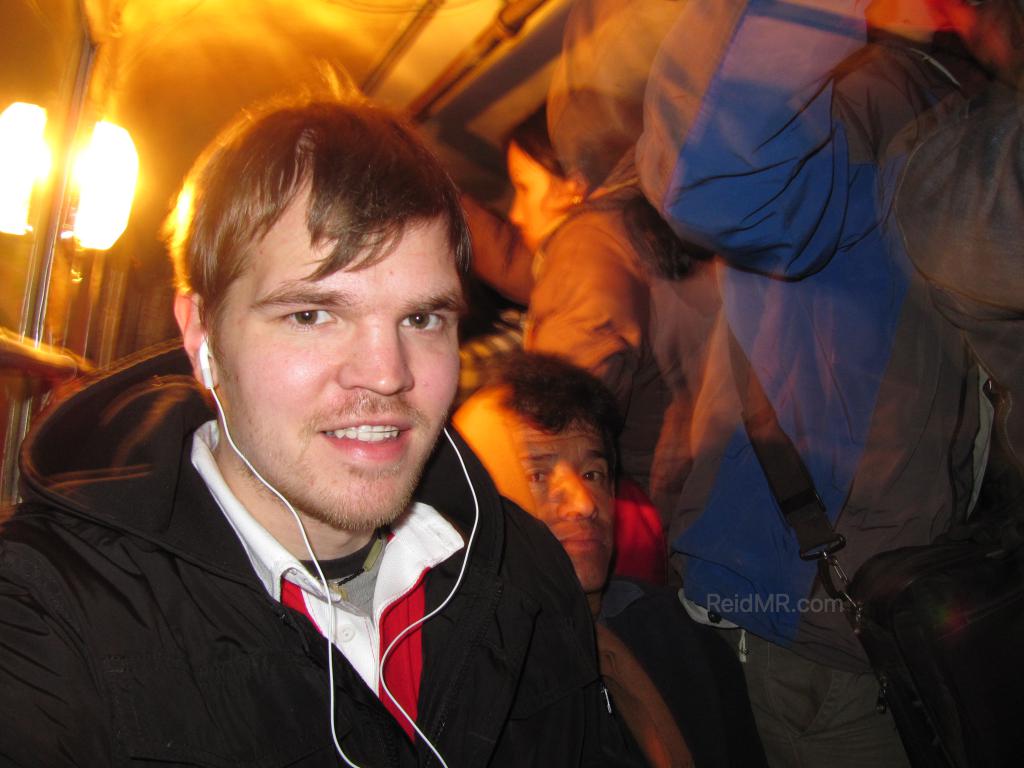 The bus back from Sankhu was the most packed I have experienced! This was as open as it became in there. Most of the time people were surrounding me and pressing tightly against me. I was laughing as it was a unique experience that I am becoming used to.
I went to buy a custom tailored suit. I found a fabric and started to negotiate on the price. The sales person said he studied in the States and seemed charismatic. He convinced me that he could have it tailored in an exacting and timely fashion. It turned out how I wanted, but it took much longer than I would have liked. It took many trips back and fourth with most of them only to be told that it was not yet ready and to come back in a week. The next week it also was not ready. It went on for three months. Finally in March it was finished. I learned that communication is key in a relationship. It would have been okay to take a long time if that was clearly communicated. If it is going to be late, say it. Tell customers what they can expect and when they can expect it by. Be clear and upfront on how the finished product will be as well as the process. It makes it much easier if we are all on the same page. Be quick to share with customers if there is a problem. I love the suit but was frustrated yet again with the process.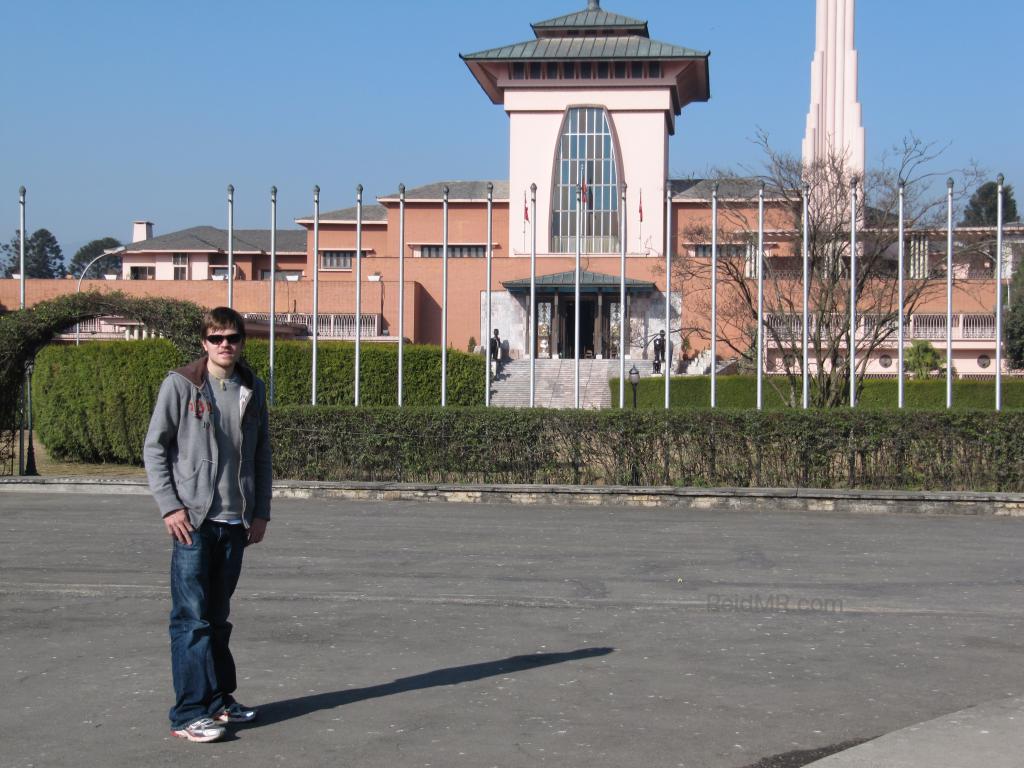 Urika, Bipul, and I went to the Royal Palace, the last tourist place I wanted to visit in Kathmandu. For once I was happy to be a foreigner even though I have to pay an entrance fee up to 50 times more than locals. There was a long line. Since I am a tourist, as a friendly vendor pointed out, we could jump straight to the front of the line. The locals were not happy to see that.
It was eery to see the place of the Royal massacre. The locations where each person died were marked and labeled. Bullet holes riddled the walls. It is interesting that they had everything, yet just like the people living on the streets outside, they still have their own problems. In this case the issue was an alcoholic son who could not manage his temper and killed his entire family.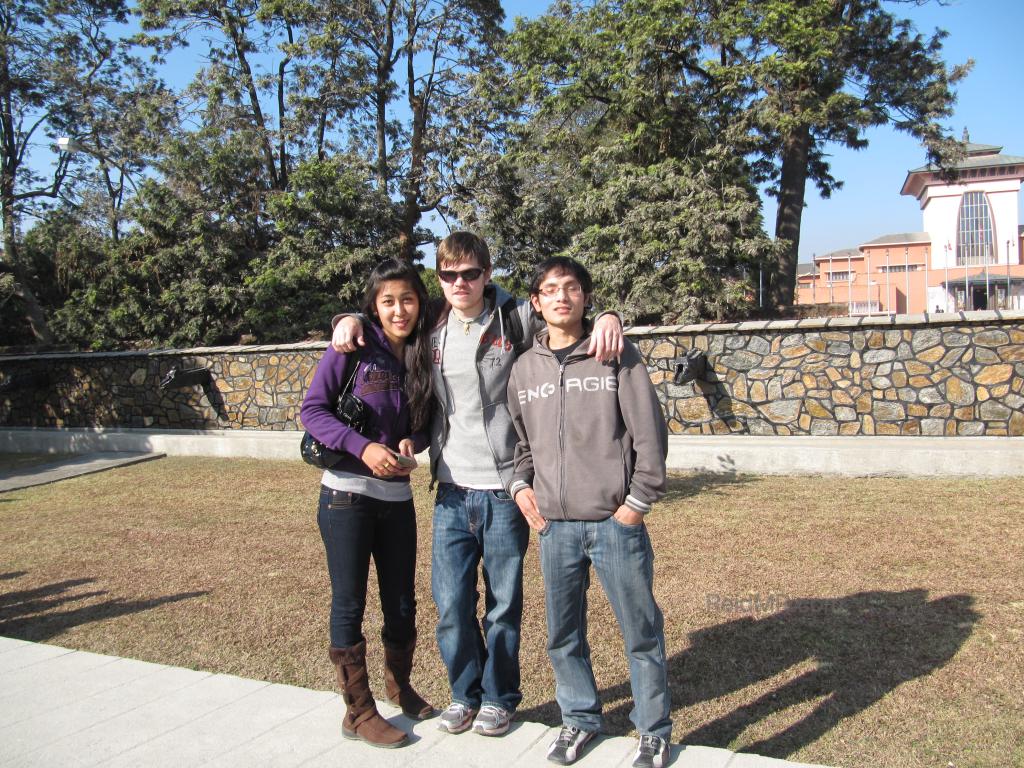 We posed outside of the Royal Palace. No cameras were allowed inside. It was neat to see it. It was nice, but not as lavish as I expected. The King's bedroom was plain. The bedroom area was equal to four queen beds.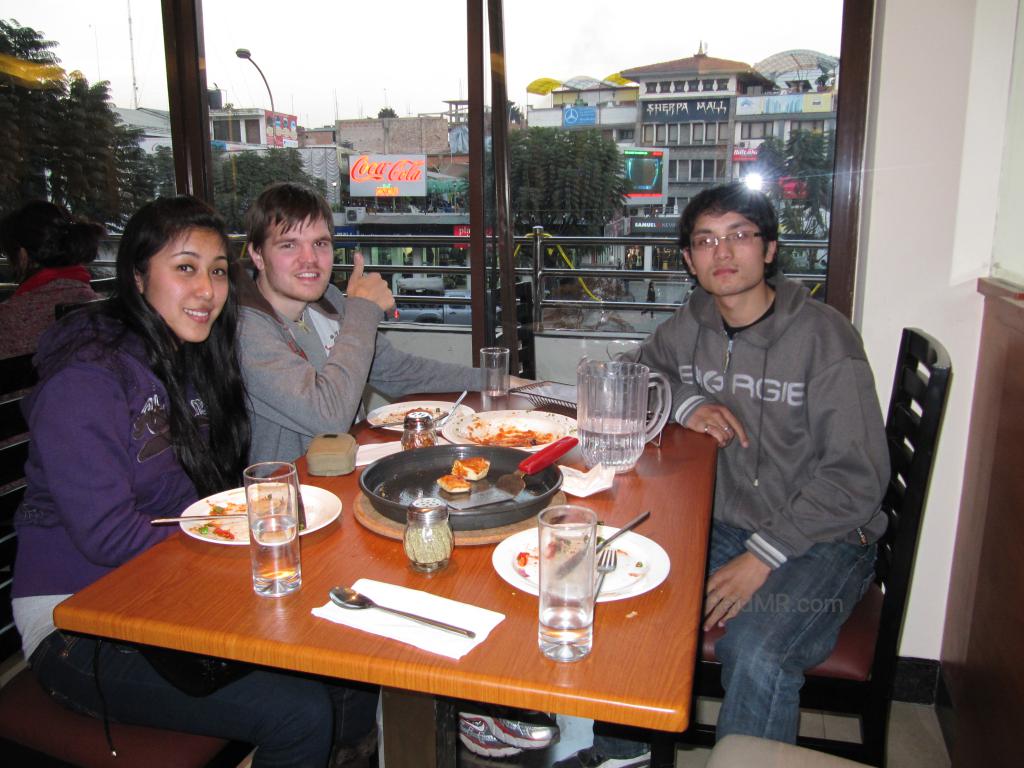 After visiting the Royal Palace we went to the first Pizza Hut in Nepal.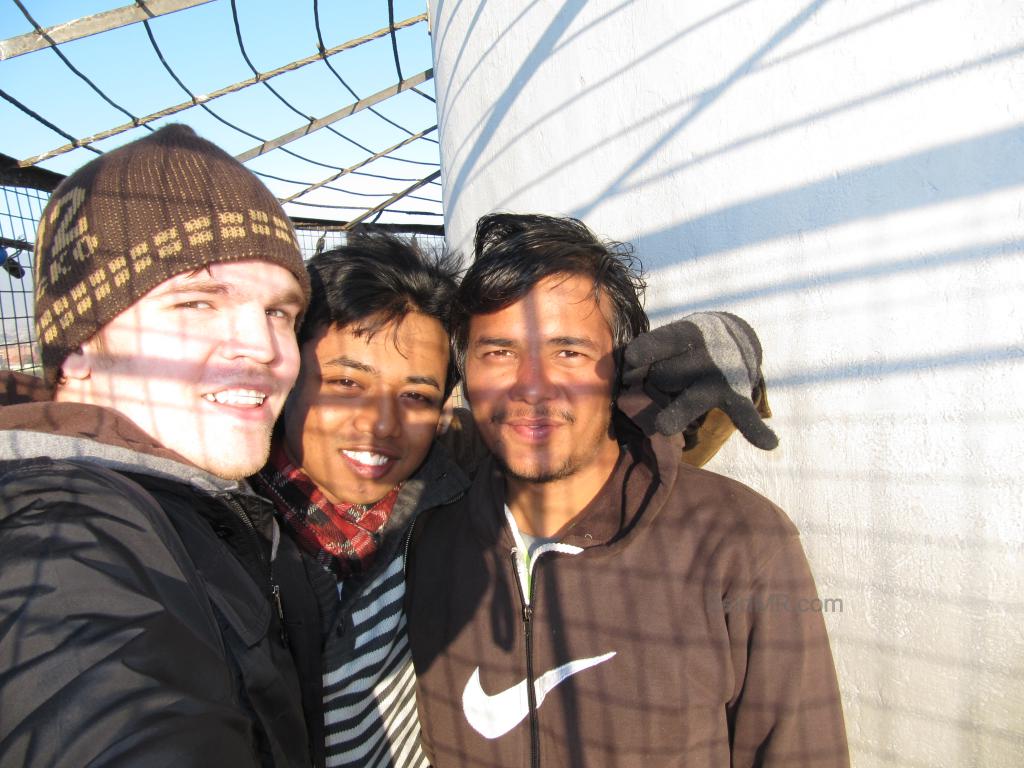 Me, Samridh, and Santosh posed at Dharahara when Samridh came for the winter break.
In January I had to extend my visa. Santosh's uncle worked at the visa office and offered to help extend the visa. Instead of a day affair it took less than an hour. I felt a little guilty walking out with everything finished well before others who started before me.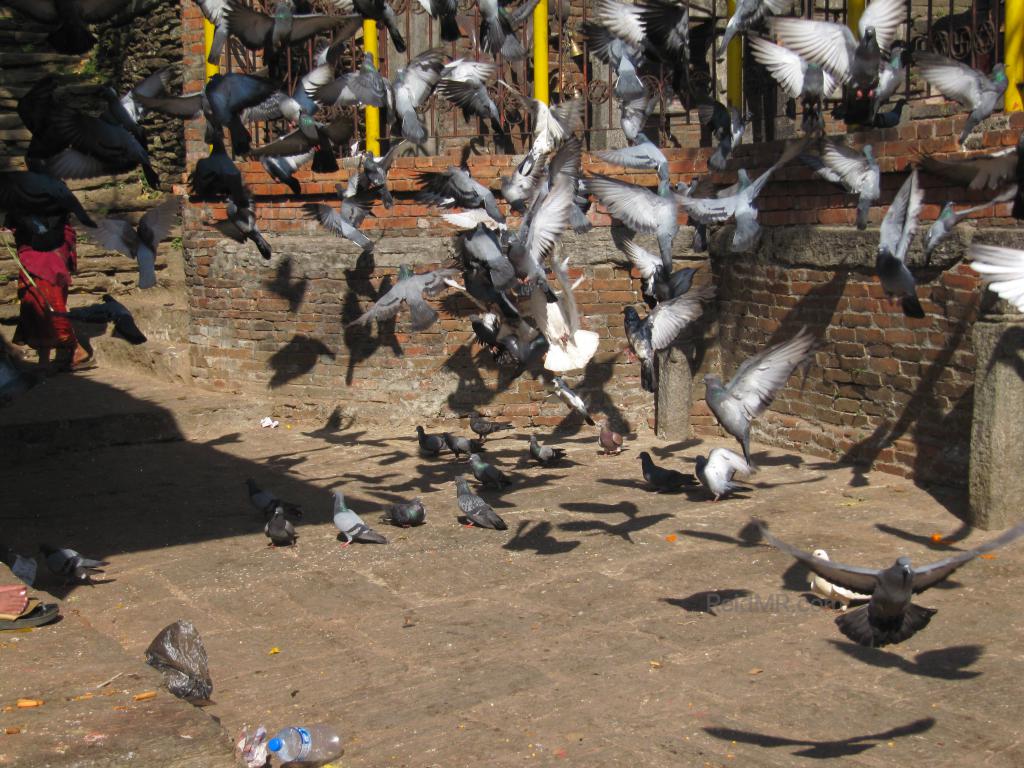 We went on a family day trip to Dolakha Bhimsen. The young boys ran towards the pigeons to scare them up.
On this day were many puking people. Even some locals can't handle the driving here. Often, someone would buy a bunch of small plastic bags before leaving and hand them out to everyone. By the time we returned there would be very few or none left. People would throw up in them and throw them out the window. I wondered how many people walking on the side have been pelted with a fresh puke pack.
Transcript.
[Nepali music playing in the background]
>> REID: This is Reid I'm in umm... We're going somewhere today, I don't, I'm not quite sure where we're going.
>> URIKA: It's ahh, Do, oh, Dolakha Bhimsen.
>> REID: Okay, Dolakha Bhim... whatever that is, I don't even, can't pronounce that but. And like a bunch of us are going, our family plus a bunch of everyone else. Here's everyone else.
>> URIKA: We don't know.
>> REID: Yeah, just kind of like, strangers that, whatever. This is our whole crew. There's ah, quite a few people. And our drive along. And it's nice outside too, the view. But it goes by pretty fast so, anyway, I just thought I'd share that with every...
/End transcript.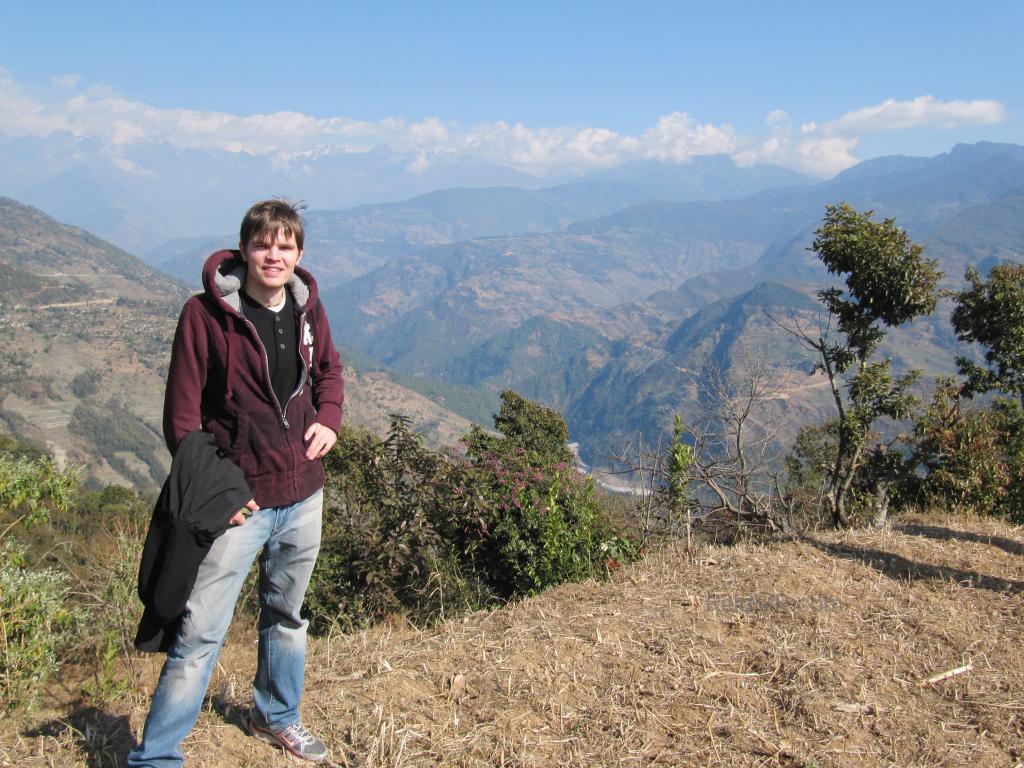 Like a lot of the scenery here, it was enough to take a photo for.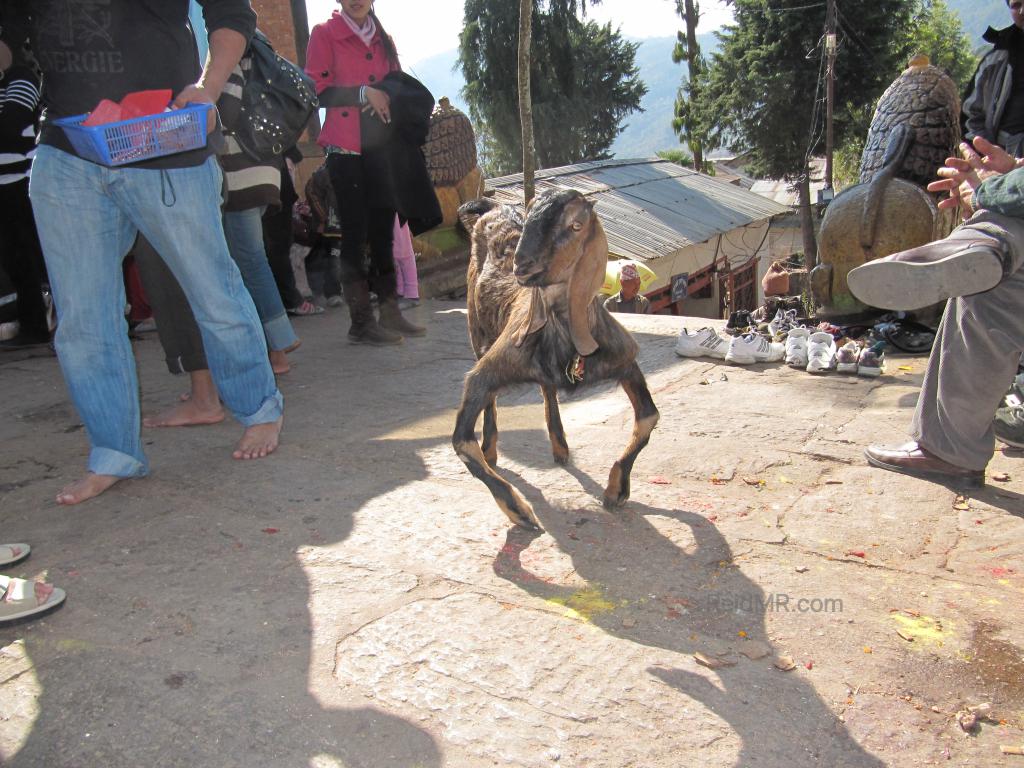 An obviously crippled goat. I felt bad even though it was there to be sold as a sacrifice as part of someones worship ritual. In the background you will notice that people have there shoes removed — which they do before entering. Needless to say — with all of the goat poop and blood covering the ground — my shoes were definitely staying on. So I chose not to go inside the last area.
On the way home we stopped at a town near the Nepal / China border so the families could buy inexpensive wares. At the border I learned about the different grades of goods. The best and most desirable products were those A grade destined for the States. Many of the cheap goods here were C or B grade at best. When they go shopping many of the locals will know what grade their goods are. This was something I have never really thought about and is not clear in the States.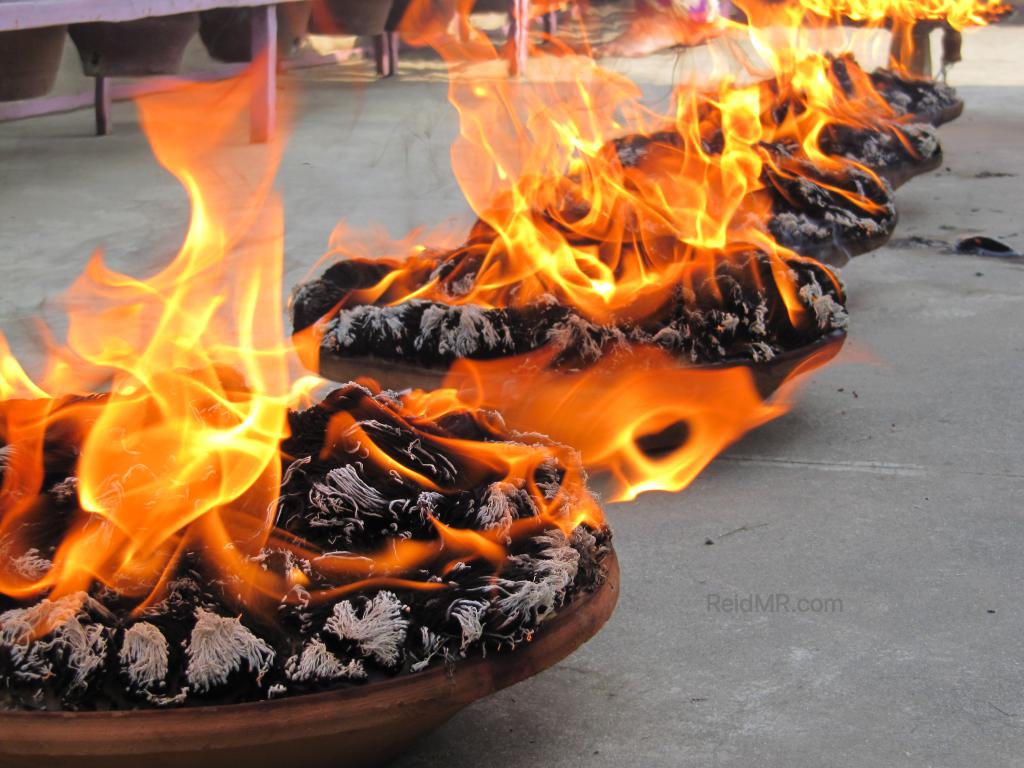 A puja — worship or prayer — for Pratish where 150,000 hand-made wicks were lit. Mamu made the wicks over months by rolling them from big cotton balls / stock that was rolled into thread by hand.
Transcript.
[Continuous Nepali chatter in the background]
>> Reid: There's like a hundred fifty-thousand candles or something and they lit them all for whatever reason. It took hours to, days to make all these by hand.
[Ringing bells and singing]
/End transcript.
Urika and I went to the Kathmandu amusement park after she mentioned it.
Transcript.
>> URIKA: Oh Oh Oh Ohhh!
>> REID: We're riding on the. We're riding on the umm.. Ferris wheel at ahh Kathmandu Amusement park and it's pretty, it's pretty fun.
>> URIKA: It's pretty scary! No, it's not fun, its scary!
>> REID: Urika. Urika. Urika has a different account of this ride. But it's great.
>> URIKA: No it's not. Not at all. [Nervous laughter]. [People screaming in the background]. Now I'm fine. Now I ahhh [screams].
>> REID: We're on. We're on this nice ride here and enjoying the, Urika's not so much, but I am. It's pretty fun. The rules are pretty relaxed you know, but yep.
/End transcript.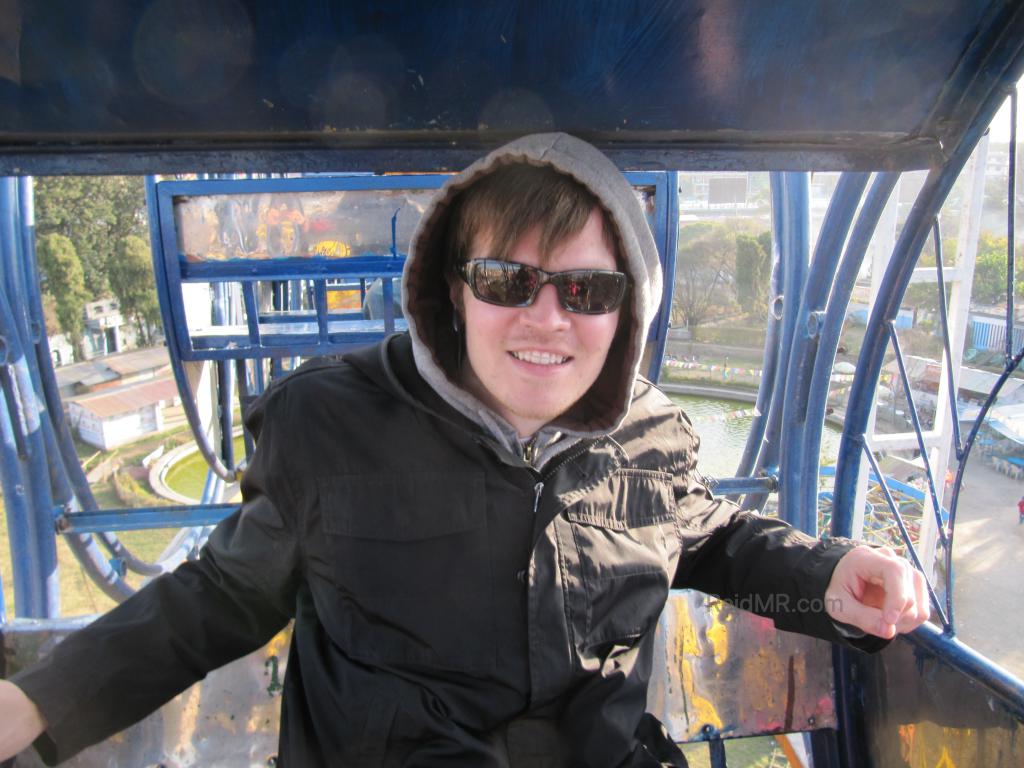 This is me on the Ferris wheel. It was interesting as I think employee and customer safety laws are virtually non-existent. Some people jumped off when it was going past the platform. It also goes super fast — as compared to US Ferris Wheels — and I was hoping that they followed some sort of maintenance schedule so the bolts would stay on.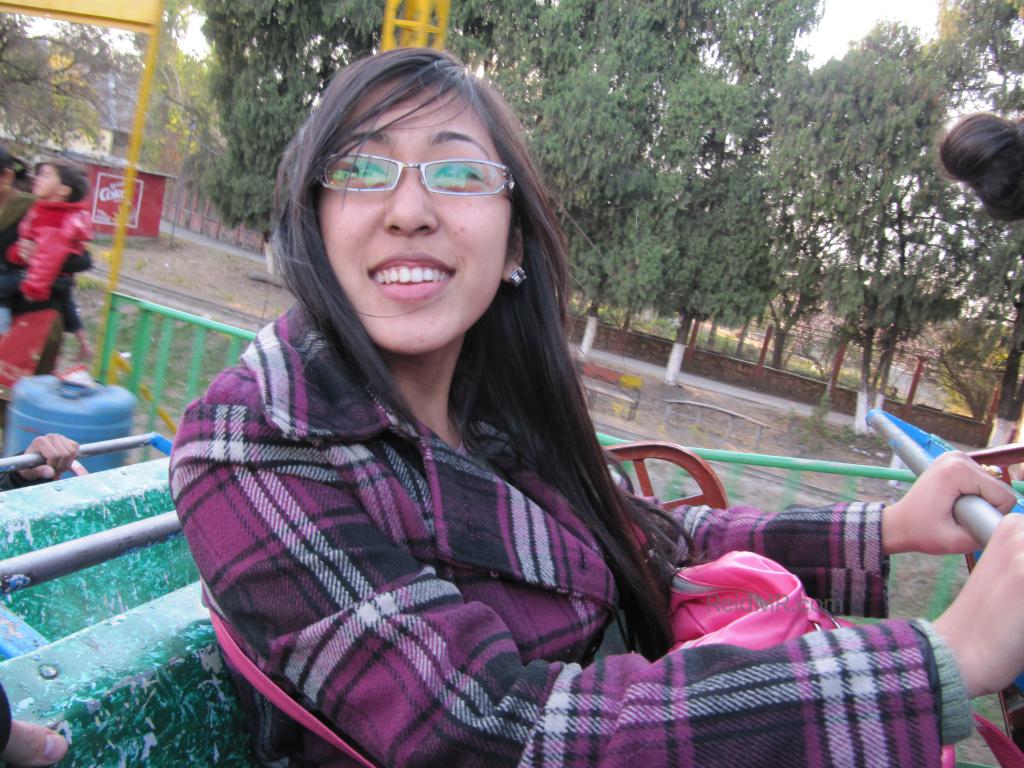 Urika was nervous at the amusement park and held on tight the whole time.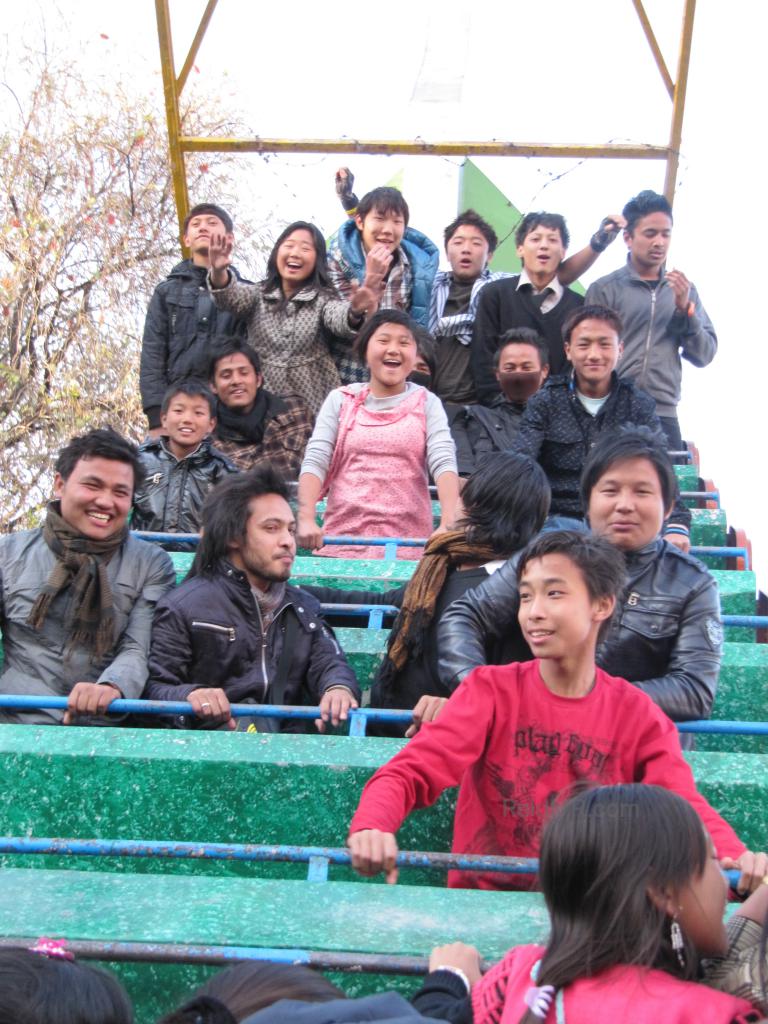 With no seat belts, people — including myself, I can't do it anywhere else after all — would stand up when the ride was moving as shown in the back row. There are no restraints. One boy started crying behind me. By boy I mean about 16. Boy here is until a minimum of 20.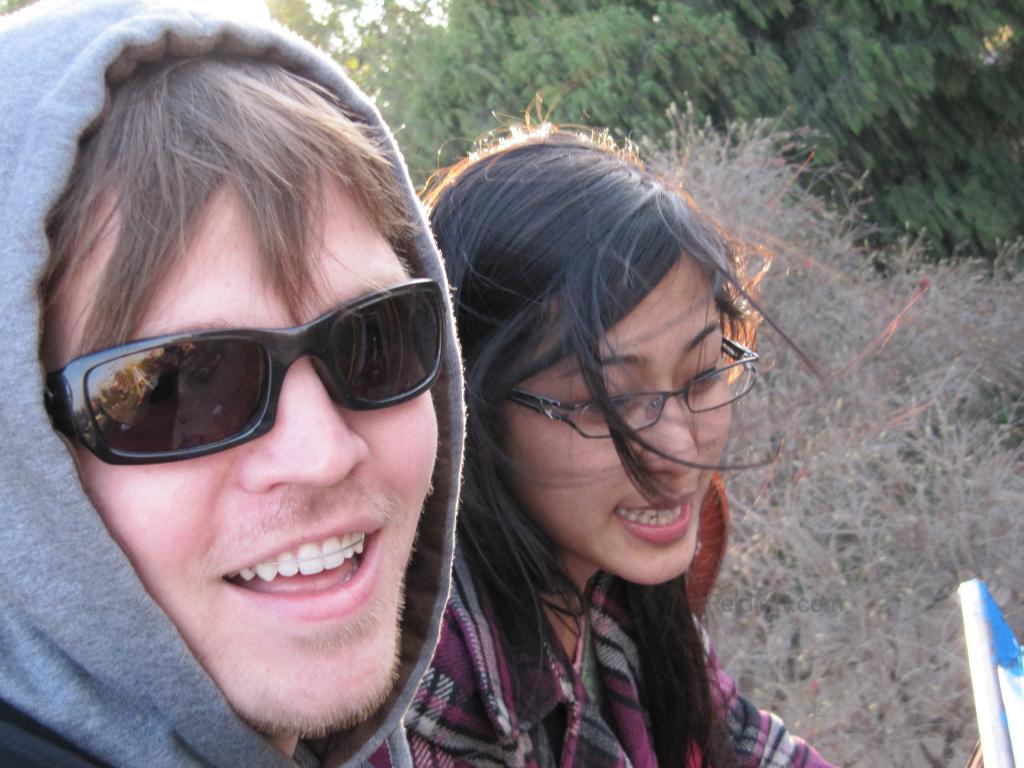 On the ride with me standing — of course!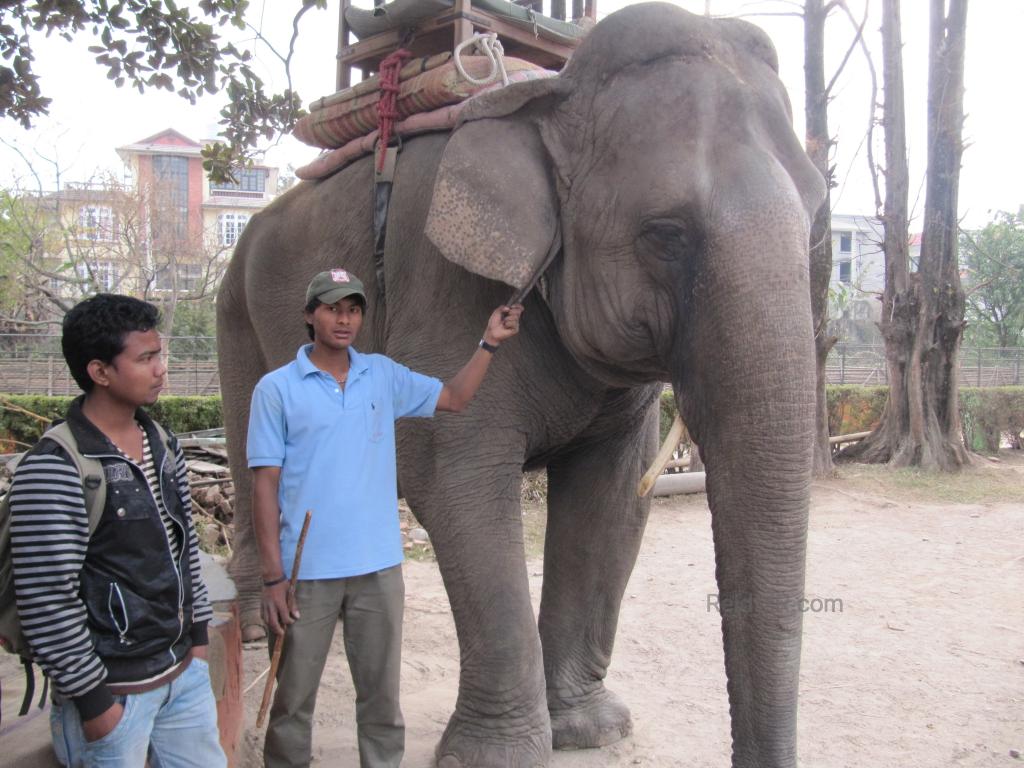 I went to the zoo on my own because Urika was at Uni. I rode this elephant for only 200 NRS (~3 USD).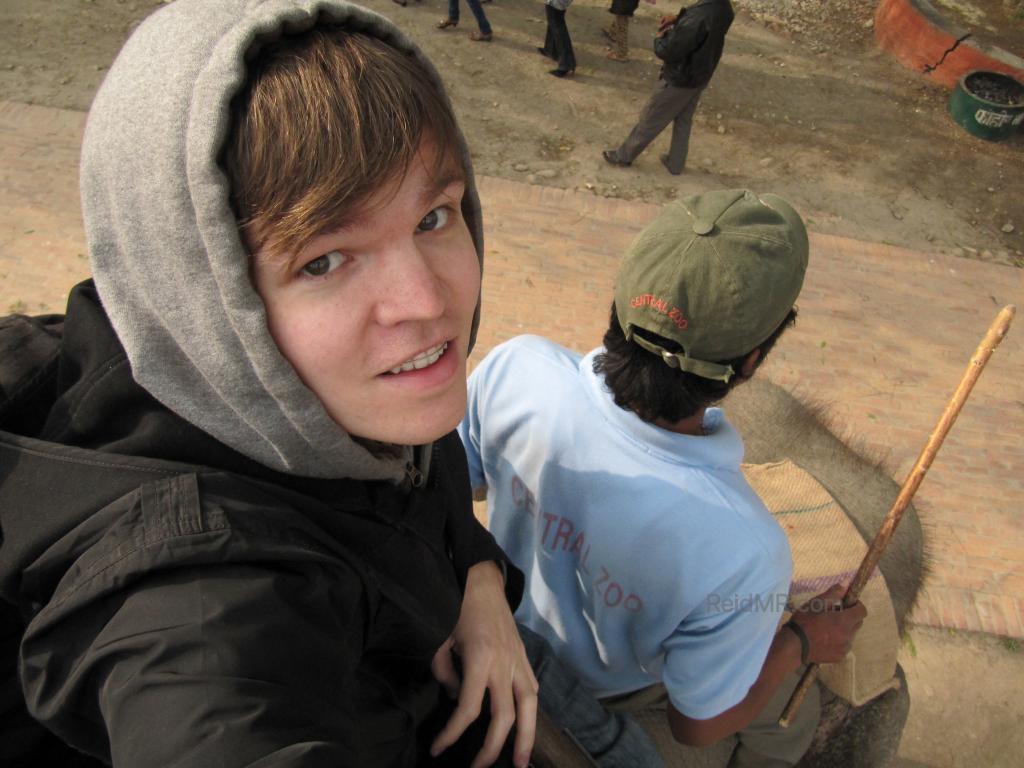 The handler kept whacking the elephant with a stick so I told him to stop. People do not seem concerned about animal cruelty here — even in a public zoo on a public sponsored ride. Some people do worship elephants though. Women were giving money to the handler. The elephant would take it in its trunk and step on the money. The ladies would take some of the dirt from under its feet.
Highlight: Hiking near Everest.
I was going to buy a flight to see Mt. Everest. While searching for a ticket I ran into Henry from Hong Kong who had been there before. He convinced me that it is simple and inexpensive to hike on your own. He agreed to take me with him.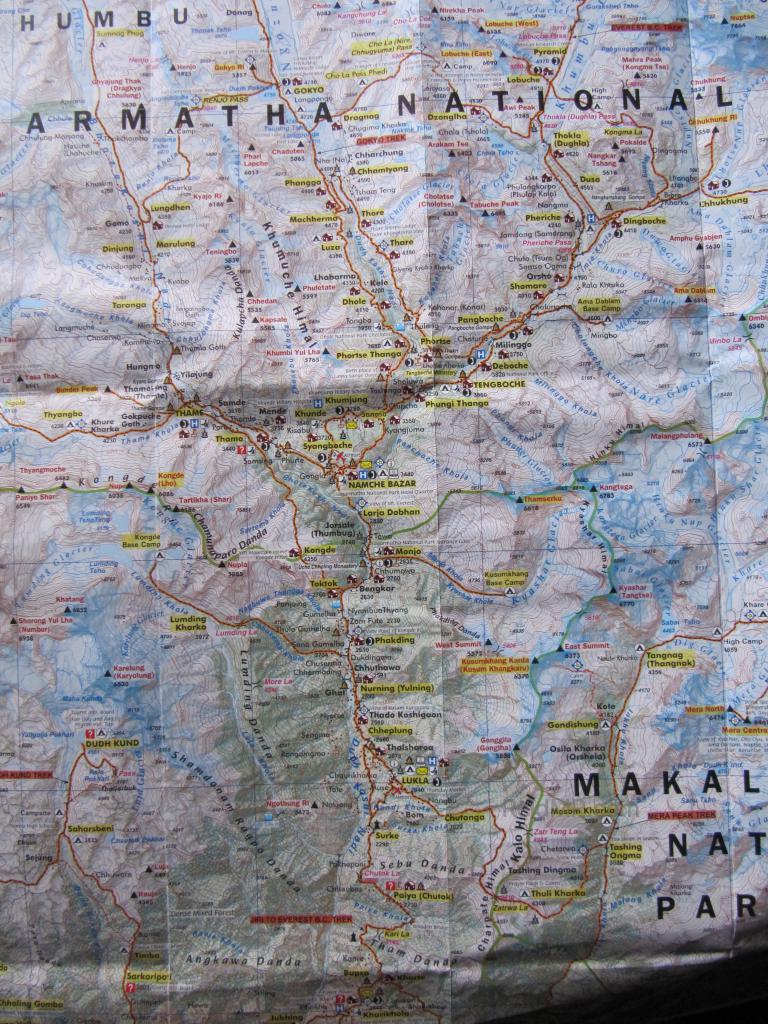 This was my hiking route: Lukla (2840 meters, 9318 feet) - Monjo - Namche Bazar - Dole - Gokyo - Gokyo Ri (5357 meters, 17,575 feet) - Machherma - Deboche - Namche Bazar - Lukla. I took a two week trip and hiked 60 kilometers (~40 miles). This was in the Everest Region as part of the Himalayan range. If you ever go, visit Tengboche where there is a wonderful temple and view of Everest.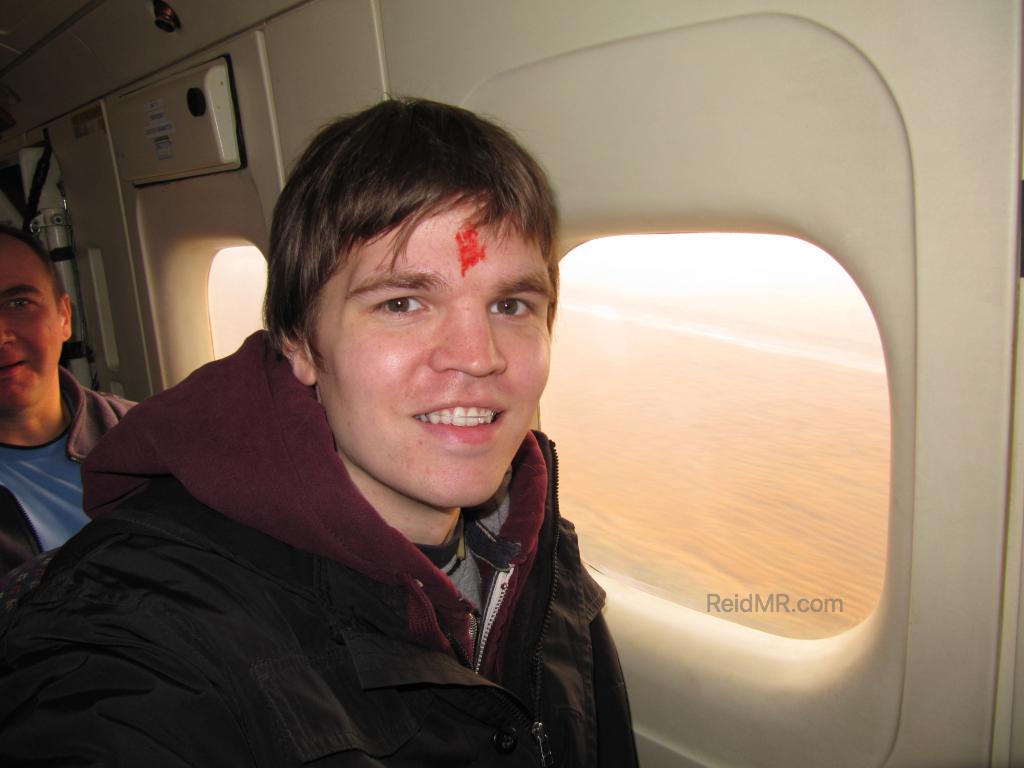 This is on my way to Lukla Nepal to see Mt. Everest. The flight was delayed because of fog en-route. Flying was based on sight through peaks in the mountain valleys. The runway was one way — if we missed the approach there was only a mountain side to crash into. Landing was the only viable option. I was uneasy with what looked to be the rest of the passengers. I was not looking forward to the flight back. The family uses a red tika for prayers and worship before leaving as a blessing for a safe journey.
Transcript.
>> REID: It's February umm… 28th today and were on our way to go see Mount Everest. And umm.. The view's really quite nice here. Take a look. Obviously this can't do justice, but, it's really a nice view. Umm. I just. We just arrived here in Lukla and I'll show you the airport that we landed at. This one here... [people speaking in Nepali in the background] [background: huh?]
You can see how steep it is. And it's a. It's a one shot approach. I'll show you this other side. Building here. Mountain. There's no... There's no any other option but landing. You can see coming through. Just mountains.
/End transcript.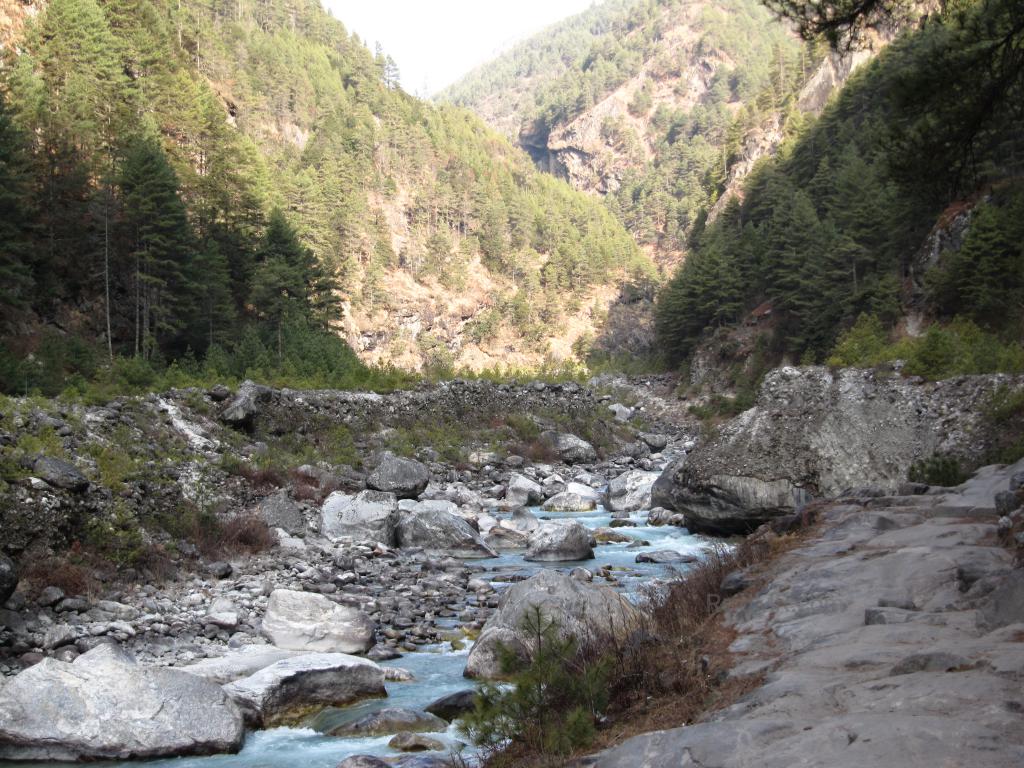 This was on the way to Monjo. On the second day Henry left early and I did not see him again. So I was on my own.
On the first days when hiking I was tripping all the time. I was not used to having to lift my feet higher to clear the rocks. My feet and toes became sore because of it.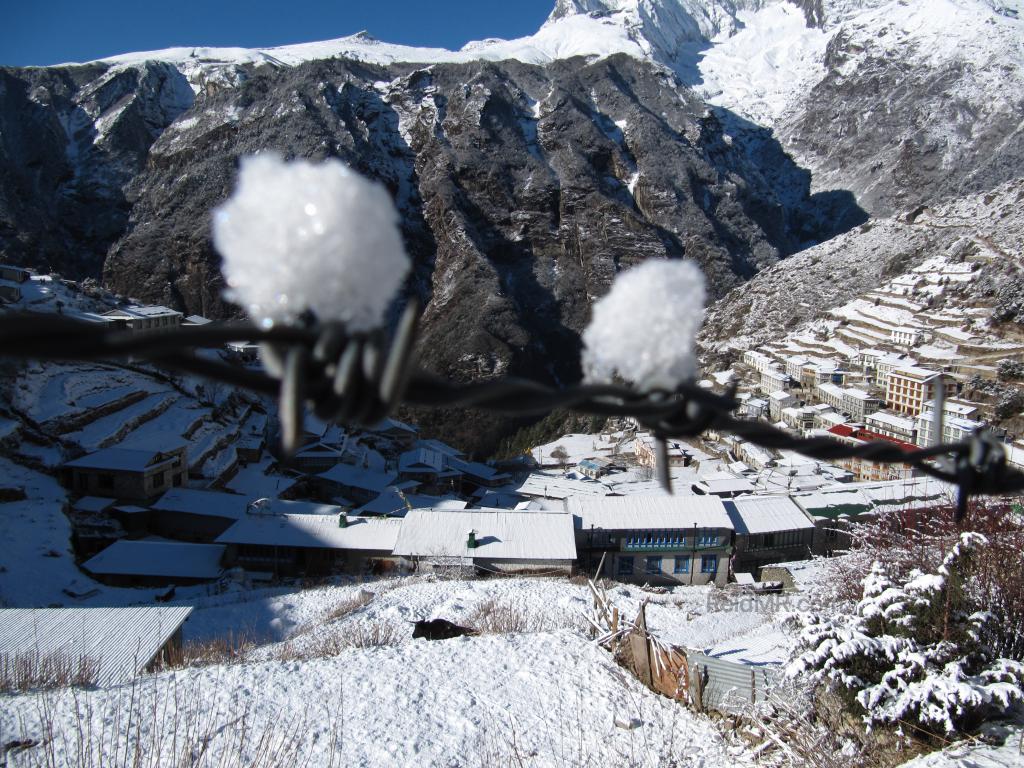 In Namche Bazar it snowed 2-3 inches (5-7 cm) the first night. I met another cool traveller named Jesse from Holland. We hiked together.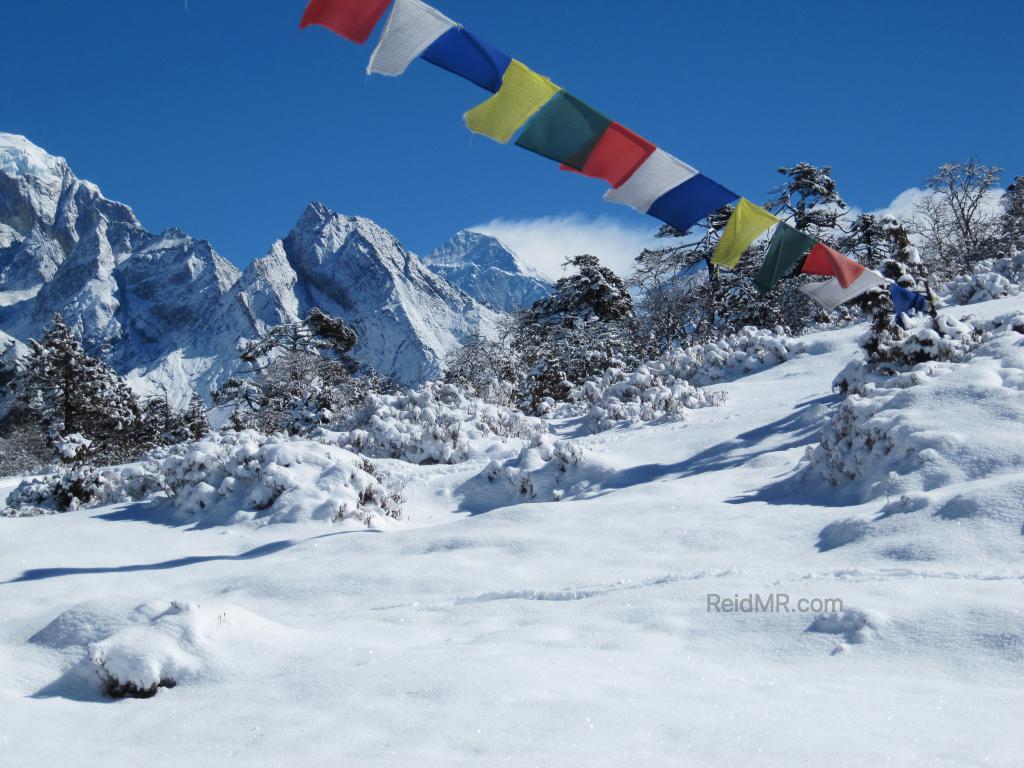 This was my first certified view of Everest. Everest is named Sagarmatha in Nepal and Chomolungma in Tibet. It is the peak with snow and clouds blowing off it in the center. Tibet and Nepal did not allow foreigners in until after it was already renamed Everest. The new name stuck in the international world by the time they allowed access.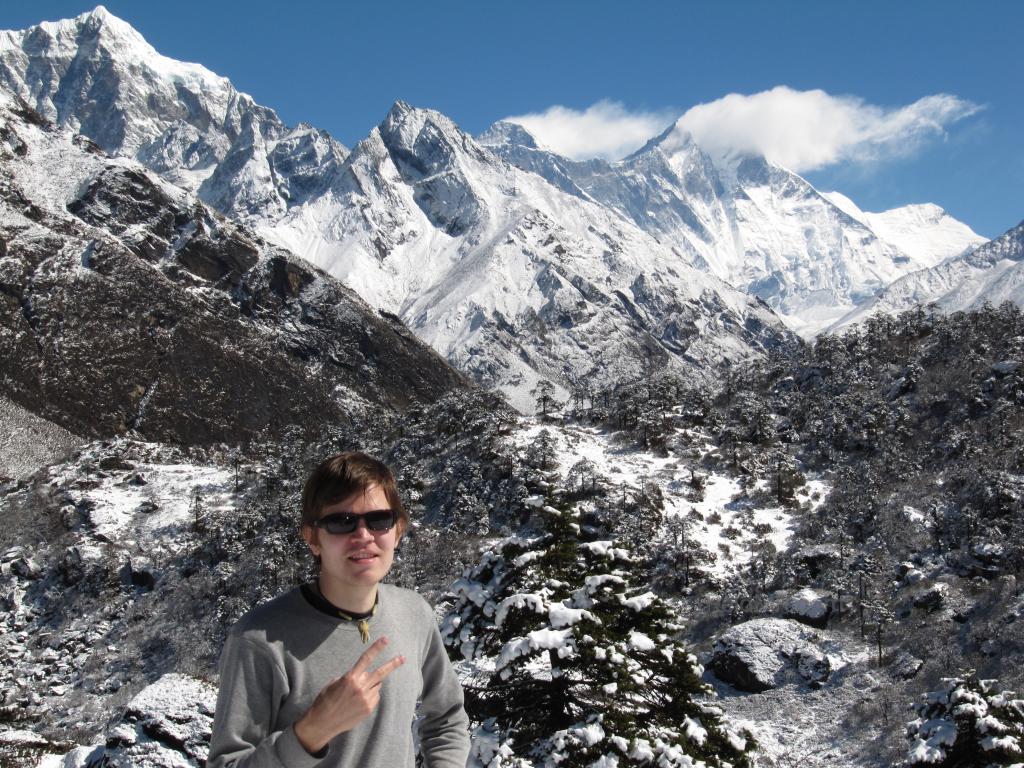 Jesse and I came up here for a better view of Everest. He had a knee injury from years ago so had to turn back after this. After that I was alone again. I stayed in Namche Bazaar for an extra night to acclimate to the elevation. I had not heard of altitude sickness until Jesse told me about it up here.
Highlight: Fearing for my life during the hike.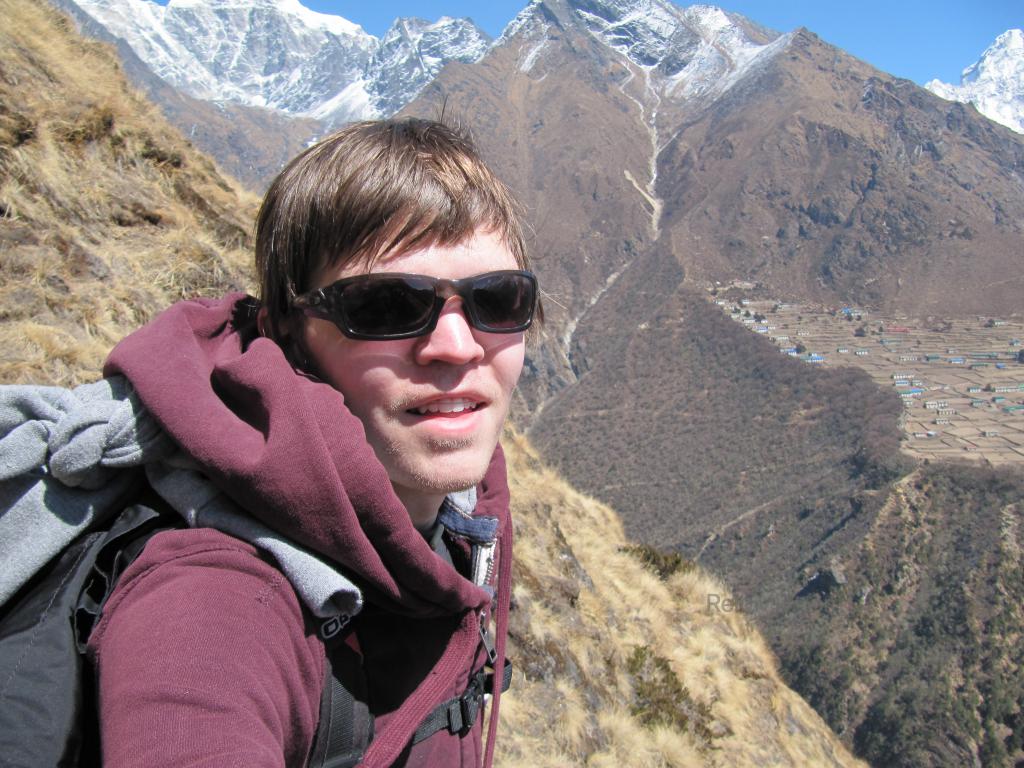 I thought I should take a short-cut here. I looked at the map Jesse gave me and noticed I would have to hike 400 meters (1,312 feet) down, and then 400 meters back up. Why not, I reasoned, cut horizontally across the mountain side and re-intersect with the trail? After all, who in their right mind would hike 800 meters in extra elevation? It turns out they climb the extra 800 meters to avoid extremely hazardous terrain, death, a possible night in the middle of nowhere, cliffs and trees required to climb and descend, and too many thorns.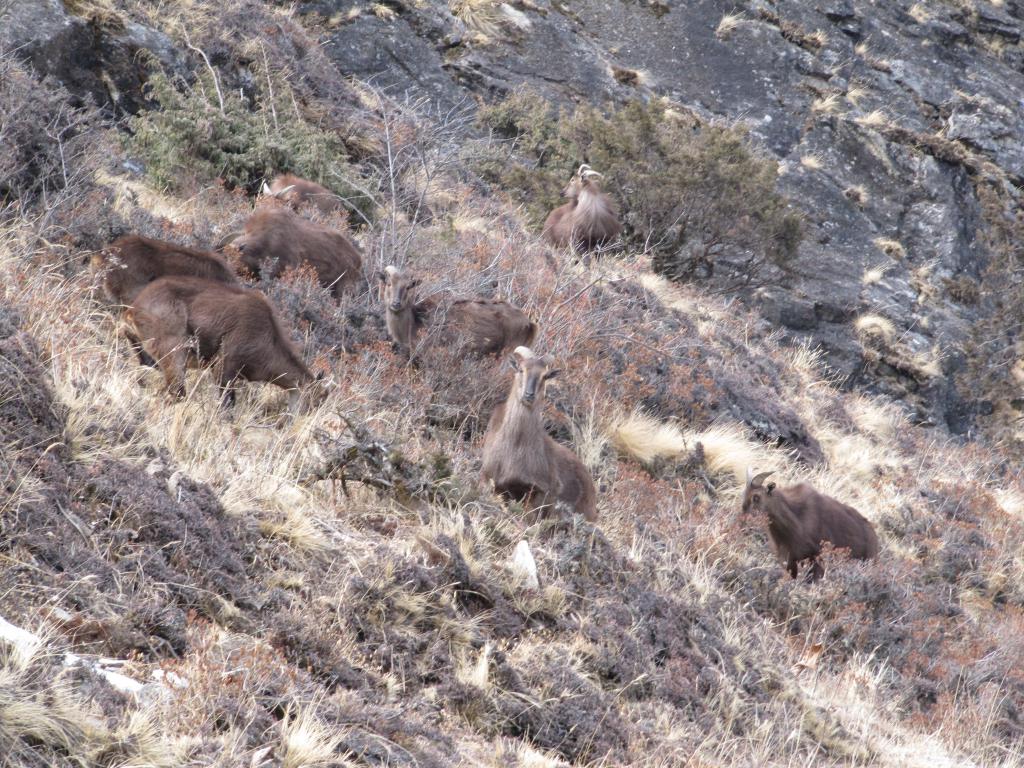 These were the only animals suited to taking the "trail" I found. I think even they were scared.
Once I was a certain distance in I could not turn back. I could only wish that there was a way out ahead of me. I climbed up a near cliff very carefully using the loose tufts of grass to prevent them pulling out. At another area I hung and dropped off a cliff. The edge was a meter (~three feet) higher than my outstretched hands. I had to drop off trees onto slanted ice sheets trying not to slip down the slope. In certain areas I slid on my butt so as not to fall to my death.
At some point the realization that it was becoming late and could no longer see the sun set in. I conserved my food and water while eating and drinking enough to keep my head clear. I thought that I would be sleeping out here. I took pictures and videos in case someone found my body. At least my family and friends could see my final words. The last stream I came to ended at the top of a waterfall. On one side was a cliff and the other was nearly vertical. The relatively safer side had very loose sod and small branches. I carefully picked my way across it. If a clump of sod or a branch pulled out I would have fallen down the water fall.
This was the first time I remember being unsure if I would die or live. I was comfortable with everything and was happy with my life and what I had experienced. I remember thinking that I achieved enough. I didn't want to die, but if this was the end, I had a great run up to then.
Finally I started to see signs of civilization. I started to see animals and their droppings again. The most ecstatic moment came when I saw the trail! I lived, and vowed never to Mountain Goat Express again.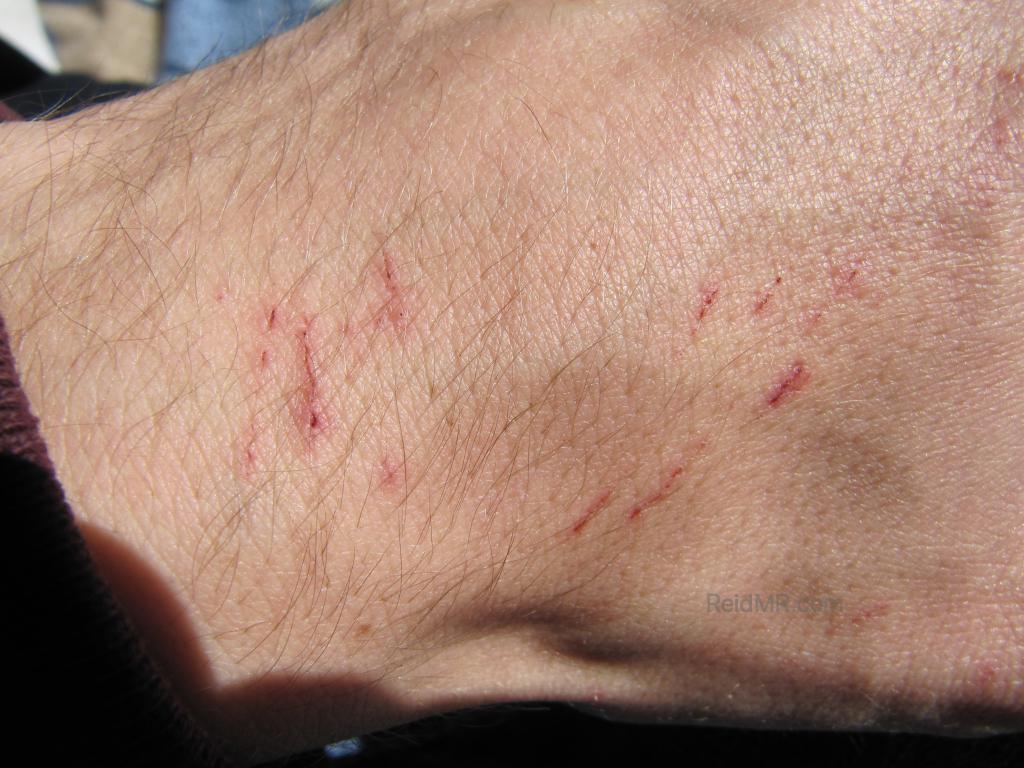 Scratches on my hands, blisters on my feet, videos, and the photos were the only things left to remind me why people — and I in the future — should stick to the trails. The "shortcut" turned into an extra 3-4 hours that day; I hiked for a total of 9 hours and arrived at my lodging shortly after sundown.
Transcript.
[Fear in voice the whole time]
>> REID: Well I'm on my way to Dole right now and I didn't feel like following the trail so therefore I decided to take a little other trail. But I think only mountain goats take it. I'll take. I'll gi. I'll give you a look at uhh... Beautiful scenery right here but its like a sixty degree angle, this mountain side. I'll give you a look around. That's the mountainside. That's where I need to go up I think so. I don't know where for sure. And this is the scenery around here. Just absolutely terrific. I'm just hoping this little shortcut doesn't get into a... overnight stay.
Well I have to say I'm kinda scared. I'm hoping I make it out by tonight because though there's fresh running water but I'm hoping that this way down umm... right down here will lead me out. So far I've had to use trees to climb down. Umm... A couple times I had to drop down a couple feet just to go. You can see there's snow. Cliffs on the, on the side just to give you an idea. Umm. It's very hard.
I can see a village down there. I don't know if you see it. But it. there's one down there and I'm very close. But there's a cliff right here. So I don't know how to get down now. So I'll have to look around.
I just see my trail, and I just saw yak shit, and this is the most happy I've been to see yak poop in my life. And the trail is just right down there. And. And. And I'm almost there. I think I'm gonna live to tell this story. I will never take Mountain Goat Run Trail again. Mountain Goat Express is not recommended by me. Stick to the. To the. Posted trails. I am outta here.
I made it to the path, and I'm very very happy to be on the path.
/End transcript.
The Highlight: Hiking near Everest section continues below. If you want to skip the rest of the Hiking near Everest section you can skip to the next highlight.

Yak's were on the trail to Gokyo on my first attempt to my final destination, Gokyo Ri.
At this elevation altitude sickness is a serious concern. I did not know enough about it. Another traveler said they were pushing to Gokyo Ri in one day instead of two. I decided to be a macho man and do the same.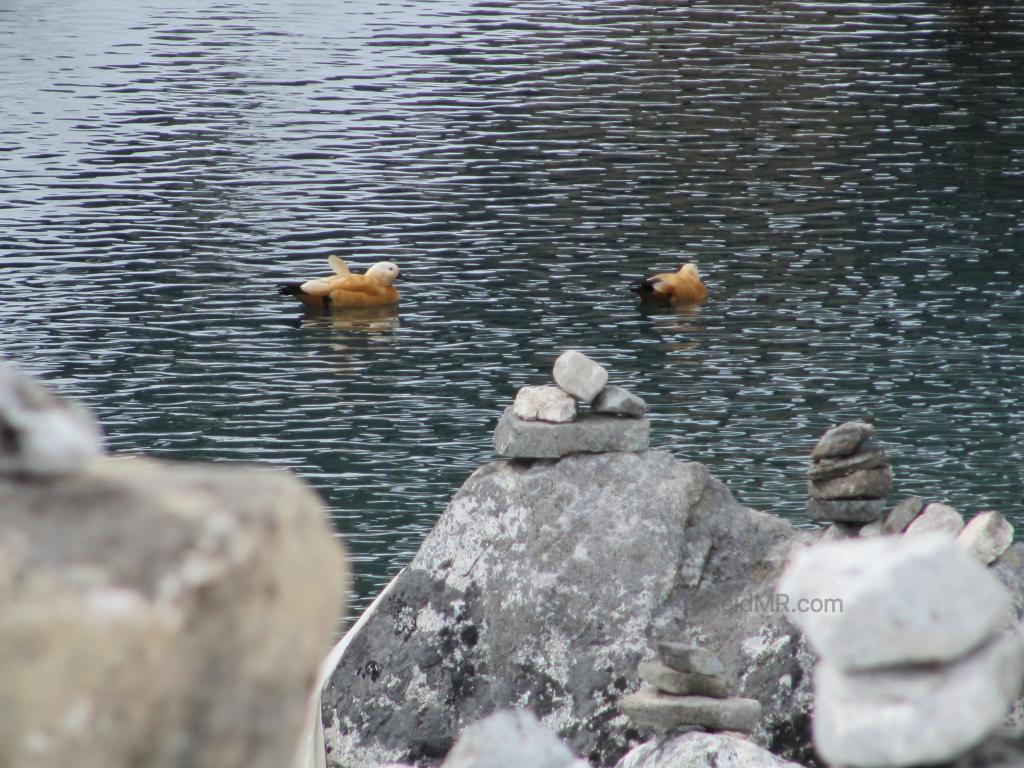 These are semi-famous ducks and human placed rock formations near Gokyo.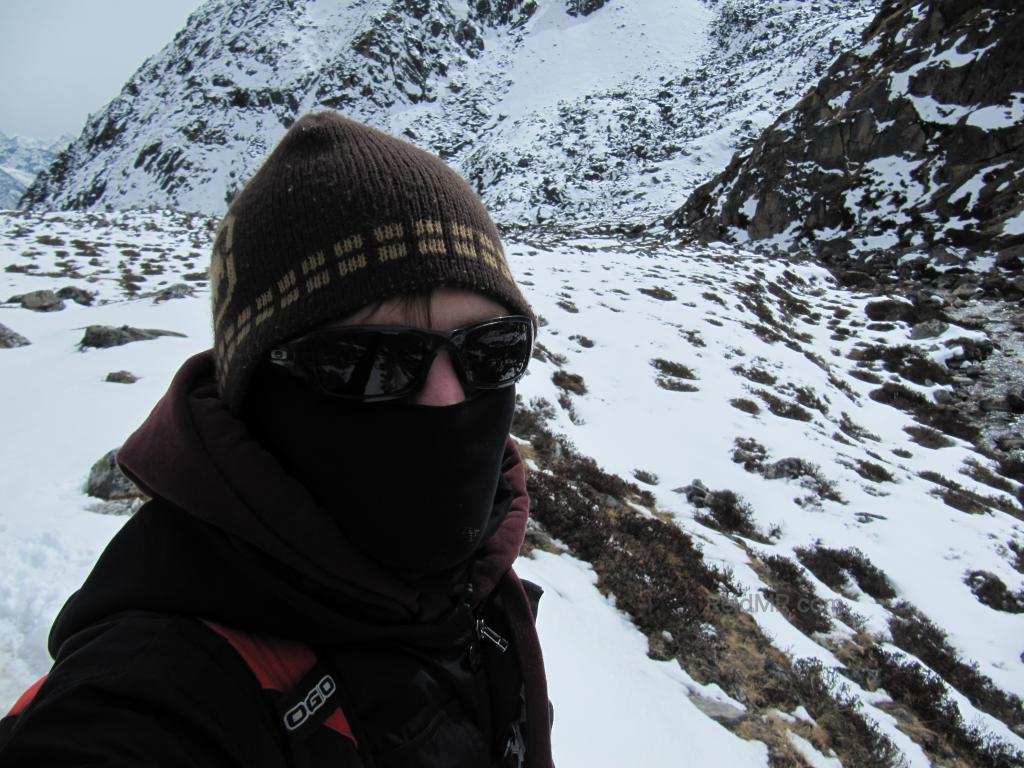 On this day and at this elevation it was cold. The first day I lost one jacket. That surprised me because I am pretty sure I have not even lost a rupee. It was nice up here. On this first ascent I got altitude sickness. I did not research the trip beforehand. It was not macho looking into the squat toilet throwing up all night. I also had severe diarrhea and a crushing headache. The diarrhea was normal by this time. During my stay in Nepal I had it or another sickness literally ten percent of the time. I learned about altitude sickness the hard way. The next day the lodge owner recommended I go down to a lower altitude until I recover.
I now know that people die from altitude sickness. I was told mine was a "severe" case and that I could have died — the second time on the trip. Above a certain altitude we should only climb 300 meters (984 feet) higher per day, and rest an extra day or until re-acclimated for every 1000 meter (3281 feet) elevation increase. Altitude medication prevents this. Someone gave me their extra medicine. I took the pills and rested an extra day or two before trying again. When I recovered after two nights I went back up. Now I know that before traveling or participating in something new I should at least get a general familiarity with it.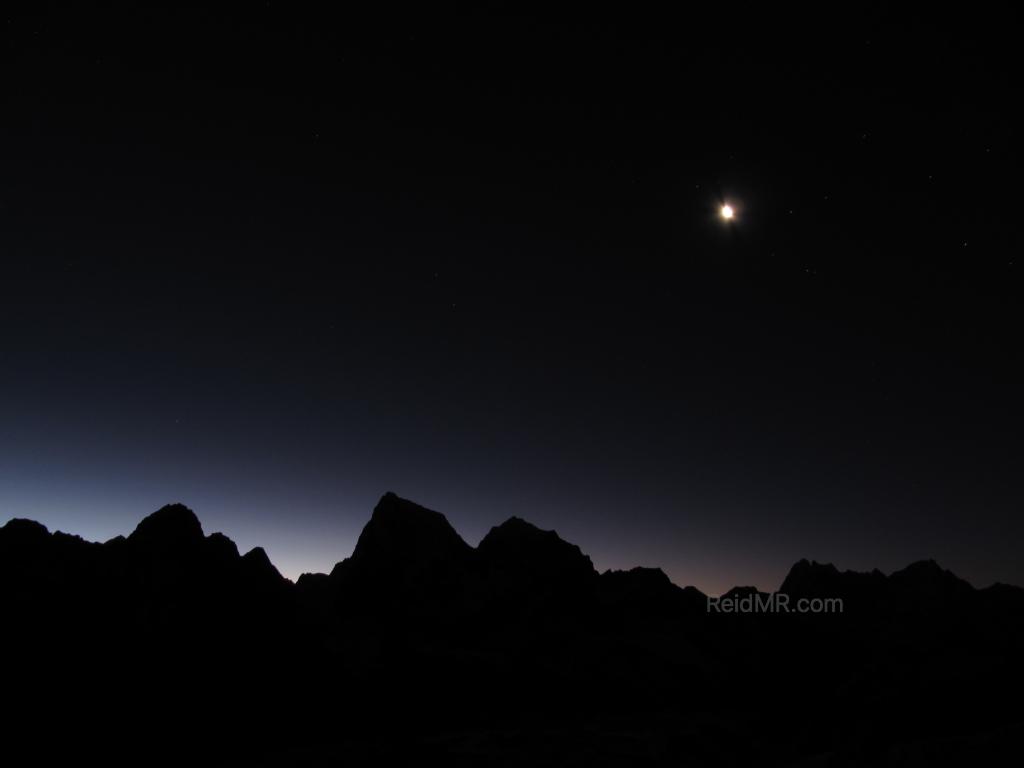 I was waiting for the sunrise on the Gokyo Ri side. I heard the view is wonderful here. If you click on this image to see it full size, you can see the stars and moon. It was a spectacular sight.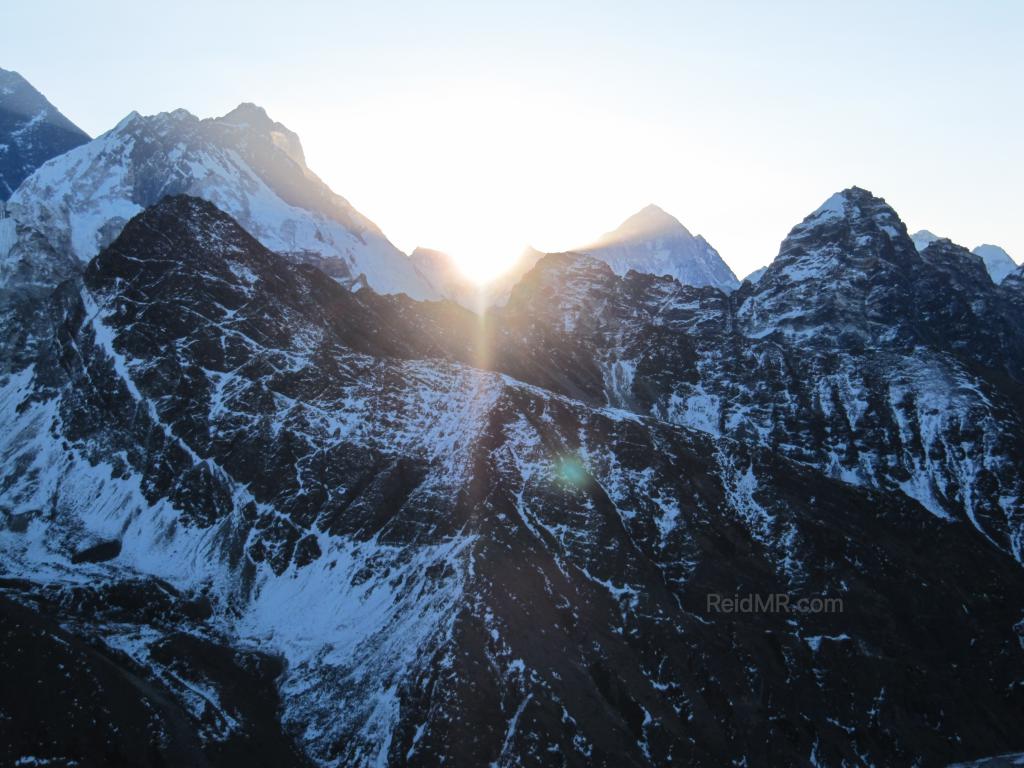 The sunrise is coming over the Himalayas. Everest is on the far left. I did not know which one it was until a guide told me.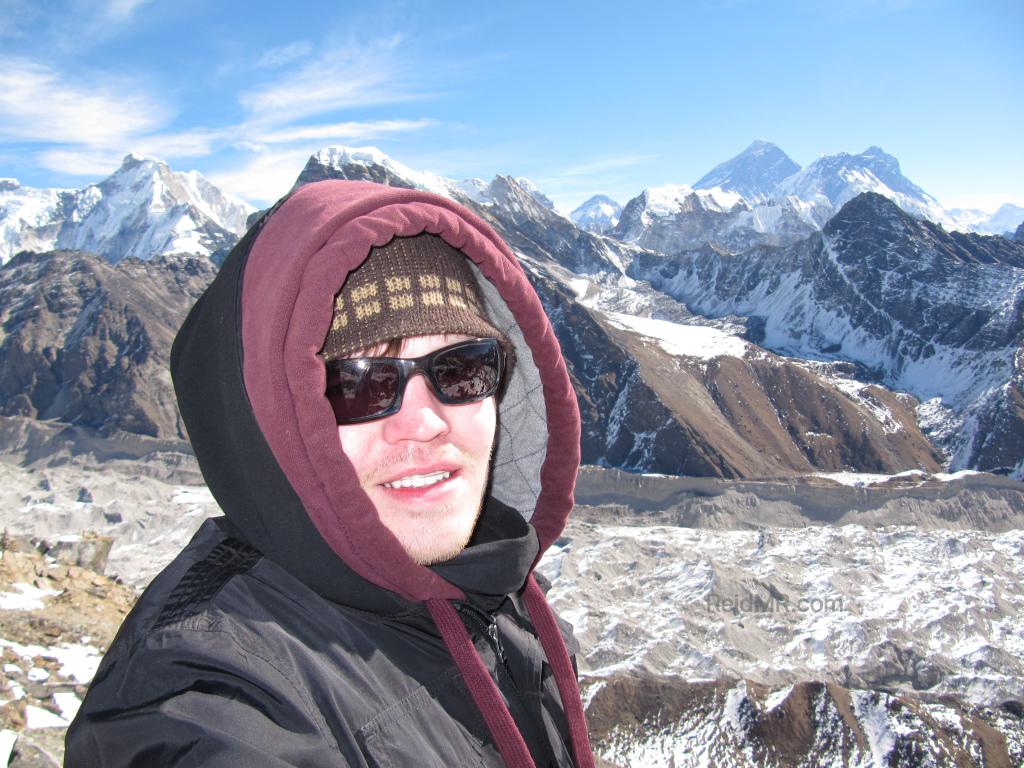 This is me with Everest in the background. It is the highest one on the right side. The semi flat area is a glacier. This was the highest I went - 5357 meters (17,575 feet). It is a magnificent view surrounded by mountains. This time my ascent was successful. Since I knew about altitude sickness this time, I did not linger long. Climbing down Gokyo Ri was a challenge as it was so steep. That day I hiked to a lower town, Machherma, which is at 4470 meters (14,665 feet). The medicine the nice travelers gave me worked wonders.
Transcript.
>> REID: I made it up here to Gokyo Ri today. It's at five thousand three hundred sixty meters and it's a little after six thirty right now. It's almost six forty. The first time I tried I got sick and had to go back down. This time someone gave me some medicine and I'm fine and I made it up here. I watched the sunrise from a little bit down because I didn't make it up in time. I got up at about three thirty. And this is the view of where I'm at.
Mount Everest is right behind the sun.
And that's that. Pretty nice up here. It's as far as I'm going and I'm gonna go back down later today.
/End transcript.

This was the type of animal I saw when I was lost a few days back. It had bounded across an area in front of me in ten seconds. I could not even consider going where it had. To cover a similar distance took at least 15 minutes.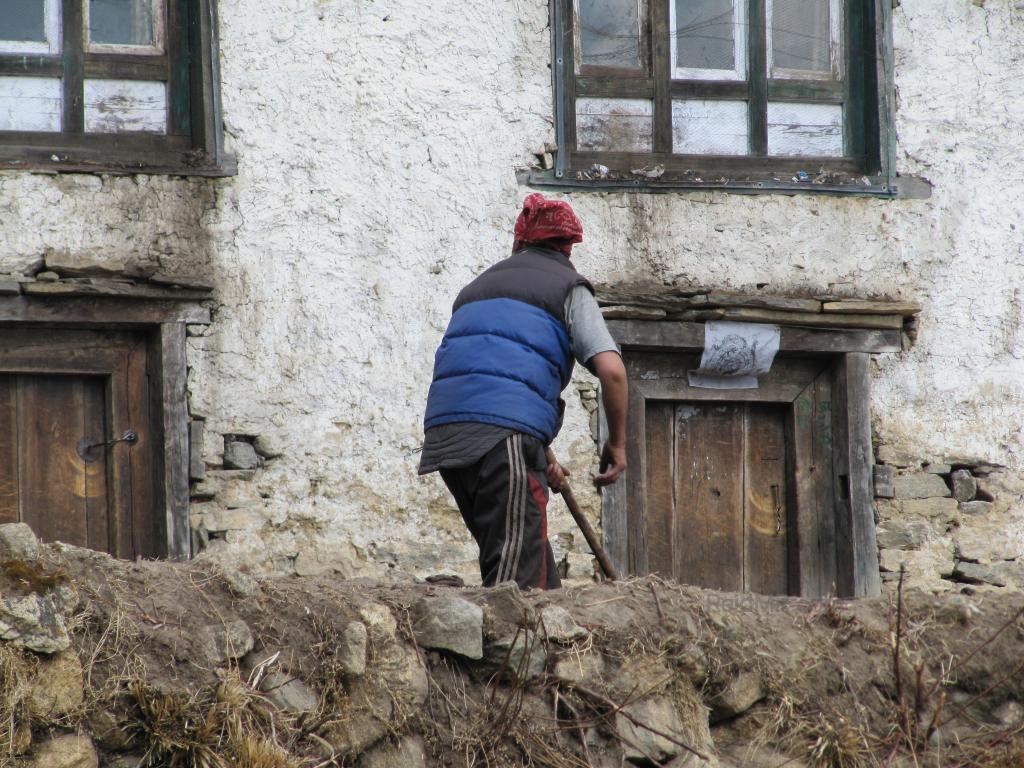 On my way to Deboche, in Phortse, I wanted to take a picture of this woman cultivating her field when she was swinging her tool over her head. She suddenly turned and saw me with my camera. She promptly started yelling at me in Sherpa. I didn't need to understand the language to know she was furious! She glared at me with her hands on her hips until I was out of sight. After a kilometer (~1/2 mile) a young girl suddenly came out of her front door, squatted, and peed on the trail in front of me. I kept my camera stashed away.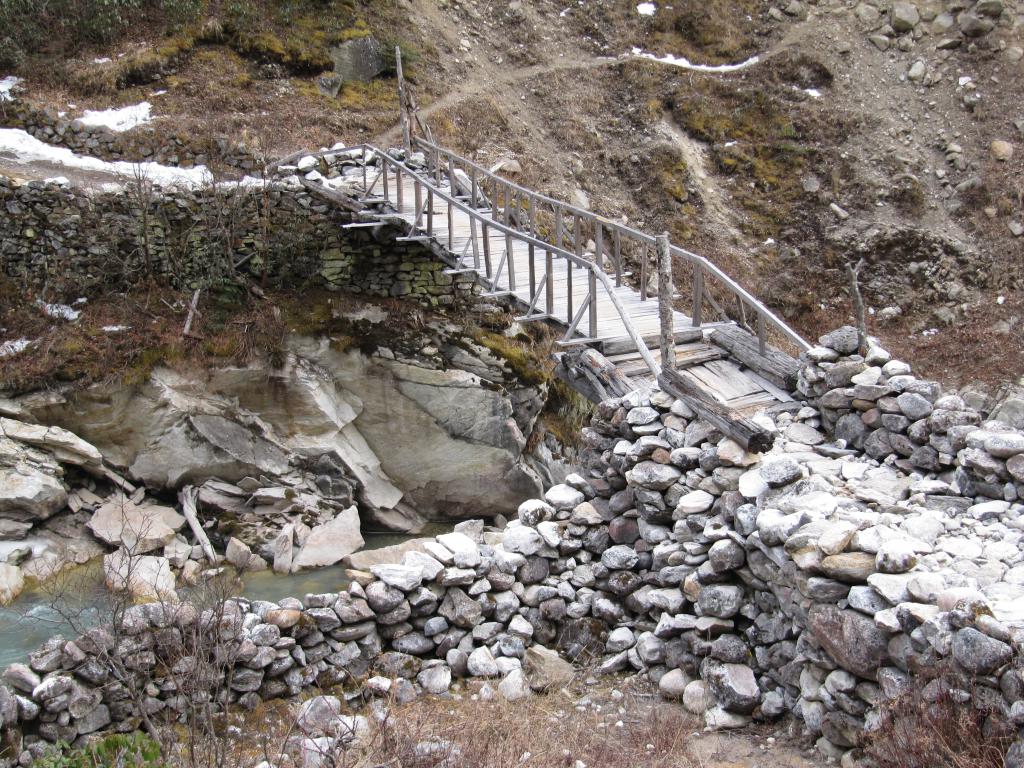 This is a bridge on the way to Deboche. It was at the bottom of the last valley and was the last climb. It took one to two hours to climb up.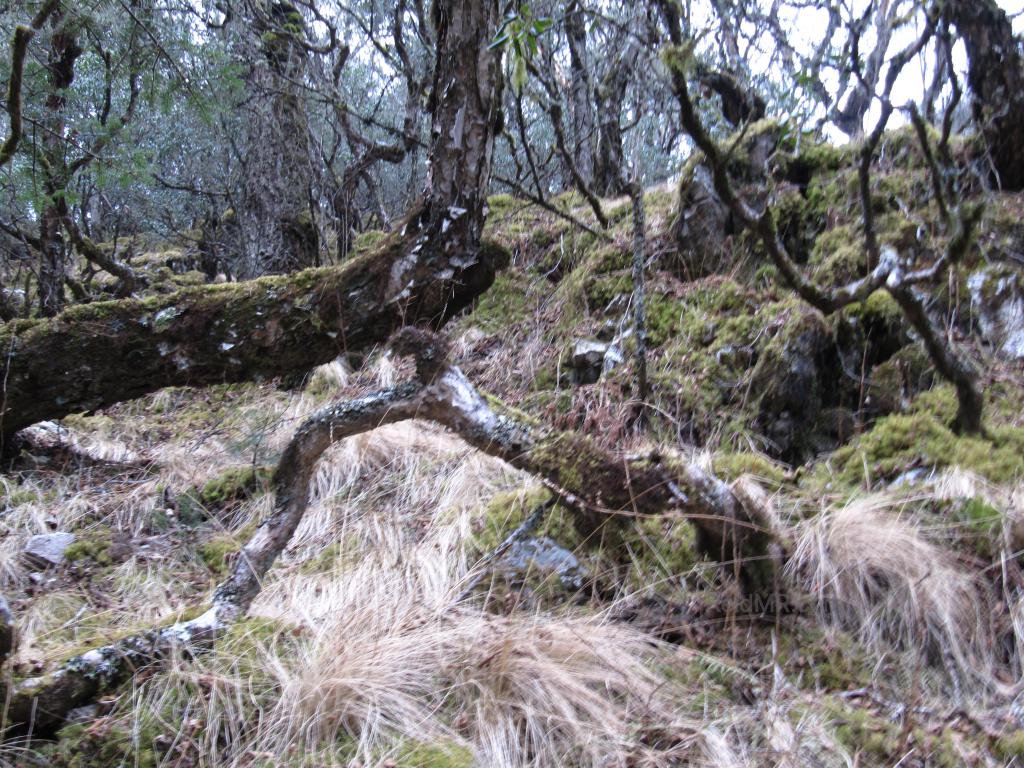 This was in the woods on that last climb. It was the most scenic section for me.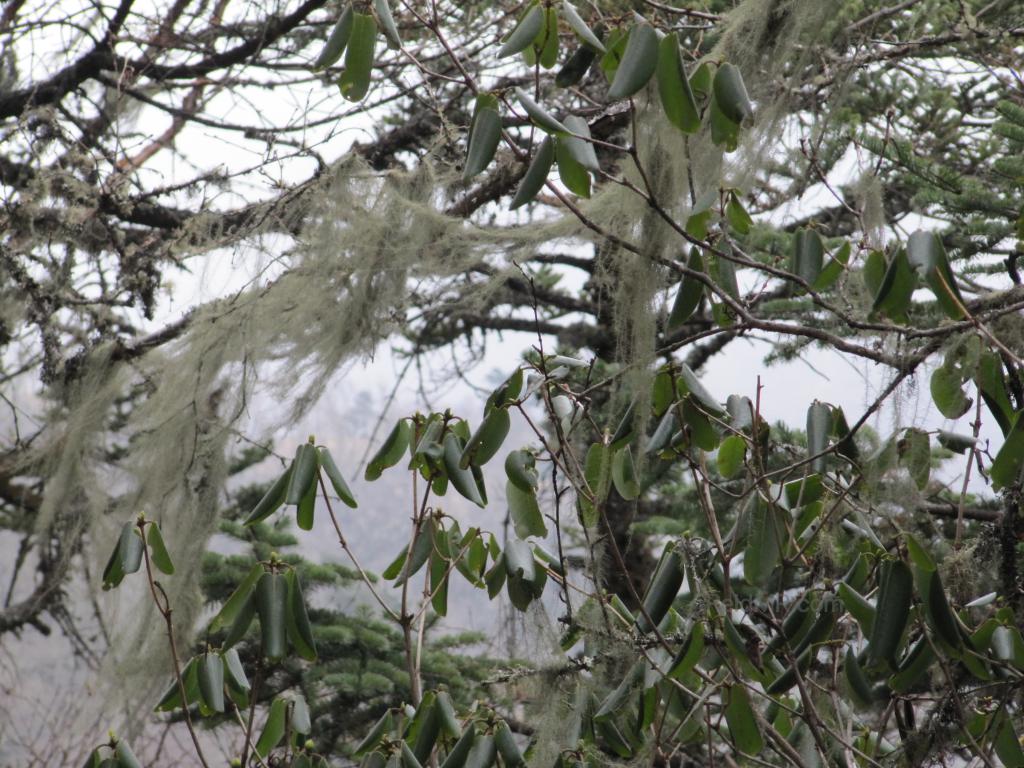 This is the most scenic area. This green moss-like growth was on the plants everywhere. I could imagine a movie being set here highlighting the beauty and buddhist monks in deep meditation. The Everest area has primarily Buddhist people.
This turned out to be one of the longest hiking days on my trip. When I arrived in Deboche I was exhausted. I hiked nearly 12 hours. The lodge I stayed at was new and nice. I could smell the paint in my room. A couple from Iran were there. They were a friendly and told me about the challenges for them to travel as a result of the tensions with the States.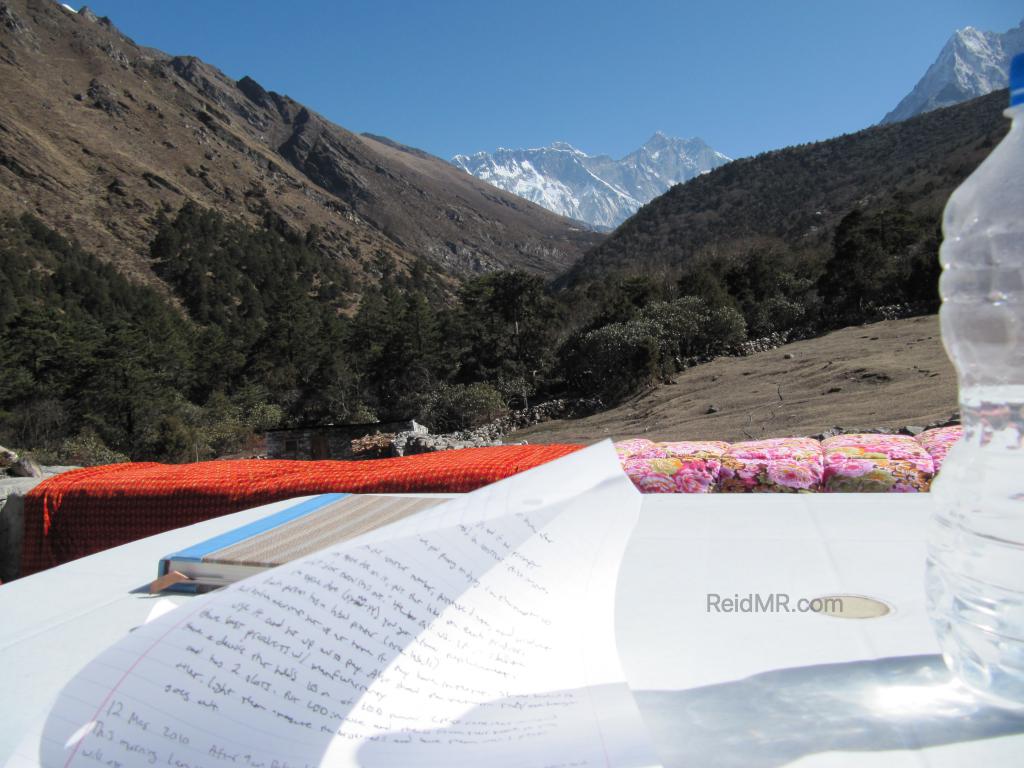 I misplaced my normal pen so had to write on paper before transcribing to my journal later. Oh, and that is Everest from Deboche.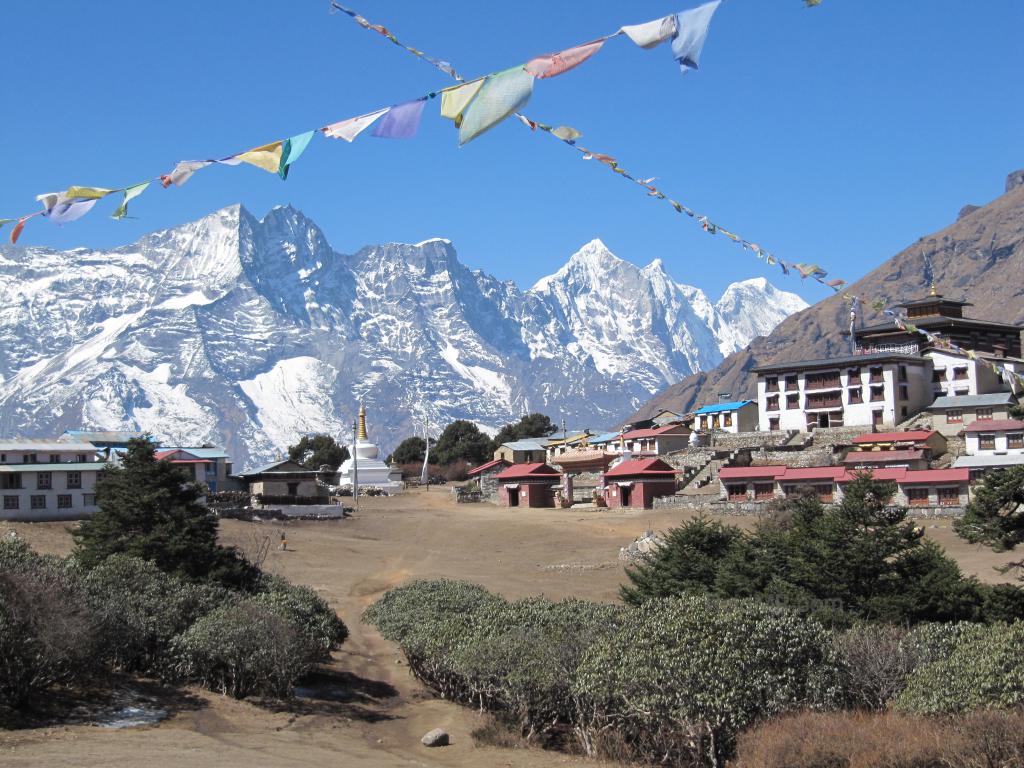 Tengboche was the nicest village as it had the feeling of local culture with a great view of Everest. It was also clean and neat.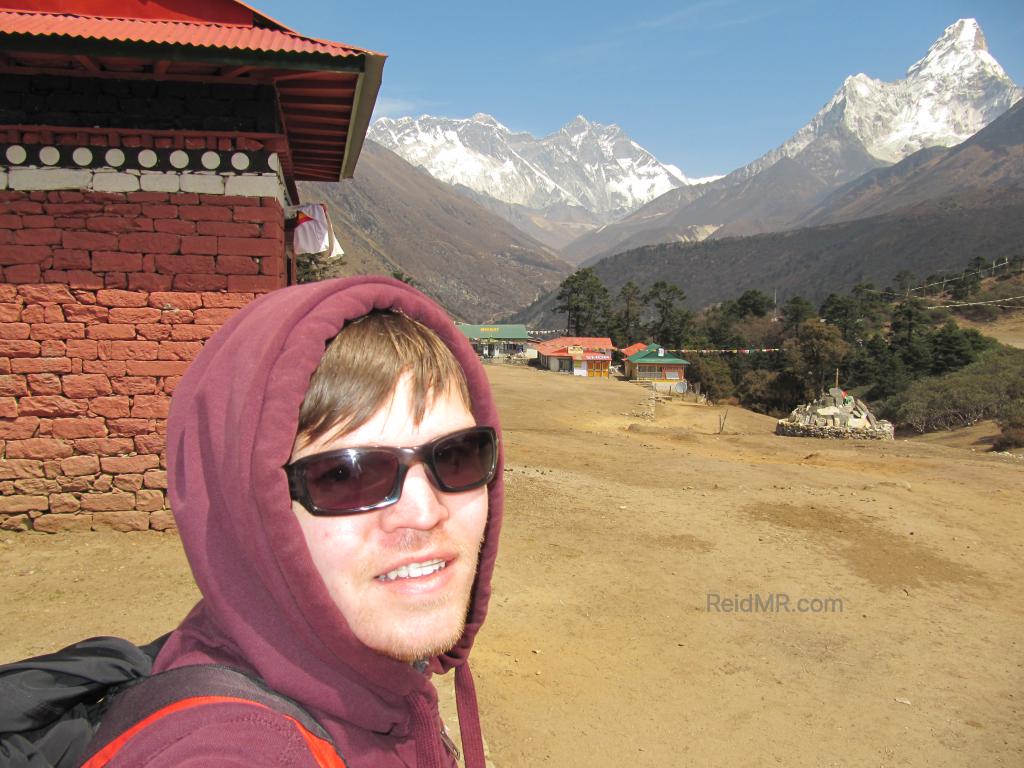 This is in Tengboche with the temple and Everest in the background.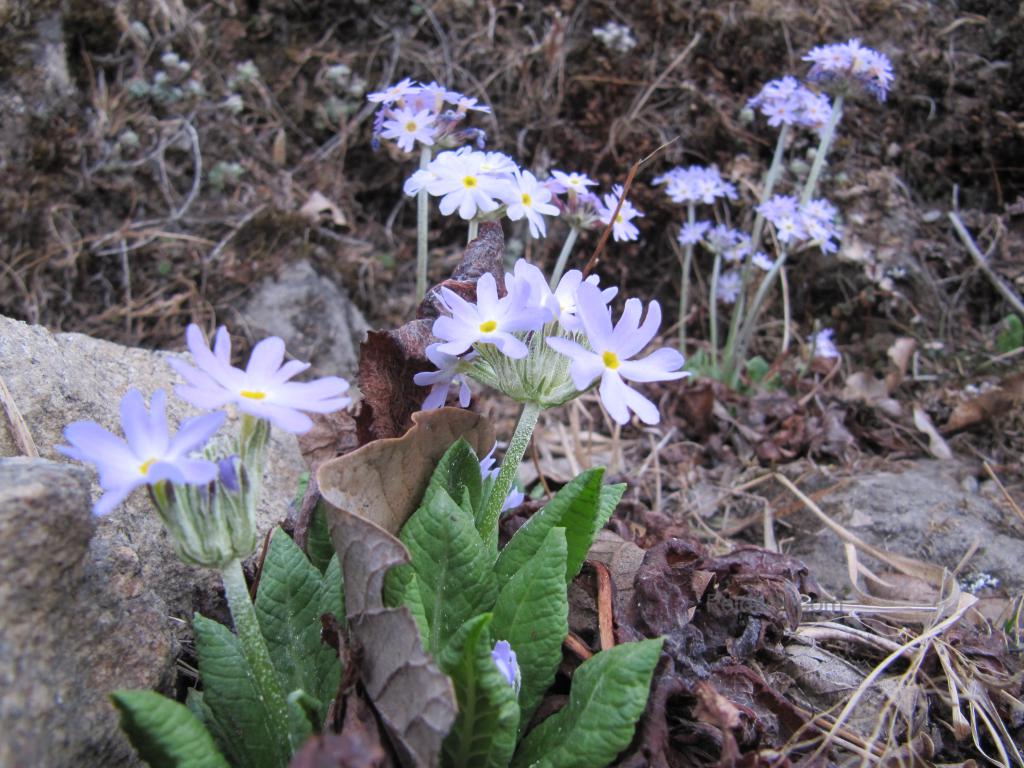 Flowers started blooming when I descended. Ten minutes away from Lukla it started sprinkling. The weather was great the whole time. I left a few days early as I was finished. I was happy to have seen it and finish my mission. I did not have a clock the whole time so became used to "Nepali" time. The sun became the timepiece. Time references became "I should be there by sundown". Often I would have an hour left of hiking, and a half hour later, still had an hour left. I was cool with that.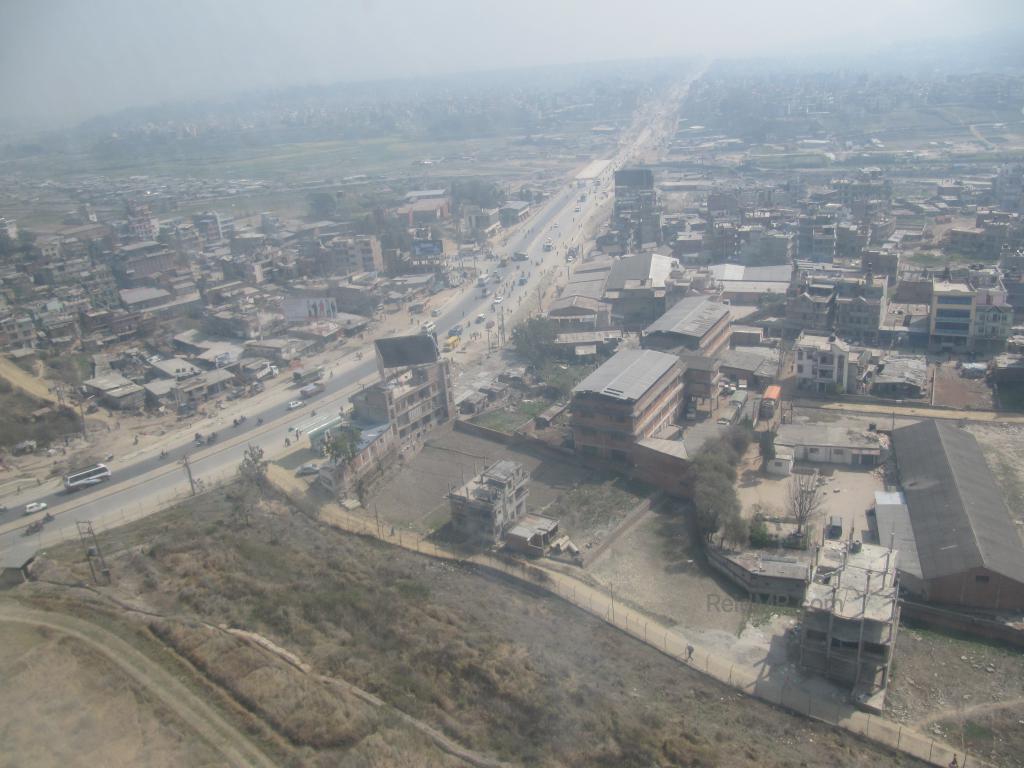 Back in Kathmandu the Kathmandu Bug was waiting patiently for me. As soon as I arrived a fever and diarrhea hit. Every time I have returned it has happened. This time it has been for five days. I am thinking I may be better after day six (tomorrow).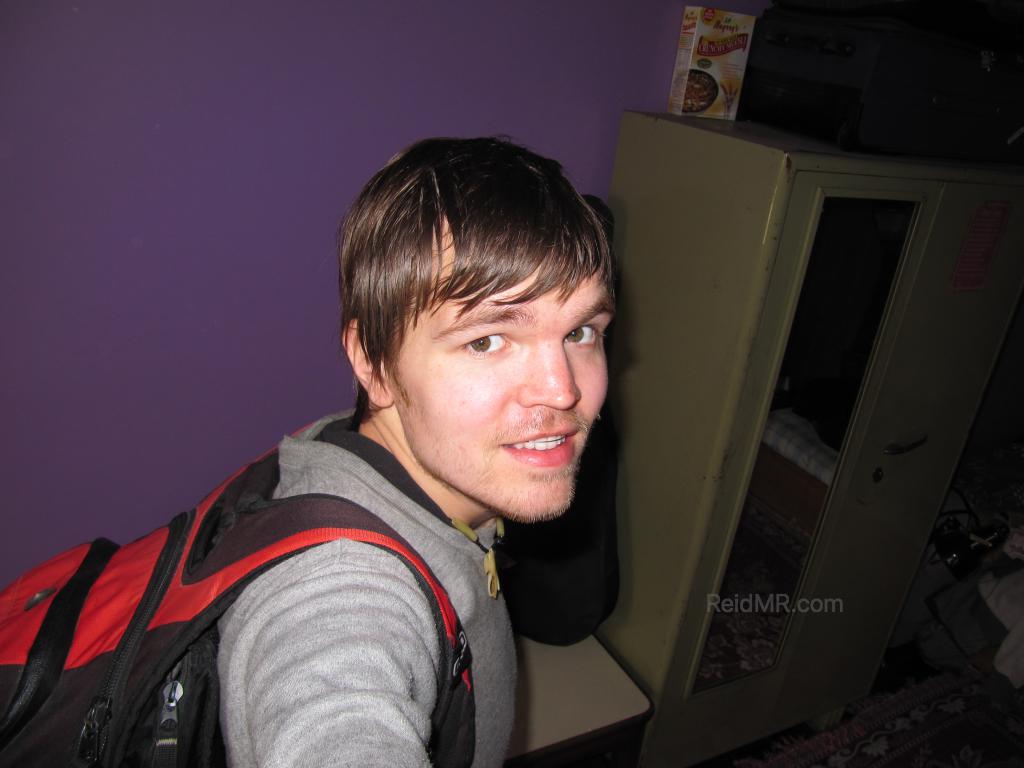 This is me on the return. I hadn't taken a shower in two weeks. I washed a few key places and my hair a couple times to keep the stink manageable. It felt great to take a shower after this photo was taken. The trip was awesome. I am much thinner than when I left. The Kathmandu Bug caused even more weight loss. I was probably the thinnest I had been in years. I was 115-125 pounds (52-57 kilos). I will have to put that back on.
If you are reading the abridged version, you may skip to the next highlight.
The last few months was life as normal. I was becoming comfortable with life and how things were going. It was home and I had a normal routine.
Friends recommended that I visit a few places such as Pokhara and Lumbini before leaving. In Pokhara I saw caves and bought a couple paintings. The peace pagoda proved to be a nice hiking destination. On the way back was a waterfall and local swimming hole. Many children and adults enjoyed the water.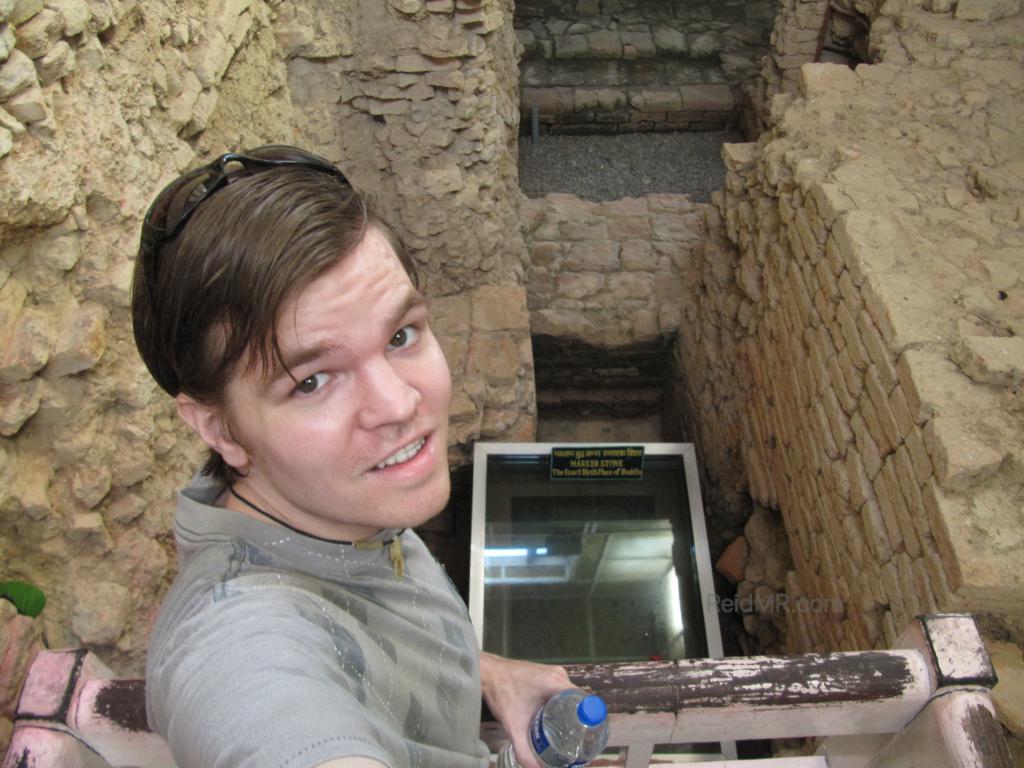 There was the typical things to see, of course. In Lumbini I saw the marker that proclaimed I was at the exact spot where Buddha was born. It was sweltering hot. I took multiple showers every day to cool off and wash the sweat away.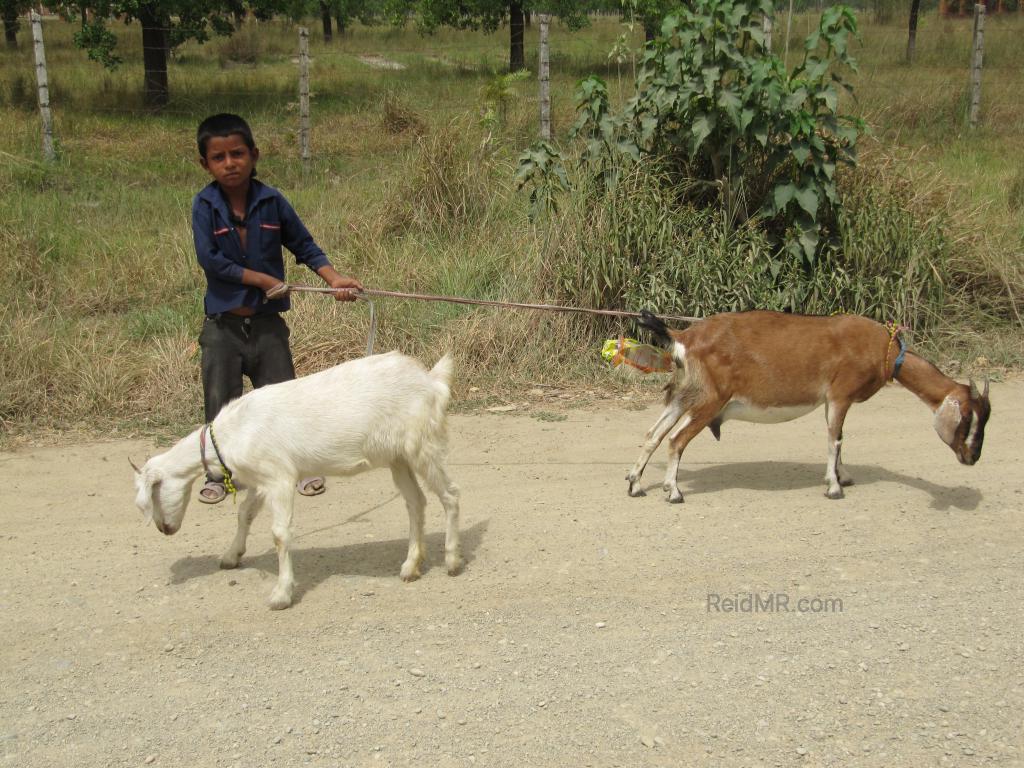 I talked to this small boy in my broken Nepali as he was walking his goats.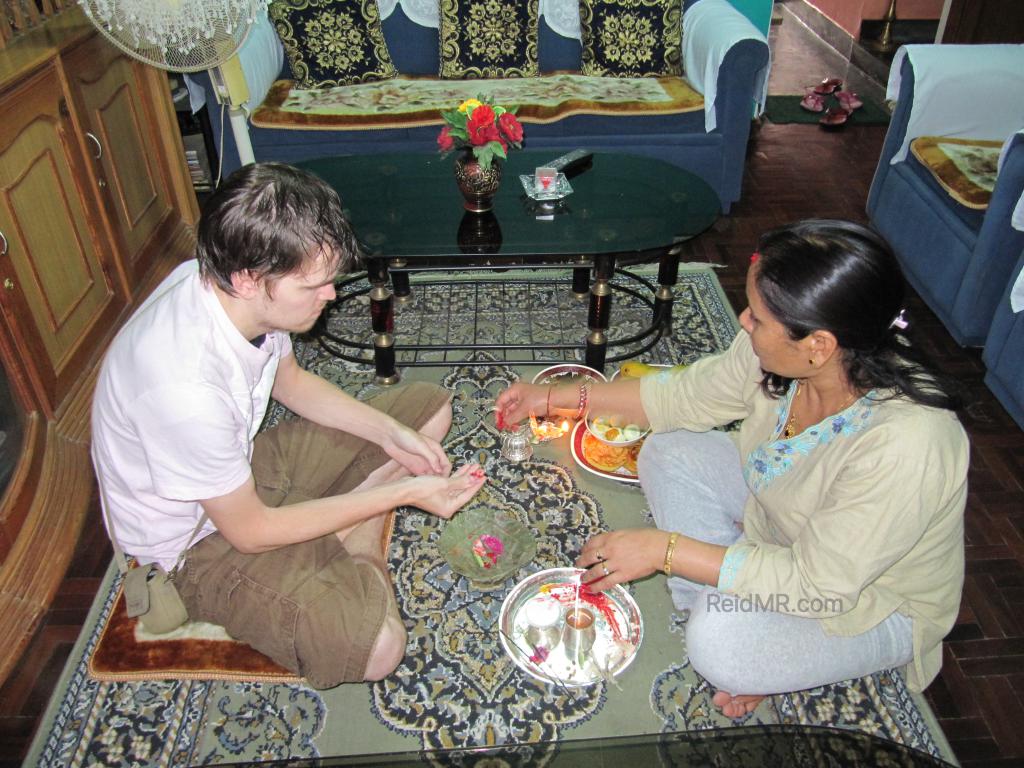 I was ready to leave and as usual, Mamu and Baa gave their blessings for a safe trip.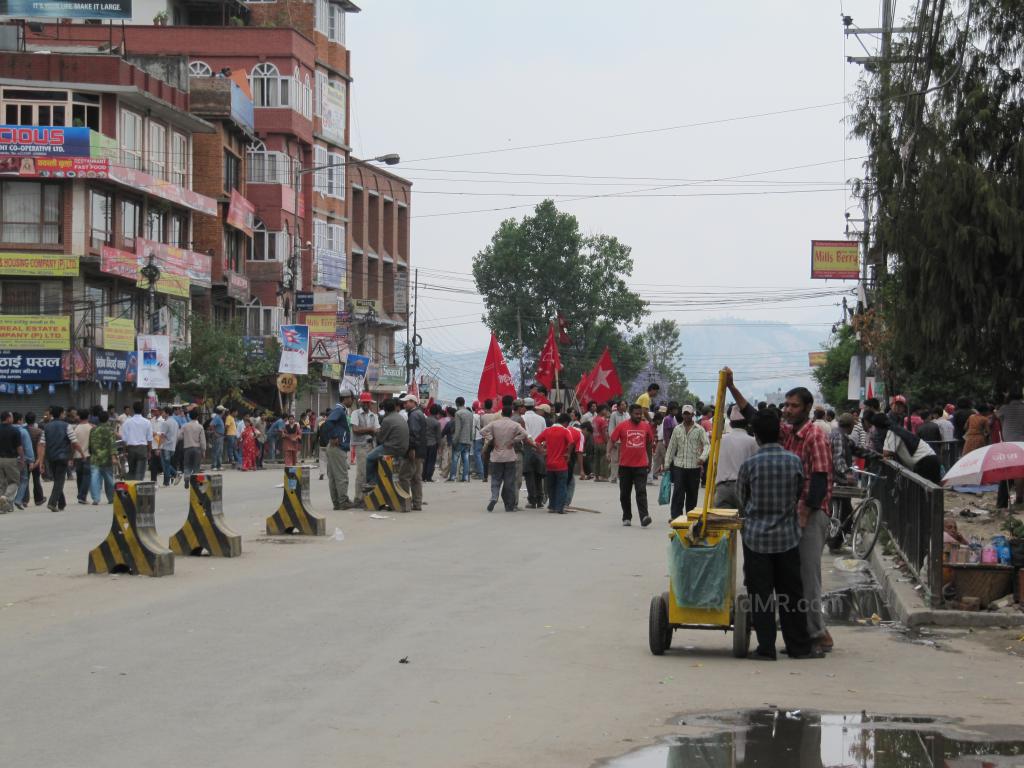 There was another bandh by the Maoists so everything was closed. I had a flight, however. I was stressed wondering if I would make it and if I would have to walk. The Maoists allowed the tourist bus to travel to the airport, but the company could not guarantee that they would come. They said that if they do, they would try to be there in a certain time range.
The Maoists are a large problem in Nepal. They are very attractive to the uneducated masses. They make grand promises of restoring infrastructure, providing stable power, creating a better water and sewage system, and bettering the lives of the locals. While they are making these promises they are destroying the very things they claim they will improve. They refuse to allow utility companies to collect payments. They destroy the progress and new infrastructure at night after it is built by others in the day. Progress is crippled in the country. The money and efforts the country is trying to progress with are being held back by Maoists. Maoists are causing and worsening the very problems they claim they will fix. It is interesting that the country cannot see that. They do not see that they are a hindrance, not driver, to progress.
Suddenly the bus arrived. I tried to give Urika and Mamu a quick hug and catch the bus. It felt like I did not give a proper goodbye. Mamu cried. I was sniffly. Mamu said that Urika cried once she returned home. It was another trip where I developed a deep connection and relationship. I am very thankful for their support and love. It was a wonderful trip and I would miss them. On the airplane I also cried.
After that farewell I have started to say what I need early when we are not rushed. I will say, "Before I leave, I want to say..." and say whatever it is. Then when it is time to part there is not anything else to say and the farewell is much easier.
At the airport a group of Indians came late and barged to the front of the line. They clearly believed they were entitled to special privileges and were better than everyone else. They refused to leave. Many of us at the front, including myself, told them to go to the back of the line. They said they would not go in front of me, but would not move. The employees there eventually escorted them to a different counter and checked them in. I was shocked that people there would continue to recognize and support the caste system.
I never learned more than basic Nepalese. Part of it was due to my own pride trying to learn it on my own and being embarrassed and self conscious about my pronunciation. After reflection and a little research I found that the best way to learn a language is to simply practice and speak it every chance you have. Speak no matter what, even if you feel silly about it. That is the fastest and only way to properly learn. The people you may speak with may laugh at first, but it is because it is something new. They are not making fun of you, rather they are enjoying the experience with you. Be confident and speak.
On this trip Obama was in office. I could feel people being much warmer towards Americans than when Bush was president. Now I will say I am from America regardless of how people feel about the country. At least their beliefs can be challenged when they meet someone nice from America.
I wanted to surprise everyone when I returned. Pratish picked me up. I did not tell anyone else. It was fun to surprise everyone. When I walked into one friends house she started crying. I never knew we had that close of a connection. When I went to my parents home my little sister ran in the house and shouted "Reid's here!" to which my mother said, "No he's not, he's in Nepal." I walked in and they were all shocked to see me. It was a fun experience to give a surprise. Try it some time.
With travel I started to realize that the concept of 'home' can be a very fluid. It is becoming wherever I am at the moment and not a stationary place.
Highlight: Recognizing different types of freedom.
When talking to my brother at my parents house we discussed taxes and freedom. In Nepal I could see that there are different types of freedoms. We can enjoy a freedom of expression without consequences from society. With this freedom we all enjoy a more equal ability to compete with each other and in theory have more equality where the government — representatives appointed by society to create an organized, universal and formal set of social rules for everyone to abide by — will ensure that everyone can enjoy certain freedoms and punish those who try to take that away from others. With this we give up certain legal freedoms. We cannot pollute, harass others, try to control everything to our sole benefits, and cannot do things that infringe on others freedoms. The laws attempting to create this environment are enforced. This system tries to ensure that one person does not pursue an interest at the expense of others.
The other type of freedom gives more legal freedom at the expense of social freedom. In this type there is literally fewer laws, but also less organization. In addition, the laws they do have cannot be adequately enforced. There is not a set of rules to play by where people have to be fair to others. Society begins to restrict the actions of others through shame, intimidation or force. The most powerful can use their force to their own benefit even if it harms everyone else. It becomes okay to save money by dumping sewage in the rivers. Your effort to save money is at the expense of the rest of society who are unable to enjoy the river. Electricity bills are optional. People can steal electricity without any real consequence. This results in severely underfunded and underdeveloped electricity systems. The freedom for one person to drive as recklessly as they wish is at the expense of others to move safely. Companies can hire child labor and even have slaves indentured to them without any real consequences. Companies and individuals pollute and release toxic chemicals without any legal recourse. Society as a whole suffers from others actions.
The benefits of taxes became obvious. We tend to take the benefits for granted. We do not think about having: clean water, air, rivers, efficient sewage systems, reliable electricity, schools available for everyone, safe food, safe medication, good roads, nice transportation networks, equal treatment without bribes, a police force to prevent others infringing our freedoms, and the numerous other things we enjoy. While it is true that the US government could be more efficient, transparent, and accountable, it is still doing well.
Tax laws in Nepal are often ignored, disregarded, or circumvented. The police force cannot enforce the laws. The systems to ensure safe and adequate: rivers, air, water, sewage, electricity, schools, food, medication, roads, transportation, low corruption, and sufficient police force, are all inadequate. Most of the freedoms we enjoy and take for grated are unavailable in Nepal. The taxes we pay are being used to make our lives more comfortable, better, and easier. Improvements can always be made, but we are doing much better than some people will lead you to believe.
If you are reading the abridged version, you may skip to the end here.
By the time I returned the economy had worsened. Walgreens let me know that there were no longer any management positions available. As part of the leave of absence, I was not guaranteed the same position. Rather, they would try their best. While I was gone they cut 40 management positions through attrition. They now had 40 extra mangers in the region.
I found that I used the restroom with increasing frequency. My stools had white thread like things in them. It turns out I caught pinworms. There was an over the counter medication that cleared that up.
This was another trip I was very happy to have taken. It was well worth forgoing a career and using my student loan money to help fund. Career, money, and those material things are not everything. It was a great decision to travel. Once I returned I repaid half of my student loan. The total cost for the year trip to Hong Kong, Nepal and India was 6,500 USD.


Visit my Nepal Travel Advice page for just that.
Previously I visited Hong Kong.
I went on a short trip to India.
My next trip was to the Eastern United States.