Accident. Vegas. High emotions. Sleeping on the beach. Ocean drenching. We enjoyed our road trip which I fondly recall.
If you want the abridged version, here are some highlights from this trip. My first accident. Sleeping on a beach near Malibu.
This was a spur of the moment trip. My buddy and I talked about going to Mexico over our winter break. He backed out. I already took work off so another buddy and I decided to go on a road trip in the States. We left a day or two after making that decision. My brother also joined us after talking to us the night before.
We left in the morning. I was exhausted after hardly sleeping a wink. With foresight, Trent left his door open so we could shake him awake. His alarm was blaring. Because we determined I was the least sleepy, I drove first. We were off and going 70 MPH (~113 KPH) down the freeway. All three of us were sound asleep. We hadn't even left Minnesota. Soon enough I was rudely jarred out of my sleep enclosed in white. Sumedh was jolted awake after his body was thrown into the car's roof. Trent's gentle suggestion to wake up was when his knees were thrown into the glove compartment. The drive became noisy and rough. When the white snow cleared we saw that we were driving in the ditch between the lanes. I groggily tried to drive again so we would not become stuck. To no avail. The car cut out and we were stuck in the ditch only hours into our trip. We exited the car with Trent pulling himself out of the dash. We were all okay but had no idea about the car. Were we going to have to get a taxi home?

Plastic from the car was strewn across the ditch. After assessing the damage we determined it was merely cosmetic. We could see that we became airborne after hitting the approach at 70. The car tracks disappeared from the snow. If you click on the photo you can see that. I tried to restart the car. It only turned over. Sumedh tried and it coughed back to life. Now we just had to push it out of the snow. A nice man stopped to ask if we were okay and needed help. At this point we were okay so thanked him for his offer.
I tried to drive with Trent and Sumedh pushing. After creeping back and fourth we broke free. Now the wheels were shaking so badly that we could only continue at a crawl. We visited the nearest car wash hoping that it was simply snow and ice lodged in the wheels. After washing the car it was okay and we continued on. The first lesson was that cars really do become airborne. More importantly I learned what my limits are and to stop driving when I am tired.
I will now strive to know my limits.
After that I slept in the back of the car. If I slept in the passenger side I dreamt that we were in the ditch and would grab the steering wheel. I nearly caused two accidents doing that so slept in the back.
If you are reading the abridged version, you may skip to the next highlight.
That night we arrived in Denver Colorado. Fireworks went off since it was the New Year. We ate from a cheap but tasty taco van. There is a statue of a huge bear titled I See What You Mean peeking into the Convention Center. I saw the money it cost to build. Trent saw the time it took. Sumedh saw the passion of the artists. Trent commented that he will never forget that we can all interpret the same things differently.
We decided to go to the Grand Canyon. After many hours of driving we came to an impasse. There was at least a foot of snow on the canyon road. We were only 30 miles (~50 KM) away but had to turn back. We were driving in a desert so were surprised that it snowed.
We continued to Vegas. It was strange coming into Vegas during the day. It is an unimpressive dusty city in the middle of the desert. Since it was still daytime we tried to see the Canyon again. We ventured down a road only to be greeted by a campsite and lake at the end. We found a campsite and washed up using the bone-chilling water. I was nervous about being caught. We left before anyone came.
In Vegas we left the car in a free casino lot. The city lights up at night becoming the Vegas we see and know. The buildings were opulent. Sumedh and Trent seemed mesmerized. I was not as impressed. We saw the usual sights like the Bellagio Light Show, The Venetian, and mini Statue of Liberty. That night we stayed in the Royal Suite, also known as my Chevy Metro.
The next day we met my sister and her then boyfriend for breakfast. It was their treat. His brother lived in Vegas and let us take a much needed warm shower.
Then it was off to Los Angeles. On the way we passed by the massive Hoover Dam. In Los Angeles we went past Beverly Hills, saw the Walk of Fame, and visited other typical things.

When we were walking around we saw a dude hanging out of a new SUV holding orange objects. Sumedh yelled at him to which he replied, "It's fucking art!" Sumedh became very upset. For a few blocks he was ranting about what he would do if he saw him again. On the way back to our car we came across him. Sumedh stopped and confronted him. They started arguing with Sumedh still upset. Soon they were enjoying their talk. The guy politely explained what he was doing and Sumedh started to like him. By the time we left Sumedh even gave him ten bucks just for the conversation. I guess it reinforced that our first impressions can be wrong. Sometimes you may even like the person after getting to know them. It was another example illustrating that a person acting in anonymity can be much ruder than in person.
When we were talking the local police slowly drove by and asked if there was a problem. There are anti-hawking laws there. We said we were cool and they drove away. We thought that was nice of them to simply leave us. They were doing their job while being friendly.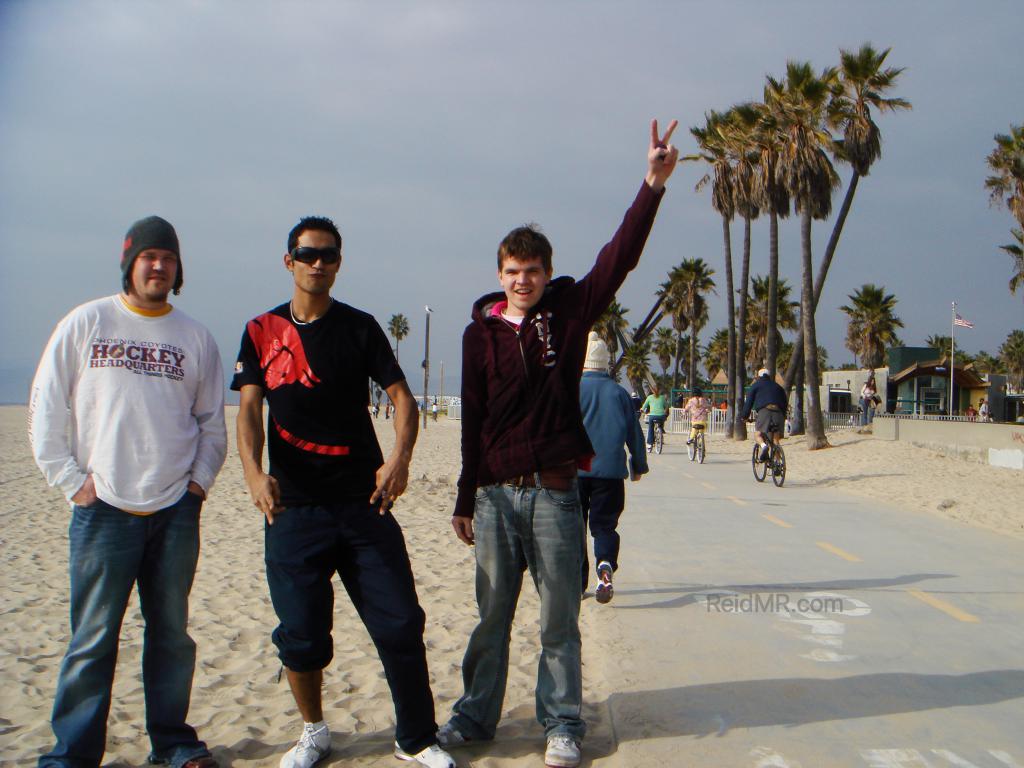 That night we decided to have a barbecue and sleep on Venice Beach. Only one of the most famous beaches in America. We built a mound of sand to conceal the fire and enjoyed our dinner. In the morning people were walking all around me. I was in the middle of where they walked. With a high homeless population due to the agreeable weather, they likely assumed I was another one. Homeless people slept further in by the sidewalk. We later found out that what we did was illegal and comes with steep penalties.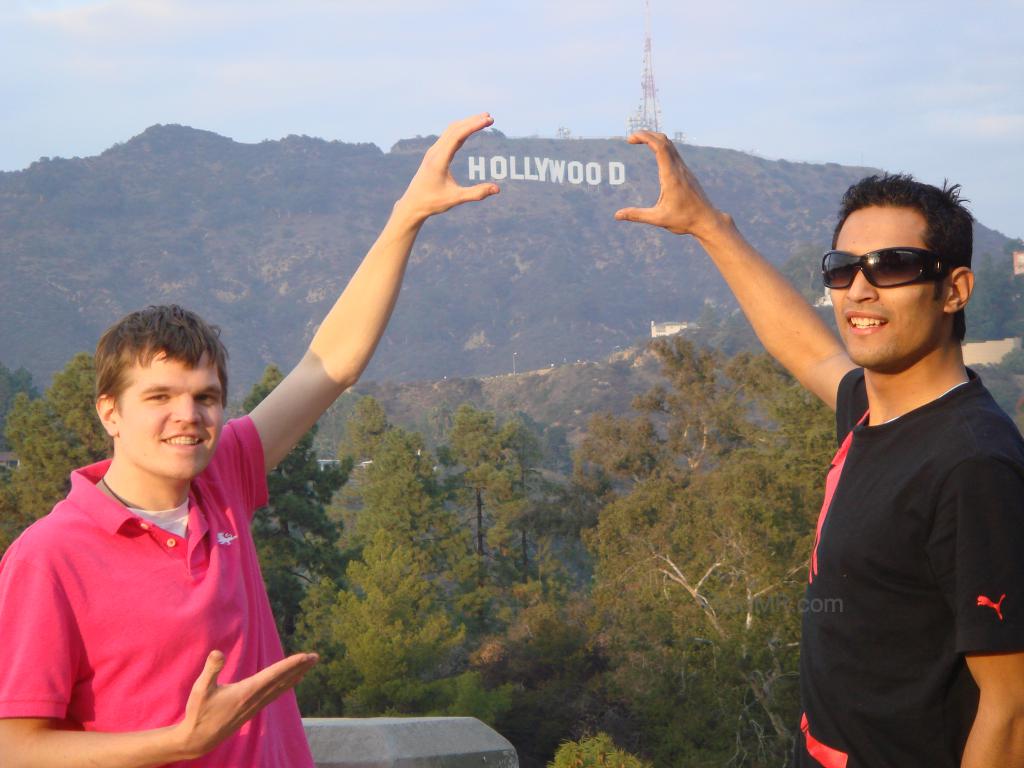 The next day we went to see the Hollywood sign and take the obligatory photos. When we were in Hollywood we talked about seeing famous people. I was being nonchalant about it as I logically recognized that they were ordinary people like myself. However, while we were at a stop sign, an impatient Bruce Willis passed us in his BMW. I was ecstatic and hysterical! Bruce Willis just passed me! I was gushing for an hour. So much for being nonchalant about that.
Highlight: Sleeping on a beach near Malibu.
We took the scenic Route 1 to San Francisco. This is a beautiful drive. On the way Trent mentioned a nice park near Malibu Beach we could sleep at. We purchased more barbecue food and went down to the beach after hiding my small car behind the bushes. There was an awesome multi-million dollar home there. We hid in an area where the cliffs shielded us from view. After eating we went to sleep. Sumedh and I slept with the sleeping bag zipper closed. Trent slept with his open. What we did not notice was the sound of the waves was getting louder. We were asleep when a large wave swept over us mildly dampening Sumedh and I but completely drenching Trent. The wave extinguished the fire and covered it with sand. My shoes disappeared. Trent left everything behind and stormed off. Sumedh and I gathered everything and went up to the car. Trent was still ranting when we met him there. The park gate was now locked and we were stuck inside!
We slept in the car keeping warm by turning the car on and off. We hoped we would not receive a fine for being in the park. When we woke up the gate was open. We strapped a sleeping bag to the roof of our car to dry and drove along the side roads to San Francisco. Other people, of course, stared as we drove by. Trent said he will always remember to check the tides before sleeping on a beach again.
If you are reading the abridged version, you may skip to the end.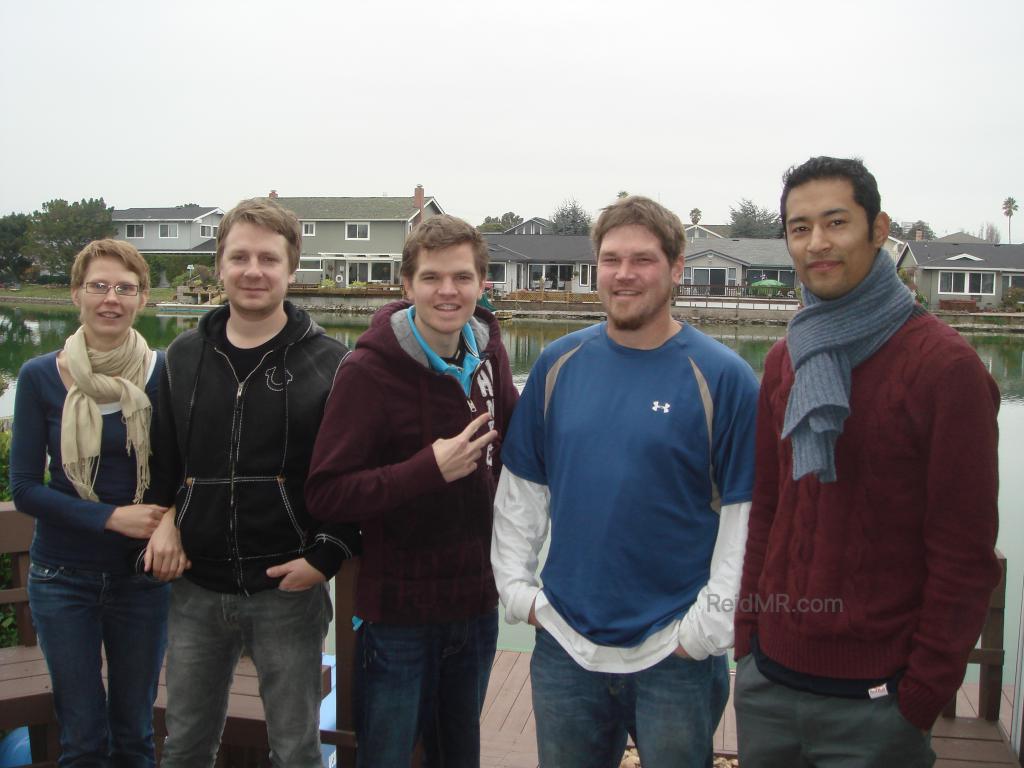 In San Fran we stayed with my sisters friends. His house was worth over a million dollars. An inlet was right outside. We savored another hot shower.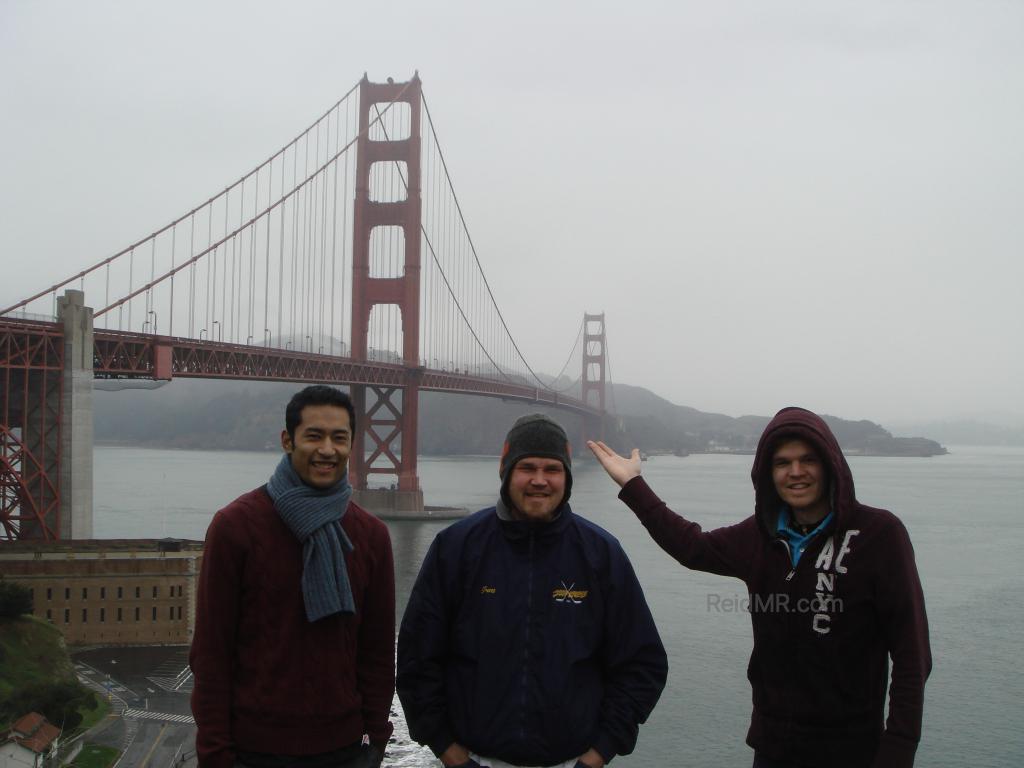 The next day we saw the Golden Gate Bridge and visited the famous redwood forests. While hiking in the forest we became tired so tried to take a shortcut back to the car.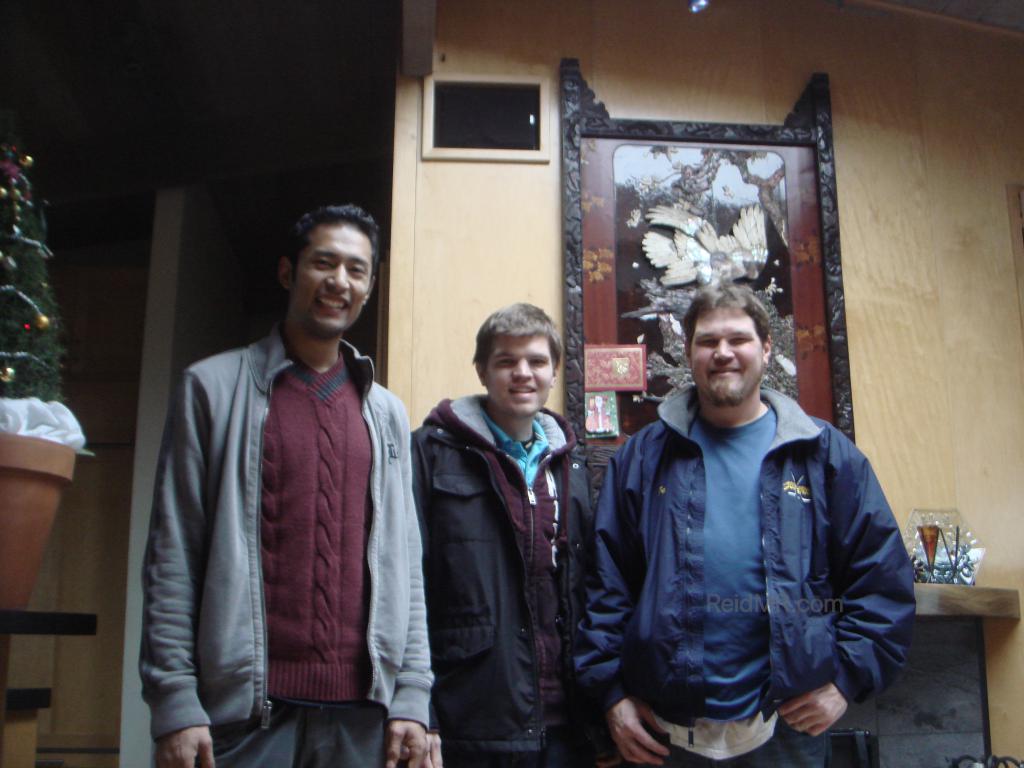 A retired man stepped out of his home to check his mail. He started talking to us and invited us in for a cocktail. We chatted inside for an hour. Remnants of old equipment were in his house from when he worked at a computer company. He converted the platters from old foot wide hard disks into lights. After a while he simply said, "All right, time for you to go," and pointed us on our way.

On the way home Sumedh pointed out that visiting Mt. Rushmore would only add a few hours to our trip. It was dark and closed by the time we arrived. What would anyone do if it is closed and you drove this far? We parked in the employee lot and stepped over the low decorative chain to see it. It was really nice to see all to ourselves. We hurried as to not attract attention. On the way out an employee was leaving. He simply said "Hi" to us.
On the final stretch I awoke after hearing a loud noise. I sat to find that a bird flew up and ripped the mirror off. They agreed to allow me to add that to the shared expenses.
When we got home, with everything included it only cost 430 USD. We split that in three which resulted in less than 144 USD each for a week road trip. We were all shocked we traveled for such a great value.


My previous trip was in South Africa.
My next trip was to Hong Kong.